T Minus 16 Hours Until India Goes to Mars
The countdown is on for India's first mission to Mars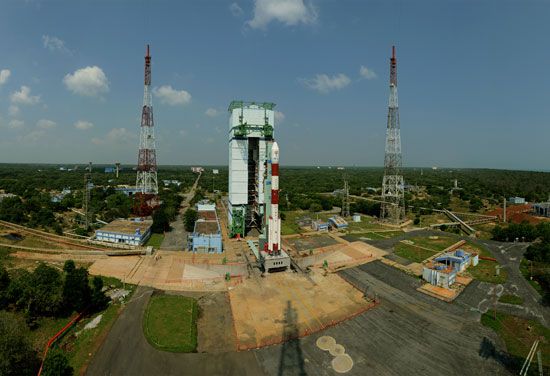 India's Space Agency is set to mark the last day of Diwali, the five-day Hindu festival of lights, in a special way. Tomorrow at 2:38 p.m. in India, or 4:08 a.m. on the U.S.'s east coast, the Indian Space Research Organisation will be launching a massive rocket with its course set for Mars. The rocket is carrying a satellite, known as Mangalyaan, or the Mars Orbiter Mission—a research satellite meant to study Mars' atmosphere.
India's space agency is the sixth in the world to reach for Mars, says the Times of India. If the agency makes it,  it'll be only the fourth to do so. Mars, despite recent successes, has a long history of devouring spacecraft. The Associated Press:
India sees its Martian mission primarily as a "technology demonstration," Radhakrishnan said. "We want to use the first opportunity to put a spacecraft and orbit it around Mars and, once it is there safely, then conduct a few meaningful experiments and energize the scientific community."

Radhakrishnan admits the aim is high. This is India's first Mars mission, and no country has been fully successful on its first try. More than half the world's attempts to reach Mars — 23 out of 40 missions — have failed, including missions by Japan in 1999 and China in 2011.

If India can pull it off, it will demonstrate a highly capable space program that belongs within an elite club of governments exploring the universe.
India's mission will be getting support from NASA, says the Times of India. The U.S. agency will be launching its own mission to the red planet, the MAVEN lander, in just two weeks.
More from Smithsonian.com:
This Is What a Watery Mars May Have Looked Like
This Is Mars in Extremely High Resolution
Curiosity Nails It: Mars Used to Have Flowing Water