The Sweet Story of the Berlin Candy Bomber
Gail Halvorsen's efforts made children happy but they also provided the U.S. military with an opportunity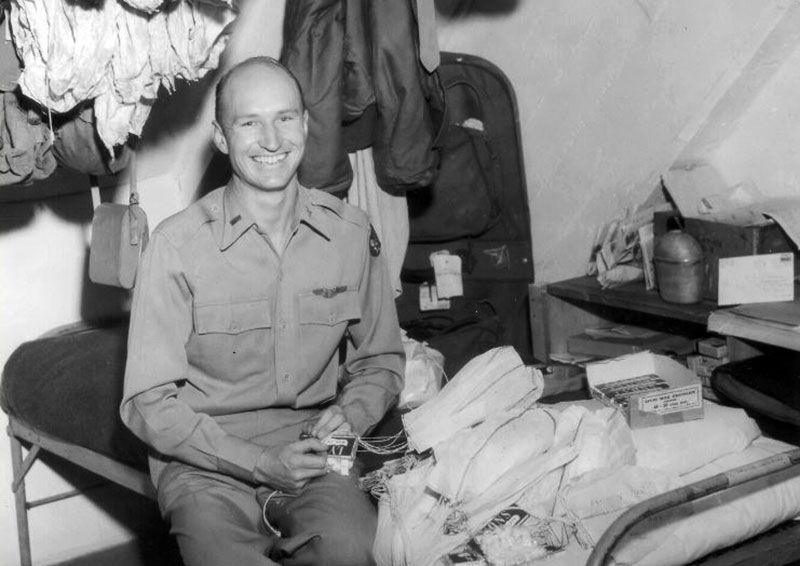 In the years after World War II ended, Berlin became a divided city within a divided country. In 1948, when the Soviets attempted to cut off Western access to West Berlin, which was located deep inside Soviet-controlled East Germany, the United States and the United Kingdom started a year-long initiative to airdrop food to West Berliners. That was the Berlin Candy Bomber's moment to shine.
Pilot Gail Halvorsen, born in Salt Lake City, Utah, on this day in 1920, brought a sweet note to Operation Vittles, the United States military operation to bring food to the citizens of West Berlin. Of his own volition, he launched the adorably named Operation Little Vittles to bring candy to the children of the blockaded city.
It all started at Berlin's Tempelhof Air Field when the pilot met some children, writes historian Kaete M. O'Connell. It was normal for children to ask "Any gum, chum?" or "Any bon-bon?" she writes, but these children didn't ask for anything. "Taken aback, he offered two sticks of Wrigley's before departing," she writes. "Witnessing the excitement this small offering generated as it was passed around and broken into numerous small pieces, the pilot rashly promised to drop candy on his next flight."
"When asked how they would know which of the huge airplanes was his, he said he would 'wiggle his wings' as he approached their position," writes the Air Force.  
Halvorsen lived up to his promise, getting other pilots to donate their candy rations and having his flight engineer rock the airplane during the drop. Things grew from there, as more and more children showed up to catch his airdrops and letters began to arrive "requesting special airdrops at other points in the city," writes the Air Force. The wiggle was also how Halvorsen got his other nickname: 'Uncle Wiggly Wings.'
After newspapers got wind of what was happening, Halvorsen's superiors realized what he was doing and the PR opportunity it offered. Chocolate and candy donations began to pour in from the United States. Though Halvorsen himself was recalled by the military for a promotional tour, he had begun an international effort to get candy to the children of West Berlin. 
"Halvorsen provided a face for the airlift and the U.S.'s humanitarian mission at large, while successfully enlisting the American public in an early Cold War contest for hearts and minds," writes O'Connell. "Americans previously weary of continued food aid for Europe eagerly embraced the opportunity to gift candy and chocolate to German children."  
In 2014, one of the children who waited for Halvorsen had the opportunity to meet him. Christel Jonge Vos was 11 when she stood at the airfield fence, wrote Capi Lynn for the Statesman Journal. Although she never caught candy, she remembered the daily ritual as a symbol of hope and fun at a time when such things were thin on the ground.  
This was just what the military sought, writes O'Connell. "By framing this story as an act of heroism benefitting innocent children, Americans overcame residual hostilities of the occupation and fostered a new relationship with the former enemy," she writes. This helped the Allies hold on to West Berlin and maintain home support for the effort. In 1949, the Soviets lifted the blockade and land delivery of food resumed. 
As for Halvorsen, he told Lynn in 2014 that many former beneficiaries of his time as the Candy Bomber had tracked him down to thank him and tell their own stories. "The small things you do turn into great things," he said.