Swamp Cancer Kills Seven of Chincoteague's Beloved Wild Ponies
The deadly infection leaves itchy lesions clustered across victims' bodies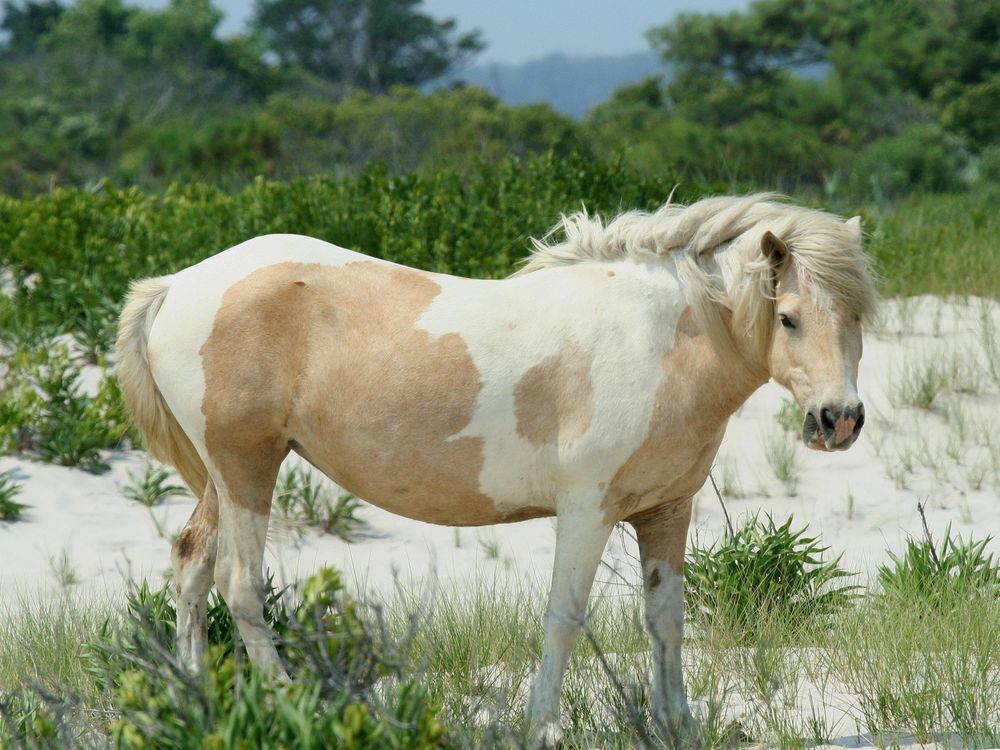 A deadly infection known colloquially as "swamp cancer" is wreaking havoc on Assateague Island's famed Chincoteague pony herd, Steve Hendrix reports for The Washington Post. Seven of the barrier island's residents, including four euthanized at the end of December, have died over the past several months, and experts fear that spring's rising temperatures will only exacerbate the problem.
Denise Bowden, a spokesperson for the Chincoteague Volunteer Fire Company, which is responsible for overseeing the roughly 150-strong herd's wellbeing, announced the deaths of the latest casualties in a Facebook post published last Friday, writing, "Shadow, Lightning, Calceti'n and Elusive Star as well as the others received the very best care money could buy."
She continued, "They had surgeries, more medicine than you can imagine, round the clock care and lots and lots of love and attention." Ultimately, however, the team decided to euthanize the animals rather than let them suffer further.
Swamp cancer is a poorly understood disease spread by a fungal-like oomycete called Pythium insidiosum. According to Hayley Harding of The Salisbury Daily Times, infectious zoospores, or swimming spores, spread from plants to nearby bodies of water, eventually entering victims via openings left by cuts or abrasions. Once P. insidiosum successfully infiltrates a target, it can build up, leaving itchy lesions clustered across the creatures' bodies.
Hendrix notes that swamp cancer has previously been observed in horses and dogs living in tropical southern regions such as Florida. But in recent years, the infection has spread as far north as Minnesota—a phenomenon that research veterinarian Richard Hansen says "seems to be [occurring] with the changing climate."
The current epidemic plaguing Chincoteague's ponies began in summer 2016, when a mare still in early stages of the disease received successful treatment. Since then, researchers have experienced varied success. Two horses suffering from advanced infections died in 2017, while a pony treated in spring 2018 survived the ordeal. Three other infected animals died in late 2018: As Harding explains in a separate article for The Salisbury Daily Times, a 5-year-old mare named Essie died in October. Six-month-old RainDancer and 13-year-old Lyra followed in early December.
Currently, treatment can entail immunotherapy and surgical removal of infected lesions. Such measures are not only incredibly expensive—Hendrix points out that the herd's caretakers have spent more than $25,000 on treatments to date. Treatments can often be unreliable, and many veterinary schools still consider the disease incurable, swamp cancer expert Bob Glass, who runs a veterinary lab in Texas, tells Harding .
Adding to the problem is the fact that the ponies have free range of Assateague Island, meaning caretakers can go days without spotting a particular animal. By the time officials notice a swamp cancer lesion, the fungus is already "running amuck," Bowden explains to Harding.
Assateague's wild ponies likely arrived on the mid-Atlantic coast during the 17th century, Eliza McGraw writes for Smithsonian.com. Although popular legend claims the contemporary brood descends from survivors of a wrecked Spanish galleon, a more likely origin story stems from the efforts of 17th-century settlers.
Despite their demure stature, the Chincoteague ponies have proven incredibly resilient throughout their nearly 400-year history. In 1962, a Level 5 nor'easter unleashed its fury on the herd, killing some 145 of the 300 horses living on Assateague and Chincoteague but leaving Misty—a 16-year-old palomino mare who rocketed to fame as the inspiration behind Marguerite Henry's Misty of Chincoteague children's novel—relatively unscathed. In fact, McGraw says, Misty gave birth to a foal, fittingly named Stormy, soon after the disaster.
More recently, the ponies have made headlines for their endurance in the face of storms, including September 2018's Hurricane Florence. As Kelly Taylor, supervisor of the Maryland District of Division of Interpretation and Education, told The Salisbury Daily Times' Harding in the days leading up to the hurricane, "This is not [the herd's] first rodeo. They come from a hearty stock, and they can take care of themselves."
But swamp cancer represents an entirely new kind of foe, one that may prove more devastating than the natural disasters these ponies are conditioned to survive. Still, the news isn't all bad: In the Facebook statement, Bowden notes that veterinarian Richard Hansen has created a "preventive vaccine" currently awaiting FDA approval. Additionally, the Fish & Wildlife Service is investigating the infection in hopes of eradicating it from the ponies' island refuge.
"It isn't only a pony problem," Bowden concludes. "It can affect any animal that comes in contact with it."