Suspected Nazi Camp Guard Deported to Germany
Fourteen years after being stripped of his citizenship, Germany finally takes in Jakiw Palij, who was trained by the SS at Trawniki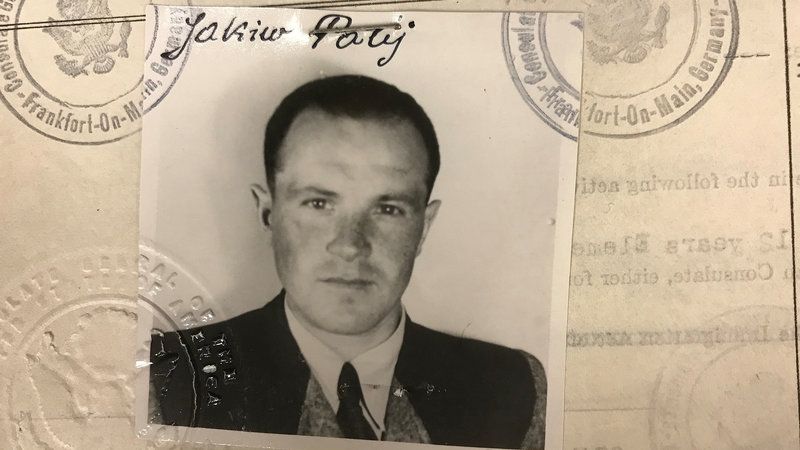 On Monday, 95-year-old Jakiw Palij of New York City was deported to Germany for his work as a guard at the Trawniki labor camp in Nazi-occupied Poland, reports Camila Domonoske at NPR. Palij is believed to be the last surviving Nazi war criminal living in the United States, and the 68th Nazi expelled from the U.S.
Palij's history wasn't a recent discovery; his Nazi past was uncovered in 1993, reports Katrin Bennhold and Julie Hirschfeld Davis at The New York Times. Since Palij's alleged crimes are not well documented and occurred in another country, the U.S. was not able to charge him. But in 2003, a federal judge stripped Palij of his citizenship, which he received in 1957, for lying on his 1949 immigration visa. In the papers, Palij claimed that he worked on his father's farm in Poland and in a German factory for the duration of the war.
His deportation was ordered in 2004, but there was still one problem—no European nation was willing to take the accused war criminal. So Palij continued his life in the Jackson Heights neighborhood of Queens, believing that the deportation would likely never happen. But concerned citizens continued to contact their state congressional delegations about the matter, and last November the New York Times Editorial Board ran a piece raising the issue, stating that, "No crime against humanity, no matter how long ago it occurred, should be immune to cries for justice. And no criminal is too old to be deservedly punished."
In recent months U.S. ambassador to Germany Richard Grenell has pressed that nation to accept Palij and they finally agreed. The frail man was flown by air ambulance to Dusseldorf and transferred to a nursing home near Munster. "It's finally happened. This is the last Nazi," New York state assemblyman Dov Hikind, who has led protests outside Palij's apartment over the years, tells Erin Durkin at The Guardian. "You can close the book on this chapter."
The White House released a statement after the deportation saying, "Palij's removal sends a strong message: The United States will not tolerate those who facilitated Nazi crimes and other human rights violations, and they will not find a safe haven on American soil."
Domonoske reports that Palij was first fingered as a Nazi camp guard after the fall of communism in Czechoslovakia. His name was found on several lists of men trained at Trawniki to be part of the SS (short for Schutzstaffel, the Nazi paramilitary group). Over the course of the war Trawniki served as a forced labor camp and a concentration camp. It was also the site of one the war's worst atrocities, in which 6,000 Jewish people were shot in a single day. While Palij admitted that he was trained as a guard at the camp in 1943, he claimed he was forced into the job after his family was threatened and that he did not interact with prisoners but guarded bridges.
There is no direct evidence that Palij worked as a guard in the camps, but his name did appear on several SS rosters. Most of the men trained at Trawniki served as frontline forces for Operation Reinhard, the organized Nazi effort to annihilate Jews in Poland. The so-called "Trawniki Men" worked as guards at various death camps and helped clear out Jewish ghettos in cities throughout Poland.
Whatever Palij's activities were during the war, he still lied on his immigration paperwork, forming the legal basis for his deportation.
So how did Palij and other Nazi war criminals make it into the U.S. in the first place? In the chaos of post-war Europe it's possible that some were able to falsify their past and make it into the U.S. But according to author Eric Lichtblau, author of The Nazis Next Door, American intelligence services brought over thousands of Nazis, some accused of atrocities, who served as spies and informants for the United States during the Cold War. As a reward for their work, their records were scrubbed and they were allowed to enter the U.S and live normal lives without fear of prosecution for war crimes. In 1979, however, the Justice Department created a Nazi-hunting unit called the Office of Special Investigations (OSI) and began ferreting out the remaining Nazis.
During the Cold War years, Eastern European nations were willing to take former Nazis stripped of their citizenship, but in recent years, nations have been less willing to take the aging war criminals. "This is a very common problem," Eli Rosenbaum, former director of the OSI tells NPR. "We have been working hard to persuade governments in Europe to relent ever since the late '70s. And one of the tragic consequences of that refusal is that nine Nazi perpetrators ... died here [in the U.S.], all between 2005 and 2015."
Kate Connolly at The Guardian reports that Germany's Central Office for the Investigation of Nazi Crimes has said there is not enough evidence to charge Palij for war crimes, and there is no current investigation into his case.