Surgeons Perform World's First Whole Eyeball Transplant on Arkansas Veteran
The patient, who suffered a severe electrical accident in 2021, currently has no vision in the transplanted eye, but doctors say he's recovering well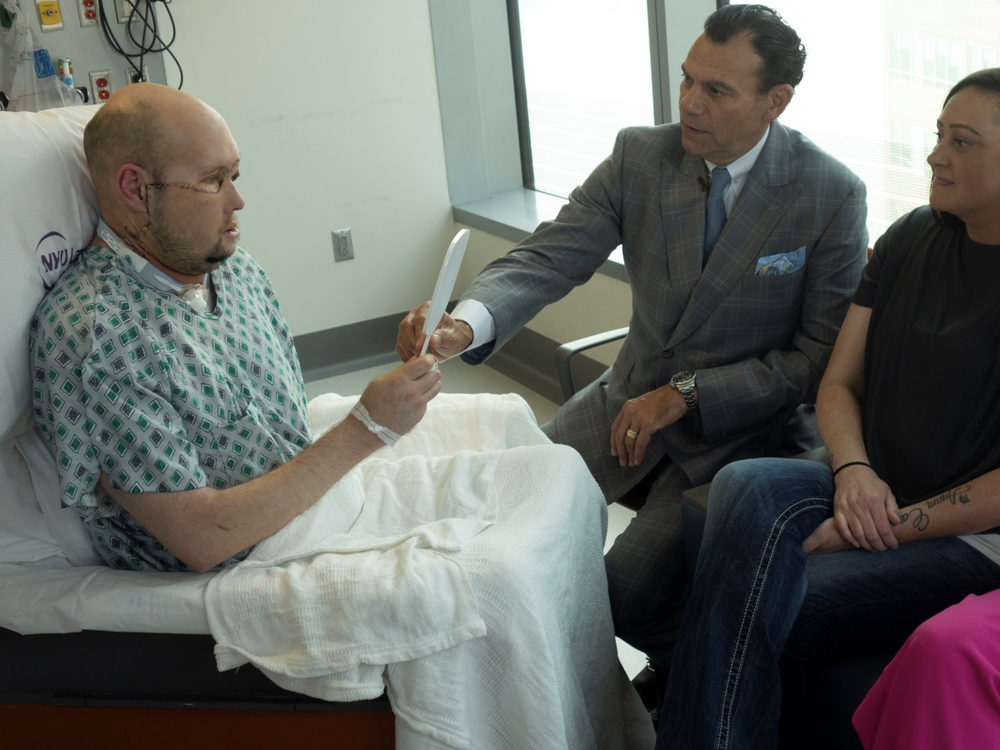 For the first time ever, surgeons have transplanted a whole human eyeball. The recipient is now nearly five months out from the procedure, which also included a partial face transplant, and he is recovering well. Though he has no vision in the transplanted eyeball, doctors say the organ is healthy and showing promising signs.
The patient is Aaron James, a 46-year-old military veteran from Arkansas who worked as a high-voltage lineman, according to a statement from NYU Langone Health, where doctors performed the transplant. On June 10, 2021, James was working in Mississippi when a live wire touched his face and sent a 7,200-volt electric shock through his body.
James sustained extensive injuries from the accident, and doctors wondered whether he would survive. He suffered multiorgan system failure and spent six weeks in a medically induced coma.
Despite undergoing several reconstructive surgeries, James ultimately lost his nose, lips, left cheek, chin and front teeth. Surgeons also had to amputate his left arm above the elbow, and they removed his left eye, because it caused him severe pain.
"Most individuals don't survive that level of injury," said Eduardo Rodriguez, who directs the NYU Langone face transplant program and served as the lead surgeon for James' transplant, at a news conference this week, per Live Science's Nicoletta Lanese.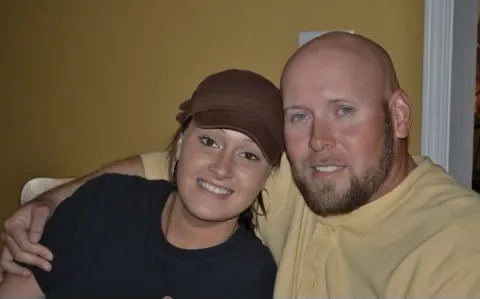 When face transplant specialists at NYU Langone Health heard about James' case, they proposed the idea of doing not just a partial face transplant, but also a whole-eye transplant—which had never been done before.
They told James he might never be able to see out of the transplanted eye and that the procedure would come with big risks: Since the eye is connected to the brain and the central nervous system, the surgery might lead to a deadly infection or brain inflammation.
In the end, James decided the potential benefits outweighed the risks.
"I said, 'Even if it don't work, I'll have an eye, and it will be at least normal-looking, and then you all could learn something off of this,'" James tells CNN's Jacqueline Howard. "You have to have a patient zero."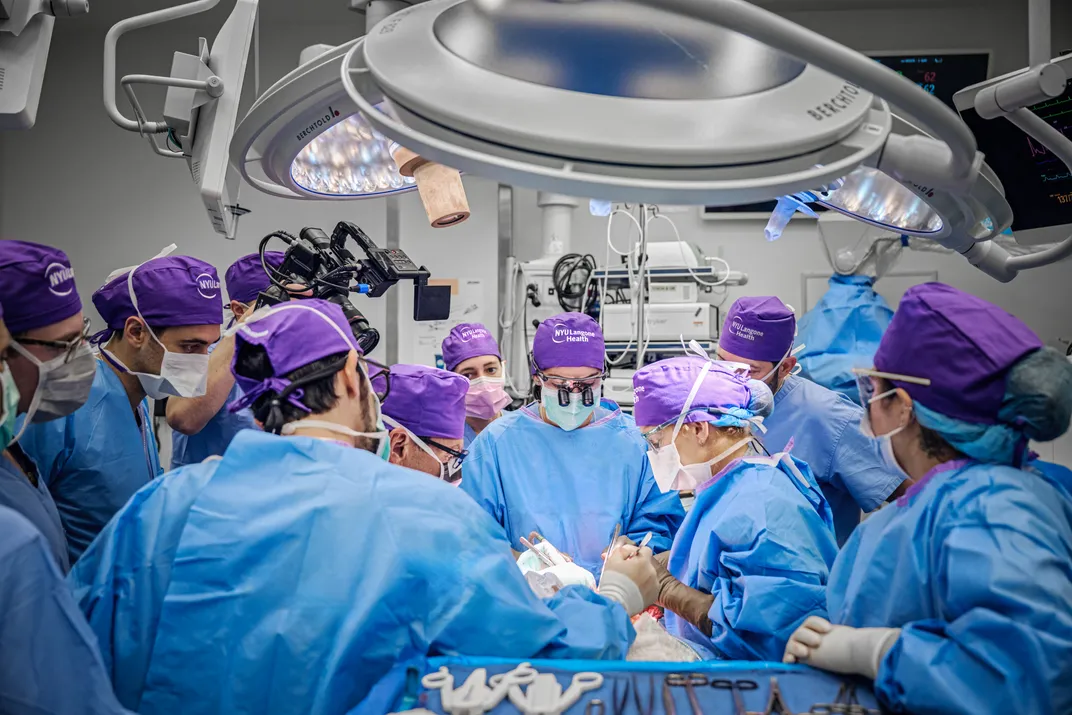 Corneal transplants have become common for treating some types of vision loss, and some whole eyeball experiments have been conducted with animals. But no one had ever attempted a human eyeball transplant before. One of the main hurdles is getting the optic nerve, which links the eye to the brain, to regenerate completely. This process could take months or years, and it has not yet been achieved in humans or any other mammal.
Through researchers are making great strides, whole eyeball transplantation has been "science fiction for a long time," says José-Alain Sahel, an ophthalmologist at the University of Pittsburgh, to Scientific American's Tanya Lewis.
Face transplants are also rare: James is just the 19th person in the United States to undergo the procedure.
In February 2023, James was officially listed as a potential transplant recipient. Three months later, a potential donor was identified at another New York City hospital.
"The donor hero was a young man in his 30s who came from a family that strongly supports organ donation," said Leonard Achan, president and CEO of LiveOnNY, a nonprofit organ procurement organization, in the statement. "He, in support by his family, generously donated tissues leading to this successful face and eye transplant, but also saved three other individuals between the ages of 20 and 70, donating his kidneys, liver and pancreas."
On the day of James' procedure in late May, more than 140 surgeons, nurses and health care professionals gathered at NYU Langone. They divided into two teams and worked simultaneously in different operating rooms. In one, they removed the parts of James' face that would be replaced with donor tissue. In the other, they removed the donor's face and eyeball.
They worked quickly to transplant the donor face and eyeball to James, sticking closely to a detailed timetable they'd rehearsed multiple times in advance. Surgeons transplanted the nose, upper and lower lips and tissues below the right eye. They also attached the underlying skull, cheek, nasal and chin bones. In addition, they transplanted the left orbital bones and eye socket, the left upper and lower eyelids, the left eyebrow and the surrounding tissues of the left eye.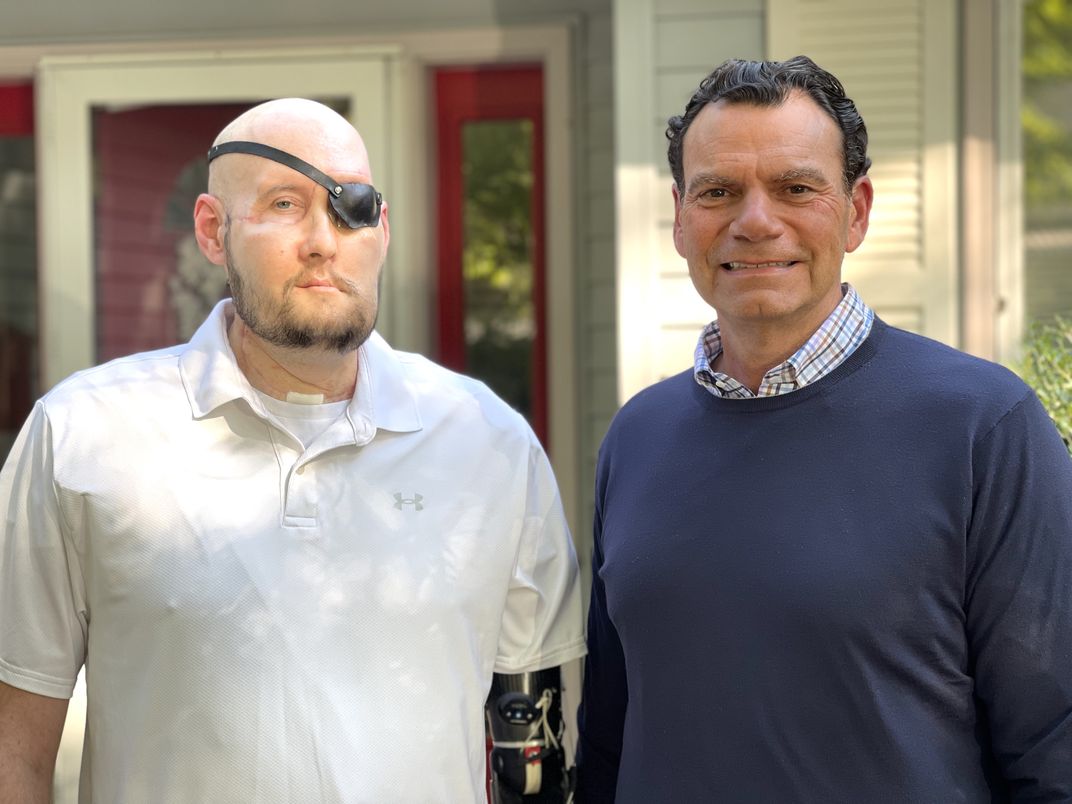 When surgeons connected the donor eyeball, they injected adult stem cells from the donor's bone marrow into James' optic nerve. Their theory is that the adult stem cells will replace the damaged cells of the optic nerve and, possibly, help regenerate it.
Doctors had never injected adult stem cells into an optic nerve during a transplant before, so it remains to be seen whether the procedure will be effective.
In the end, the groundbreaking surgery lasted 21 hours—from 9:14 a.m. on May 27 to 7:51 a.m. on May 28. Afterward, James spent 17 days recovering in the hospital's intensive care unit before moving to a nearby apartment, where he continued to receive physical, speech and occupational therapy.
Today, James is back home with his family in Arkansas. He remains on immunosuppressive drugs to discourage his body from rejecting the donated tissue, and he regularly returns to New York for check-ins. Because of the surgery, he can eat solid foods again, and he's regained his sense of smell and taste. He no longer has to use feeding and breathing tubes.
While he cannot see out of the transplanted eyeball, the organ appears to be healthy. Early tests indicate the light-detecting cells in the eyeball's retina are perceiving light and sending some signals to the visual cortex in his brain.
"We're not claiming that we are going to restore sight," says Rodriguez to the Associated Press' Lauran Neergaard. "But there's no doubt in my mind we are one step closer."