'Stomp' Performers Hang Up Their Garbage Can Lids
The iconic production closes this weekend after nearly three decades off-Broadway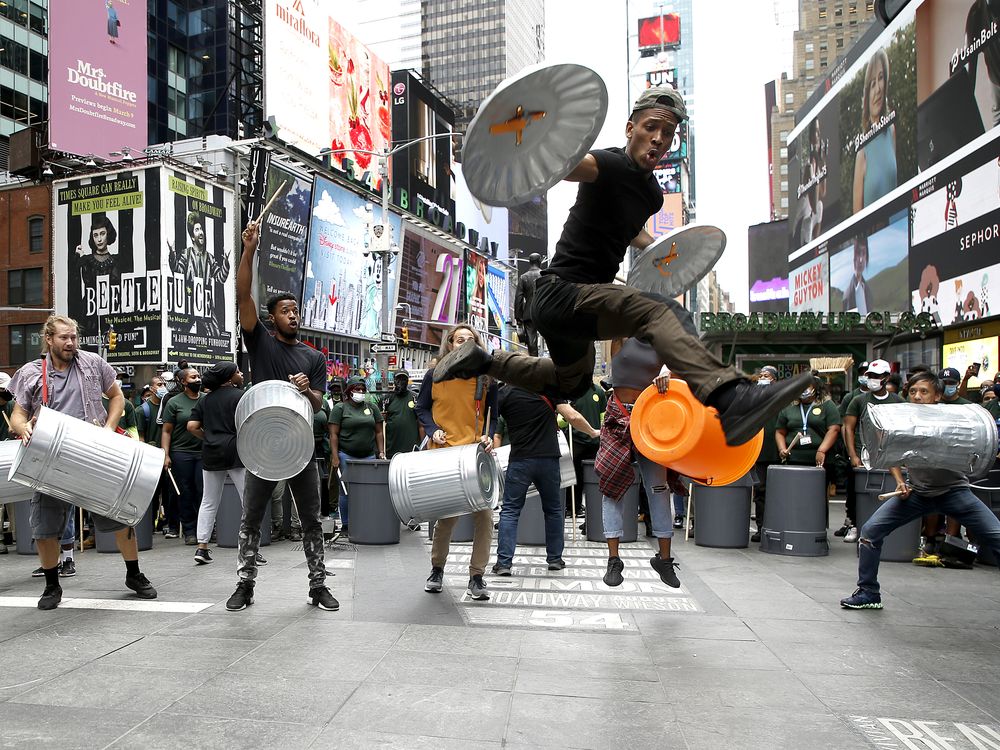 You'll soon hear a little less tapping, banging and clattering in New York City. After almost 29 years, the percussive show Stomp will play its final performance at the Orpheum Theater this Sunday.
The wordless production, which opened off-Broadway in 1994, is known for its driving percussion and creative use of objects like metal garbage cans, shopping carts and brooms—in other words, anything but an instrument.
The closing came "due to declining ticket sales," a spokesperson for Stomp tells Abbey White and Caitlin Huston of the Hollywood Reporter. The show's North American and European tours will continue.
"We could not have imagined the remarkable success it would enjoy, becoming part of popular culture, touring for years, and making an unmistakable imprint on the theatre landscape here and all over the world," say the show's producers in a statement. "While we're sad to see it close at the Orpheum Theatre, we couldn't be prouder of the impact that Stomp has had—and will continue to have—as the tours run both here and in Europe."
Stomp was created and directed by Brighton, England, natives Luke Cresswell and Steve McNicholas in 1991. They had previously found their common interest in "very eclectic, punky, thrashy, scratchy" music as members of the band Pookiesnackenburger, as Cresswell told the New York Times' Sopan Deb in 2019, when the show celebrated its 25th anniversary off-Broadway.
"We are so proud that the East Village and the Orpheum Theatre has been Stomp's home for so many wonderful years," say Cresswell and McNicholas in a statement.
In addition to more than 11,000 performances in New York City, the show has been featured at a number of high-profile events, including the Academy Awards in 1996 and former President Bill Clinton's New Year's celebration at the Lincoln Memorial ushering in 2000. Cast members even starred in a New York City public service campaign called "Stomp Out Litter."
In July 2021, the production was one of the first off-Broadway shows to resume performances after being forced to close due to the Covid-19 pandemic. Now, as Time Out's Adam Feldman writes, Stomp's closure comes at a time when Broadway is confronting questions about "the current financial viability of productions that depend predominantly on out-of-town audiences."
While the 2022 holiday season brought record attendance to some Broadway shows, New York City's tourism remains below what it was prior to the pandemic. Hit shows like Dear Evan Hansen, which won multiple Tony awards in 2017, and Come From Away also closed in 2022. Perhaps most notably, The Phantom of the Opera, Broadway's longest-running show, announced it would close in winter 2023, though its closing week has now been moved to April.
Though Stomp will soon see its final curtain call, many will remember the joyful, grungy production fondly.
"Like anything that runs that long, and seeps into the culture that deep, Stomp has become an institution, a landmark on the New York cultural scene," New York City resident Robert Russo tells the Times' Nicole Herrington, "I will miss it, even though I only caught it in the final weeks of a three-decade run, because—like the Chrysler Building or a taxicab—it is New York."