Statue of Roger B. Taney Removed From Maryland State House
Taney, the fifth chief justice of the Supreme Court, wrote the majority opinion in the infamous Dred Scott case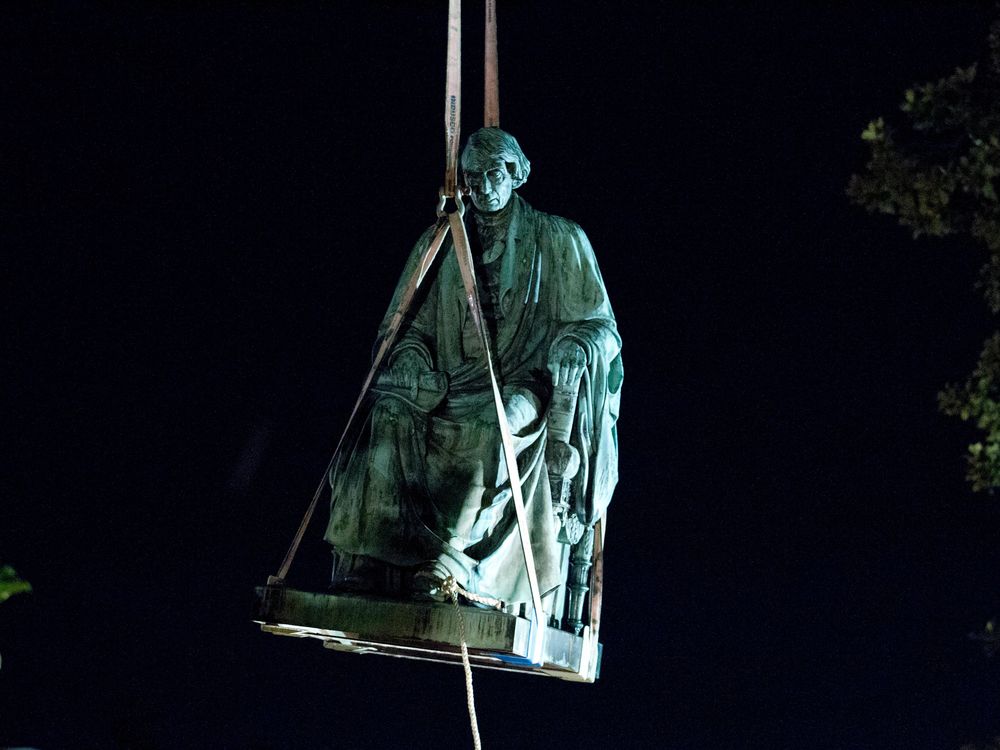 Days after Baltimore removed four Confederate monuments from the city, a statue of controversial Supreme Court justice Roger B. Taney was carted away from the grounds of the Maryland State House in Annapolis.
The monument was taken down in the early hours of Friday morning, Pamela Wood and Erin Cox report for the Baltimore Sun. Work started at 12:20 a.m. and by 2 a.m., the statue was gone.
Annapolis' tribute to Taney was erected at the State House in 1872. The fifth chief justice of the Supreme Court, Taney is primarily remembered for writing the majority opinion in the Dred Scott case, which ruled that black people—regardless of whether or not they were slaves—could not be considered citizens of the United States. Historians say that the court's decision was responsible, in part, for driving the country toward civil war.
In an article published on Monday for the Baltimore Sun, Cox reported that officials have long grappled with what to do with the statue. Officials previously tried to "add more context" to the monument by installing plaques explaining Taney's controversial decision, as well as additional monuments, such as a statue of Thurgood Marshall, the country's first black Supreme Court justice, which was erected by the State House in the 1990s.
Maryland Governor Larry Hogan (R) previously supported keeping the monument to Taney in place, but according to Josh Hicks of the Washington Post, he changed his mind in the wake of the violent white nationalist rallies in Charlottesville, Virginia, over the weekend, which left one woman dead. On Wednesday, members of the State House Trust Board—including a representative for Hogan—voted in favor of removing the statue.
The Taney memorial is the latest in a string of Confederate monuments that have been taken down across the country. President Donald Trump has criticized the removals, writing on Twitter that is it "[s]ad to see the history and culture of our great country being ripped apart with the removal of our beautiful statues and monuments." 
The removal of the Taney statue in Maryland has also proven divisive. According to Wood and Cox of the Baltimore Sun, Senate President Thomas Mike V. Miller wrote a letter to Governor Hogan arguing that the statue should stay in place. While he acknowledged the "the inflammatory and derogatory language" of the Dred Scott decision, he noted that Taney also "served with distinction" as lawmaker, state attorney general and U.S. attorney general.
But in a statement released on Tuesday, Hogan contended that taking the statue down was "the right thing to do."
"[T]he time has come," he said, "to make clear the difference between properly acknowledging our past and glorifying the darkest chapters of our history."