A Space Hotel Could Be Coming Soon to Skies Near You
Bigelow Aerospace wants to launch two inflatable modules for a space habit as early as 2021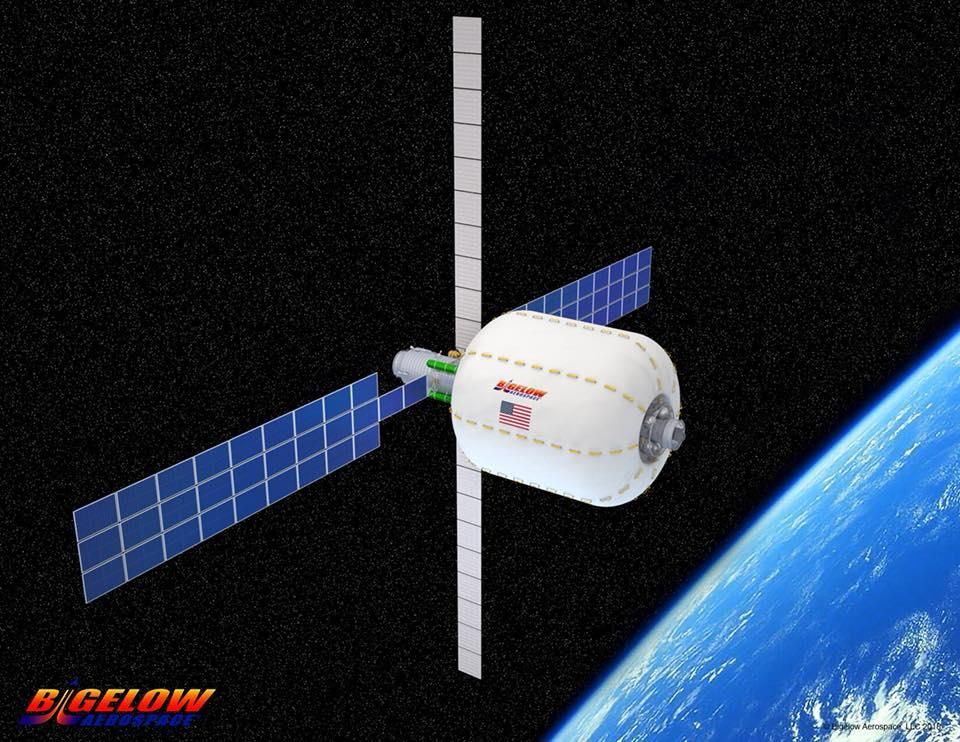 The idea that you could be vacationing in space someday may seem like a wild fantasy. But a space hotel could happen sooner than you think. Spaceflight company Bigelow Space Operations (BSO) wants to sell hotel reservations to give space enthusiasts—or scientists on a budget—a once-in-a-lifetime experience, Mike Wall reports for Space.com.
The company is a spin off of Bigelow Aerospace, a Las Vegas-based company founded by billionaire Robert Bigelow that manufactures space habitats, report The Verge's Loren Grush and Alessandra Potenza. So BSO is responsible for selling and managing the modules Bigelow Aerospace builds.
Its plans are to launch two inflatable modules, called B330-1 and B330-2, each about 55 feet long once deployed, into low Earth orbit, around 250 miles above Earth. The two modules would be connected together to create a private station station capable of housing up to six people for periods of time.
In a press release, the company said these two modules, "will be the largest, most complex structures ever known as stations for human use in space."
Grush and Potenza explain that Bigelow's two modules would be densely compacted when launched into space and then inflate once they're in position. The B330 will expand to about one-third the volume of the ISS, or about 12,000 cubic feet (or about 330 cubic meters, which Grush and Potenza point out is where it got its name).
The B330s could launch as early as 2021.
According to Bigelow, the cost to stay in the pods will run you somewhere in the low seven to low eight figures. But the primary function of the inflatable units will likely be more science than tourism. The company notes it is investigating the possibility of selling time on the modules to nations that need lab space in low Earth orbit.
BSO is banking on the increasingly possible idea that businesses, including hotels, will want to turn a profit in space — at a time when there is a lot of talk about the future of commercial space living, writes David Grossman of Popular Mechanics. For example, the Trump Administration is investigating the possibility of to convert the International Space Station into a commercial venture, according to The Washington Post.
The company will spend 2018 looking for potential customers, including space agencies, corporations and nations, Grush and Potenza report. Will their space habitat attract enough interest? "We're going to be spending millions of dollars to try to get to that answer," founder Robert Bigelow said in a press call, according to The Verge.
Bigelow is not alone in planning for a commercial space opportunities. In December, Jason Daley reported for Smithsonian.com that Russian space agency Roscosmos was considering building a luxury hotel module for the International Space Station that could host travelers for two weeks. That entire trip to space would run around $40 million.
But BSO is ahead of the curve. One of the company's test habitats, the Bigelow Expandable Activity Module, or BEAM, is already in orbit attached to the International Space Station. Launched in 2016, BEAM inflates to about 13 feet long and 10.5 feet in diameter, according to NASA.
With testing in progress, Bigelow is looking ahead at bigger possibilities. They want to launch a B330 in orbit to moon by 2022, The Verge reported last fall, and according to Wall, they also want to create a bigger, single module, dubbed Olympus, that would be six times the volume of the B330.