Southern California Will Soon See Another Booming Superbloom
If the rain keeps up, the deserts and burn scars will soon explode with acres of colorful poppies, lupines, lilies and other ephemeral flowers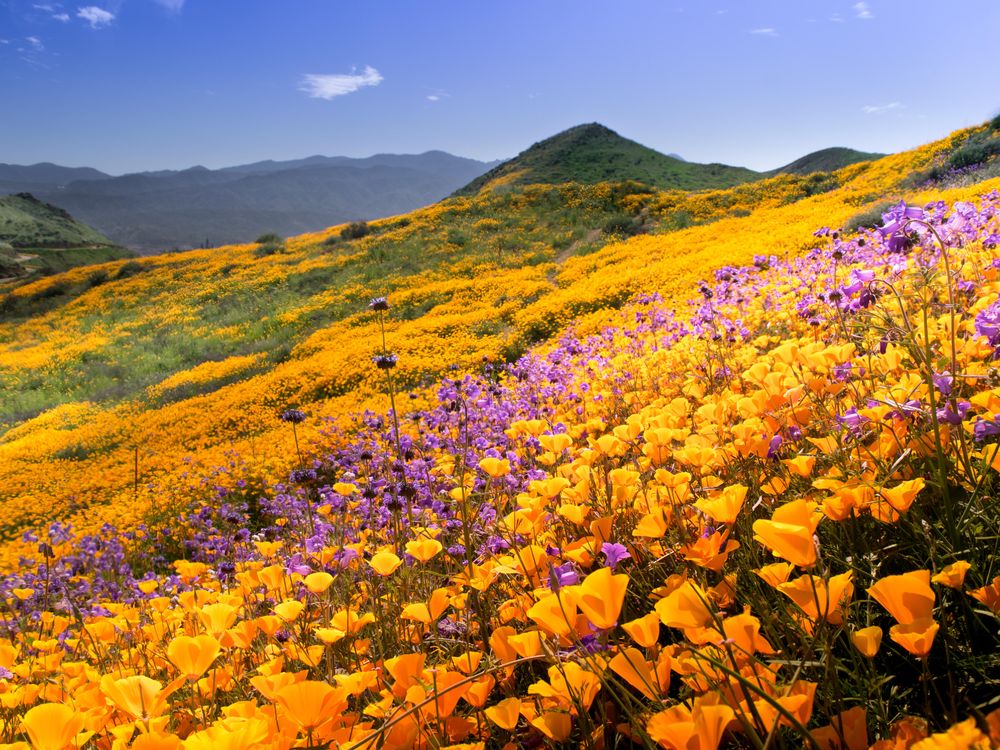 In the next few weeks, parts of Southern California may experience a superbloom, which is when the desert landscape comes alive with blossoming wild poppies, verbena, lilies, primroses, prickly pear and dozens of other species of ephemeral native spring wildflowers, reports Evan Nicole Brown at Atlas Obscura.
The term superbloom is used to describe years when excess rain causes chaparral and desert landscapes to produce more flowers than normal, with carpets of wildflowers sometimes covering entire landscapes for a brief period, explains Eleanor Imster at EarthSky. The seeds of desert wildflowers are made to last—they often have thick or waxy coatings and are able to survive in a dormant state for years or decades. Tiffany Camhi at KQED reports that the best superblooms occur after extended drought has had time to kill off invasive weeds that compete with native wildflowers for sunlight, followed by above average rainfall. When the excess rain soaks and softens the seed coats—as they did in 2017—the plants germinate en masse, producing acres and acres of blossoms.
In some desert areas, rare species that only bloom every few years, or even decades, can pop up. "In super blooms you can get flowers, which in some cases, are thought to be extinct," Richard Minnich, a professor of earth sciences at University of California, Riverside says.
The massive Woolsey Fire that burned 96,949 acres in Los Angeles and Ventura scorching 88 percent of the Santa Monica Mountains National Recreation Area will also help to produce a bumper crop of flowers in southern California. That's because many wildflower species, including poppy, popcorn-flower, lily, lupine, snapdragon, and some sunflowers only germinate under these exact conditions. Mark Mendelsohn, a National Park Service biologist the Recreation Area tells Brown that circumstances are right for a unique superbloom in the region.
"Either the heat or the smoke physically causes the seed to germinate," he says. "Steady, but not necessarily heavy, rains throughout our normal wet season of November through March … encourage most of our species to bloom in a given year… We are at ~100 to 150 percent (maybe even 200 percent) our normal rainfall up to this point."
Jenna Chandler at Curbed Los Angeles has been fielding reports from around the region, and so far all signs point to conditions favorable for a massive bloom. Casey Schreiner, editor of Modern Hiker tells Chandler that the burned areas from the Woolsey fire are full of new growth. Paramount Ranch, Circle X Ranch, Chesebro Canyons and other burned areas are ripe for greenery. Joshua Tree National Park has greened up too and already has some early species blooming. "Malibu Creek State Park will be really, really hot, because it burned quite a bit, and there's a high diversity of species there," Mendelsohn says. "That will be the crème de la crème."
That is, if the rain continues on and it doesn't get too hot too quickly. That flush of growth could wither away without blooming if the weather changes for the worse.
But flower lovers are remaining optimistic that the blossoms will arrive shortly. In 2017, the superbloom began in desert areas in early March and ran through April. According to J. Harry Jones at The Los Angeles Times, the bloom, which could be seen from space, brought with it hundreds of thousands of extra tourists to small towns, like Borrego Springs, that weren't prepared for the influx of people. This year, however, restaurants and area stores are stocked up and ready to serve petal peepers if and when the blooms show up for "Flowergeddon 2."