This is the First Known Photo of the Smithsonian Castle
On the Smithsonian's 175th birthday, a glimpse into the iconic Castle's construction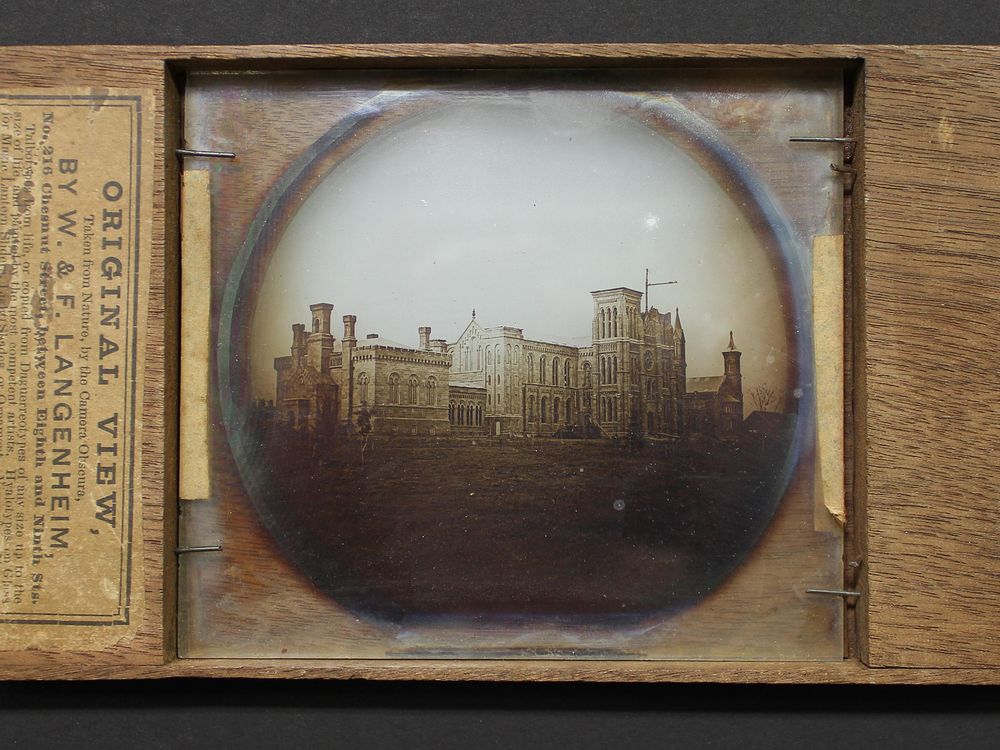 Visitors to Washington D.C.'s National Mall inevitably find their eyes drawn to the sky-piercing spire of the Washington Monument and the dome of the Capitol. But just as iconic are the deep red sandstone walls and towers standing between the two—the Smithsonian Castle. A picture from the Castle's earliest years was discovered in 2015. "Tom Rail, from Arlington, Virginia, is an avid collector of vintage photos, daguerreotypes and glass lantern slides," writes Alex di Giovanni for the Smithsonian Archives' blog. "When he mentioned to his old friend Paula Richardson Fleming, a retired Smithsonian photo archivist, that he had among his collection a glass slide that might depict the Smithsonian Institution Building (also known as the Castle), she at first didn't think much about it."
But it was soon determined that the 1850 photo was taken during the Castle's construction just four years after President James K. Polk signed the legislation that created the Smithsonian. It's the earliest known photograph of the Castle building, which was designed by James Renwick with the hopes that its medieval revival style would signal the Institution's educational purpose.
di Giovanni writes that Tom Rall of Arlington, Virginia, first brought the image to Smithsonian experts, who were able to date the photo by its image of the Castle's construction.
Brothers William and Frederick Langenheim took the photo using a process they developed and dubbed a hyalotype (they combined the Greek hyalos for glass and typos, image). In a release, the Smithsonian explains why the process, which used a glass negative, was better than what came before it:
Hyalotypes were highly detailed and accurate, while [their predecessors] usually resulted in soft, slightly fuzzy images due to the coarse paper they were printed on. The exposure time for hyalotypes was about one minute, which made the process well suited for architectural studies but impractical for portraiture.
Though the Smithsonian has hundreds of photos of the Castle in its collection, the photo is rare because it's the only one that shows the building's construction. If you look closely, you can see two completed wings and the as-yet unoccupied central portion. Only two of the Castle's eventual nine towers are standing and a crane hovers over the North Tower. The small building in front is a workman's shed. Here's a closer view of the image: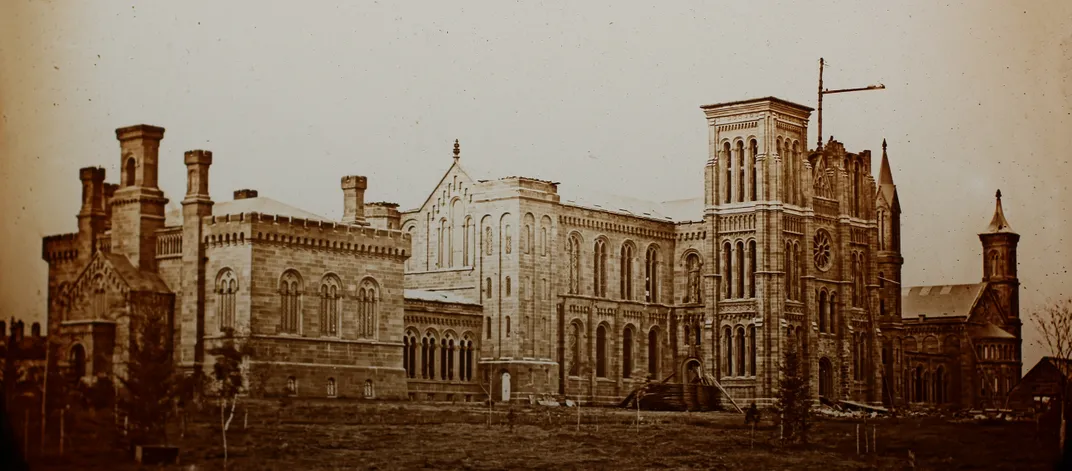 When the building was completed in 1855, its setting was somewhat different than it is today. A canal cut off the Castle from the rest of downtown and the National Mall's collection of museums and other buildings wasn't yet complete. A fire in 1865 forced major remodeling and eventual restoration before it became the landmark it is today.