The Smithsonian Acquires Major Works by and About Phillis Wheatley
The stunning trove of texts sheds new light on Wheatley, the first African American to publish a book of poetry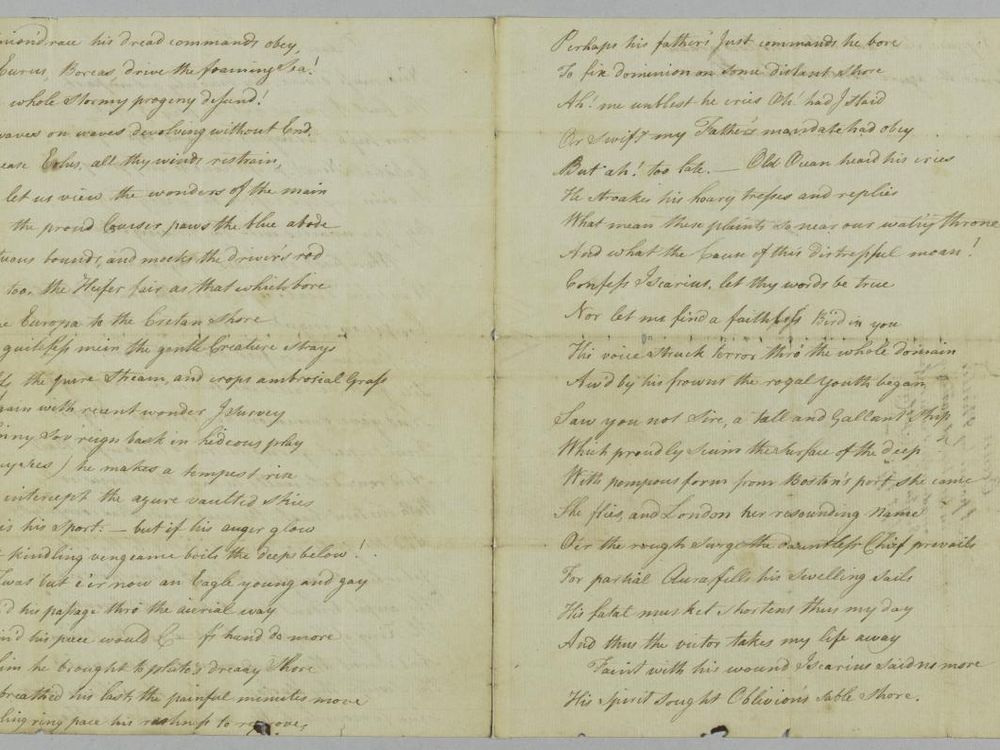 In the early 1760s, a young child was kidnapped from her home in West Africa and sent to the Americas. A couple in Boston, John and Susanna Wheatley, purchased the girl, naming her after the slave ship she arrived on, the Phillis. They taught her to read and write in English, and she soon began composing her own poems.
About a decade later, Phillis Wheatley became the first African American to publish a book of poetry: Poems on Various Subjects, Religious and Moral, which was released in London in 1773. The poet traveled to England to promote the volume, and during the journey back, she wrote a new 70-line poem titled "Ocean."
Now, the Smithsonian's National Museum of African American History and Culture (NMAAHC) has acquired a four-page manuscript of the poem, handwritten by Wheatley—the only such copy that exists today.
"You're seeing her handwriting, and seeing her write in this language she had fairly recently learned, and had become a champion of," Kevin Young, the museum's director, tells the New York Times' Jennifer Schuessler. "And here she is in this moment where she has traversed the ocean, which she had initially done in a horrible way, but was doing now as a celebrated poet. I've always thought of that moment and what it might have been like for her."
The manuscript is part of a 30-item acquisition of materials connected to Wheatley, which the museum announced this week. It includes newspapers, anthologies, books and other artifacts from between the late 18th and early 20th centuries.
"[Her] poetry brought her renown in abolitionist circles and presented as proof of the humanity of those of African descent and the inhumanity of slavery," says Young in a statement from NMAAHC.
Indeed, the Wheatleys faced criticism for continuing to enslave the poet while celebrating her talents. They manumitted her soon after her book's publication.
In 1778, she married John Peters, a free Black man who worked as a grocer. Though Wheatley (also known as Wheatley Peters) continued to write, she could not secure the support she needed to publish a second book. The couple experienced great financial hardship, and Wheatley eventually found work as a scullery maid. Just a few years later, at age 31, she died after giving birth to her daughter.
While history remembers Wheatley primarily as a prodigy, the newly acquired collection offers a more comprehensive perspective on her life, according to Angela Tate, curator of women's history at NMAAHC.
These items "[provide] a glimpse of Phillis Wheatley Peters the poet and Wheatley Peters the icon, as well as Wheatley Peters the woman," says Tate in the museum's statement. "This part of Wheatley Peters' life has been long removed from popular culture and remembrance. A 1783 poem in this collection is of extreme interest because it is published under her married name of Phillis Peters, and furthermore, it is important to note that she is not presented as Mrs. John Peters."
In addition to works written by Wheatley, the collection includes texts about the poet, which reveal how her story has been told throughout history. One of these texts is a booklet published by the Phillis Wheatley Club of Waycross, Georgia, which includes a biography of Wheatley and correspondence between her and George Washington. Another is a hardcover edition of Charles Frederick Heartman's 1915 Phillis Wheatley (Phillis Peters): A Critical Attempt and a Bibliography of Her Writings.
In the past, some scholars have raised concerns about Wheatley's work. In particular, they objected to "On Being Brought From Africa to America," a poem full of "seemingly sycophantic gratitude," writes the Times. In recent years, however, Wheatley has experienced a revival among Black poets and scholars, who have "found subversive currents in her decorous neo-Classical verse."
"Phillis Wheatley is a monumental figure not just in terms of literature, but also in terms of culture," Barbara McCaskill, a literary scholar at the University of Georgia and co-director of the Wheatley Peters Project, told the Boston Globe's Tiana Woodard earlier this year. "We haven't granted her her due."
Selections from the collection can be viewed online, and museum officials say they plan to display them at a later date.