Skiing Faces an Uncertain Future as Winters Warm
A lack of snow has forced some ski resorts to close, impacting tourists and athletes alike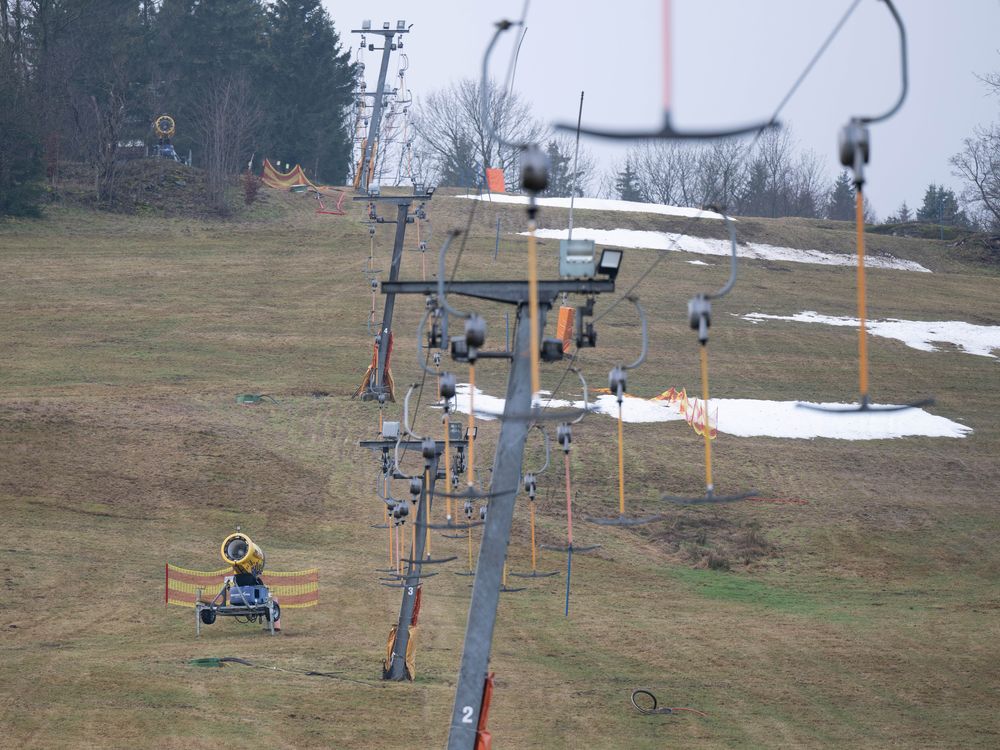 Rising temperatures driven by climate change are forcing ski resorts across the world to confront the possibility of a grim future: one without snow-covered slopes. The recent record heat waves in Europe, which brought T-shirt weather around the holidays, led to widespread resort closures, causing some to seek alternative sources of income like biking and hiking. 
"It looked dreadful over Christmas and New Year here, the worst I've seen in a long time," Andrea Scherz, whose family has owned and operated the Swiss resort Gstaad Palace since the 1940s, tells Mark Ellwood of Robb Report. "People still enjoyed themselves, but let's assume for the next five years we never get a white Christmas here. That will affect my business." 
Resorts in the Alps and Rocky Mountains alike are struggling to keep up with these changes. But their short-term solutions, like artificial snow, "ironically add more CO2 to the atmosphere and are making the climate problem worse," Marie Cavitte, a glaciologist and climate researcher at the Catholic University of Louvain in Belgium, tells BBC Future's Isabelle Gerretsen.
Snow cannons and plows are incredibly energy-intensive, and currently, no snow machines run on renewable energy, per the publication. A recent study from the University of Basel in Switzerland suggests that snowmaking could increase water consumption by about 80 percent at one of the country's largest ski resorts by the end of the century, rising from the 300 million liters of water used in a season today to 540 million liters.
Some Alpine resorts have even been covering glaciers with fleece blankets during summers in an attempt to reflect sunlight and prevent them from melting. While this strategy could reduce snowmelt by 50 to 70 percent, it's incredibly expensive—covering all of Switzerland's 1,000 largest glaciers would cost around $1.5 billion annually, per BBC Future. Winter tourism generates an estimated $5.7 billion per year in Switzerland. 
Along with the resorts, professional athletes have also suffered. This year, racers have seen competitions canceled, a lack of pre-season snow for training and the threat of restricted snowmaking due to rising temperatures. Conditions have gotten so poor that this week, nearly 200 athletes signed a letter to the International Ski and Snowboard Federation (FIS) demanding it take action regarding climate change. 
"It's about time to address a really important topic," ski racer Aleksander Aamodt Kilde said after earning a silver medal in downhill at the World Alpine Skiing Championships on Sunday, per the Associated Press. "We see that the world is changing. We see also the impact of our sport. … I want the future generations to experience winter and to be able to do what I do."
The letter calls on the FIS to commit to reaching net zero for all its operations and events by 2035, making suggestions such as a "geographically reasonable race calendar" that would cut emissions from excessive air travel. This year, for example, European athletes flew to Colorado for races in Beaver Creek and Aspen, which were timed three months apart despite being located merely 31 miles from each other. "Planning those two races one after the other would reduce approximately 1,500 tons of CO2," per the letter. The athletes also propose shifting the season later to account for long-term environmental changes. 
"The public opinion about skiing is shifting towards unjustifiability," the letter states. "This will also bring the industry into trouble." 
From 1982 to 2016, the snow season shortened by an average of 34 days and snow cover dropped by an average of 41 percent in some areas of the United States. The Alpine snow season shrank by 38 days from 1960 to 2017. Now, some Swiss mountainsides have gotten so warm they are being colonized by invasive cacti. 
"I think we have to see that something is dying," Michelle Furrer, manager of a guesthouse in the Swiss Alps, tells the New York Times' Erika Solomon. "We have to accept that, and then we can try to build—to find something else."