Singapore Safely Detonates a World War II-Era Bomb Unearthed at a Construction Site
Historians say Japanese forces may have dropped it during a critical battle in 1942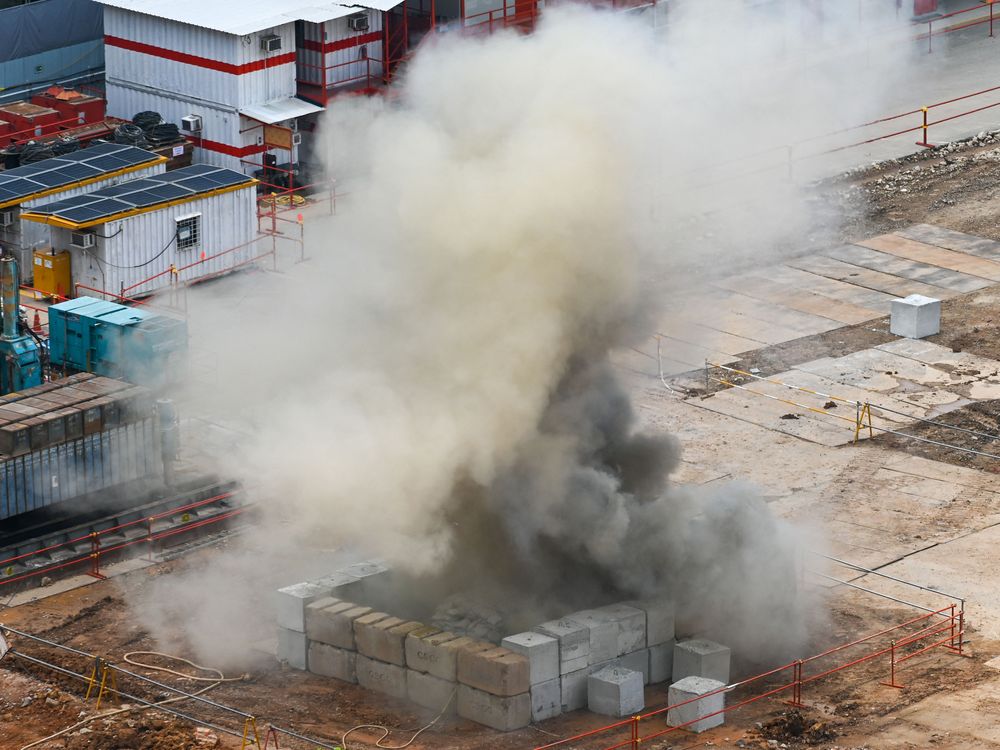 Late last month, specialists safely detonated a World War II-era aerial bomb found at a suburban construction site in Singapore.
The decades-old explosive weighed 100 kilograms (220 pounds), according to a statement from Singapore police. When it was unearthed on September 20, the military determined that moving it would be unsafe. Instead, officials announced that a team of bomb disposal experts would detonate it onsite, requiring the evacuation of about 4,000 people, reports Reuters' Chen Lin.
In a Facebook post, Vivian Balakrishnan, Singapore's foreign minister, wrote that a nearby community center would open early to temporarily house residents, while a nearby school would operate remotely.
On the morning of September 26, police closed the roads and put up a 200-meter (656-foot) cordon around the unexploded bomb. They also set up sandbags and concrete blocks to minimize damage, per the Straits Times' Gabrielle Chan, Fatimah Mujibah, Sarah Koh and Samuel Devaraj. Just after noon, the military carried out the first of two detonations, causing a thunderous boom in the area. By 1:45 p.m., the specialists had safely disposed of the bomb.
Residents returned to their homes soon after. Despite the precautionary measures in place, the blasts did cause some damage to nearby structures—such as broken lightbulbs and cracked ceilings—though most was superficial.
"Deepest appreciation for the successful disposal of the World War II bomb relic … and, of course, our residents for being calm and composed in dealing with this situation," wrote Balakrishnan in a Facebook post following the detonation, adding that the measured, cooperative response was "so quintessentially Singapore!"
According to historians, the bomb may have come from the Battle of Bukit Timah in early 1942. Japanese forces dropped more than 6,000 aerial explosives on Singapore, which was then a British colony, over a three-month period, as Mike Yeo, the Asia correspondent for Defense News, tells the Straits Times' Ang Qing. In February of that year, Singapore fell to the Japanese.
"There have been several previous instances of construction work uncovering such unexploded ordnances," says Yeo. "It is very likely that this will not be the last such unexploded bomb to be found in Singapore."
When dropped from great heights, heavy bombs can lodge deeply into the ground, only to be found many years later. The newly discovered artifact contained about 47 kilograms (104 pounds) of explosives.
"To give a comparison of the damage a World War II-era bomb can cause, in Limburg, Germany, in June 2019, a 250-kilogram [551-pound] bomb accidentally exploded in a farm field, creating a crater 10 meters [33 feet] wide and 4 meters [13 feet] deep," war historian John Kwok tells Qing of the Strait Times. "The bomb in Singapore is much smaller, but it would be able to cause a crater at the site, and the shockwave can cause windows to shatter and doors to break, sending shrapnel and broken glass like flying projectiles that can injure people."
Several other historic explosives have been found in Singapore in recent years. In April 2021, a construction worker uncovered one in Geylang, prompting evacuations. Another was discovered in Bishan in December 2020.