Should EpiPens Be Stocked Everywhere People Eat?
Laws are in the works to get EpiPens into schools and restaurants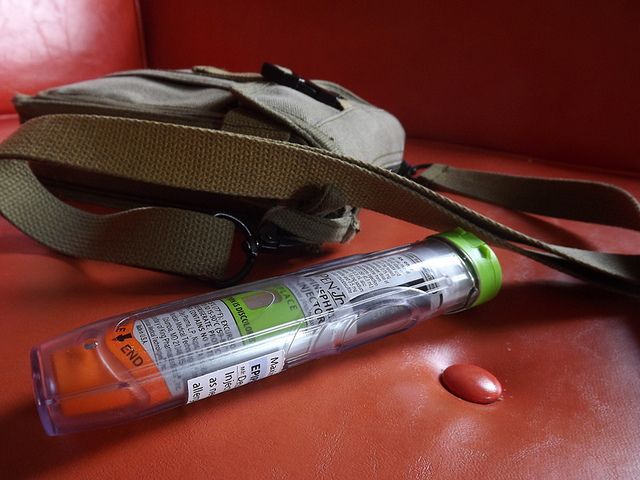 One in five Americans is allergic to something, and "the occurrence of allergic disease is skyrocketing," says UCLA's Food and Drug Allergy Care Center. It helps that everyone now knows to watch out for kids who may be allergic to peanut butter, but changes in how and when and what we eat are exacerbating the problem. We're not just detecting more people with allergies, there are actually, scientists think, more people with allergies. With people threatening to go into anaphylactic shock at any minute, one of the most important last lines of defense is the epinephrine autoinjector, more commonly known as the branded "EpiPen."
Right now, it's up to people who are allergic to pack their own medicine. But there's a push going on to make sure EpiPens are around wherever they're needed. In Michigan yesterday, says CBS, a law moved a step closer to mandating that every public school needs to keep EpiPens on hand. In Virginia, such a bill is already in place, says Curtis Sittenfeld in the New York Times, and a national version is winding its way through the system. Keeping these pens on hand, argues Sittenfeld, is important, because "a significant portion of severe allergic reactions at school occur among students with no prior allergy diagnosis."
In Hamilton, Ontario, legislators are taking it a step further. The Canadian city is rolling out a trial program that will stock epinephrine autoinjectors in a local eatery, with the aim of eventually having them in every restaurant in the city. The goal, says the CBC, is to turn epinephrine autoinjectors into the next defibrillator, the kind of tool that you hope you'll never need, but is available anyway just in case.
The main sticking point, as always, is cost. Subsidy and grant programs, funded by pharmaceutical companies, exist to make epinephrine injectors less expensive, but without these price drops the devices usually cost a few hundred dollars each.
More from Smithsonian.com:
Bullies are Now Using Their Victims' Allergies Against Them
Tick Bites Cause Freak Allergy to Meat Eating