Should a Colony Where Leprosy Patients Were Once Exiled Become a Tourist Destination?
The discussion gets sticky with concerns over how to respect the largely Native Hawaiian residents past and present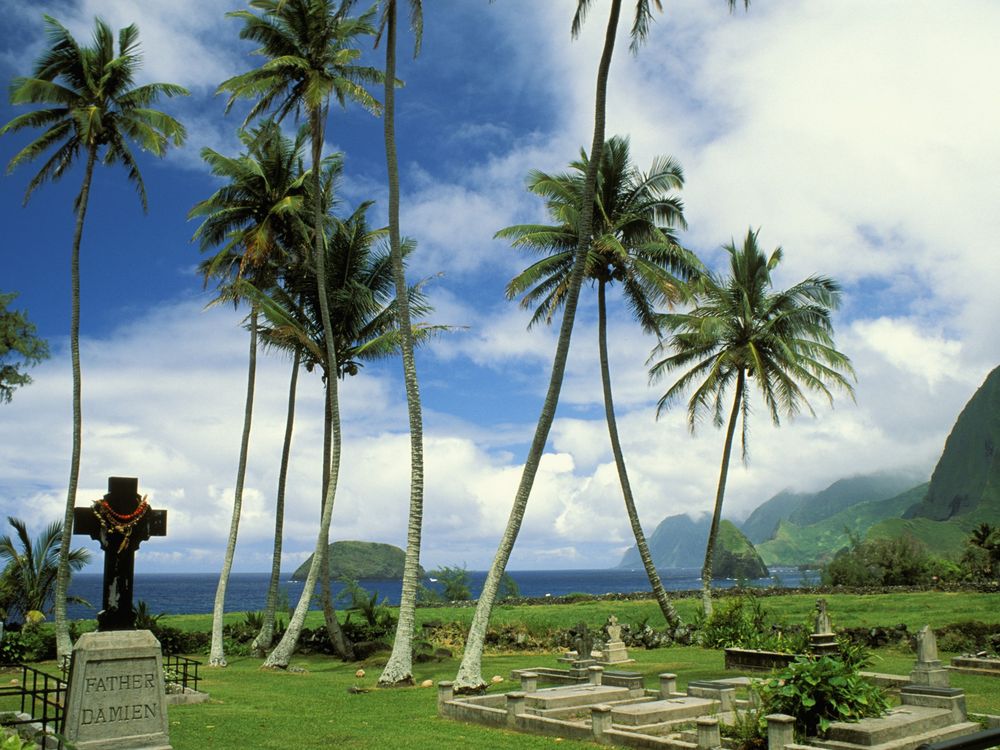 Leprosy may seem like an ancient illness, but people still get it today, though now it's called Hansen's disease. Although the infection can spread from person to person, it isn't very contagious and is curable. Since it can disfigure, however, people with the disease face discrimination and even quarantines. And until recently, people in Hawaii with leprosy were sent to the colony of Kalaupapa. Over the past century, at least 8,000 people, most Native Hawaiians, were forced from their homes and into quarantine at the colony, reports Alia Wong for The Atlantic. 
Now the National Park Service wants to open up the peninsula that Kalaupapa occupies. It's already preserved as a National Historical Park, but when the last patient dies the "long-term plan" is to open the peninsula fully to tourists. But it's still home to some. Wong writes:
Sixteen of those patients, ages 73 to 92, are still alive. They include six who remain in Kalaupapa voluntarily as full-time residents, even though the quarantine was lifted in 1969—a decade after Hawaii became a state and more than two decades after drugs were developed to treat leprosy, today known as Hansen's disease. The experience of being exiled was traumatic, as was the heartbreak of abandonment, for both the patients themselves and their family members. Kalaupapa is secluded by towering, treacherous sea cliffs from the rest of Molokai—an island with zero traffic lights that takes pride in its rural seclusion—and accessing it to this day remains difficult. Tourists typically arrive via mule. So why didn't every remaining patient embrace the new freedom? Why didn't everyone reconnect with loved ones and revel in the conveniences of civilization? Many of Kalaupapa's patients forged paradoxical bonds with their isolated world. Many couldn't bear to leave it. It was "the counterintuitive twinning of loneliness and community," wrote The New York Times in 2008. "All that dying and all of that living."
And they did make it their home.  Wong writes of the weddings as well as "dances, musical performances, lei-making contests and softball games," that would have been happy memories for the people still living there. Making the park more accessible would change all that. Some argue that the preservation the park would bring would be a way to honor the memory of those who once lived there. But others disagree. "Some are concerned that an influx of outsiders, particularly those who aren't sensitive to or familiar with Kalaupapa's past, would deteriorate the peninsula's spiritual ambience and undermine its historical legacy," Wong writes.
Conflict over the use of land sacred to Native Hawaiians elsewhere in Hawaii also color the discussion over the future for Kalaupapa. These conflicts are more than just a debate over one place — they can come to symbolize history. 
"Every time one person dies, we get less and less," said Clarence "Boogie" Kahilihiwa, one of the few living Kalaupapa patients, told The Times back in 2008. Wong writes:
 And even though Kahilihiwa supports the proposed change — at least the idea of allowing children to visit — tourism isn't on his mind: "Come when we alive," he told The Associated Press earlier this month, speaking in Hawaiian Pidgin. "No come when we all dead."