Shakespeare's Portrait Travels to Edge of Space
The stunt was planned to commemorate the 400th anniversary of the Bard's First Folio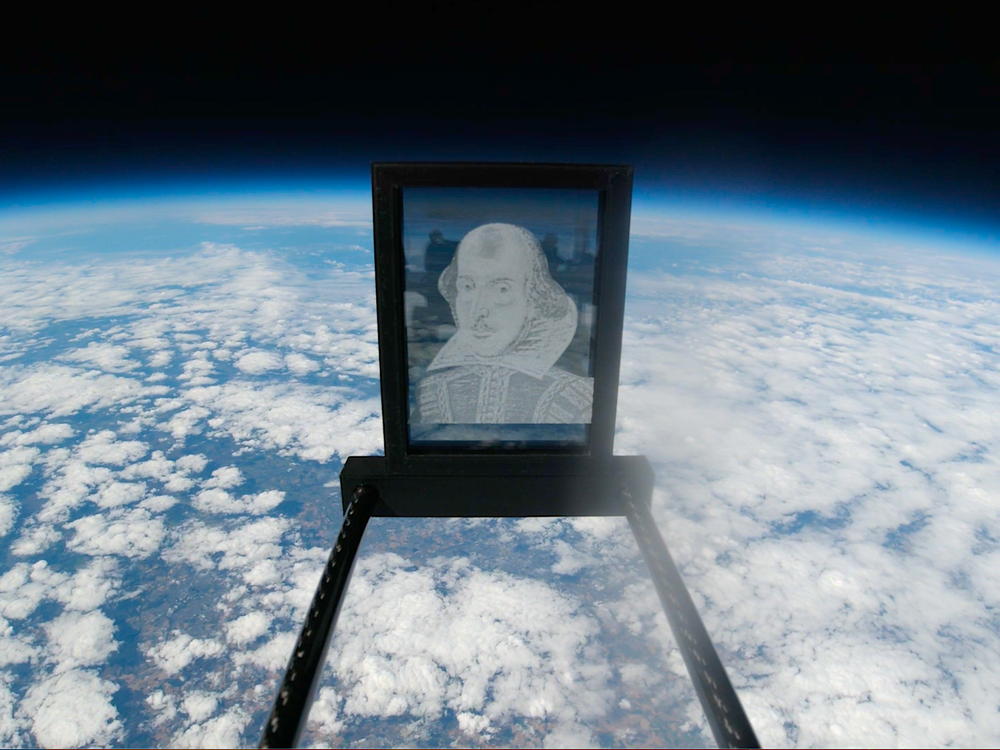 A portrait of William Shakespeare traveled to the edge of space to mark the 400th anniversary of the Bard's First Folio. Accompanying the portrait on its journey was a speech from one of the author's most celebrated plays, A Midsummer Night's Dream.
The project was the work of director Jack Jewers, who has released six short films in honor of the Folio anniversary. One of them, Lovers and Madmen, features footage from the portrait's journey.
"I had this image in my head: a portrait of Shakespeare—the universal playwright, whose work I truly believe speaks to everyone—backgrounded by space, with earth's curvature in the background," says Jewers in a statement from inVerse Films. "What more fitting way to celebrate the universality of our human experience, and how it has been captured for 400 years by these wonderful words, than that?"
The First Folio is one of the most influential works of English literature. The 900-page collection includes 36 of Shakespeare's plays, 18 of which had never previously been published. Without the Folio, those 18 plays—including Twelfth Night, Macbeth and Taming of the Shrew—would have been lost to history.
The Folio was published in 1623, seven years after Shakespeare's death. It was created by John Heminge and Henry Condell, fellow actors who pursued the project as a "kind of testament to their former colleague, to the greatest playwright that they had certainly ever worked with," says Will Tosh, head of research at Shakespeare's Globe theater in London, to Reuters' Marie-Louise Gumuchian.
Jewers worked with a team from the aerospace company Sent Into Space to facilitate the portrait's journey. They sent the items to Earth's upper atmosphere using a weather balloon equipped with a GPS tracker and a camera to document the excursion.
Lovers and Madmen follows a woman who tries to send a portrait of Shakespeare into the air for an art contest. As she makes repeated attempts, actor Tom Baker, known for his portrayal as the fourth Doctor in "Doctor Who," recites Shakespeare's words.
The film also reflects Jewers' journey as an artist trying to fulfill his vision. "Once we had the technology sorted to actually send the portrait into space, the rest of the film's story became a bit of a reflection of that whole process: the artist, fueled by passion and determination," he says in the statement. "And hope. Not giving up, even in the face of adversity. And after all, isn't that what we as a world have done for the past few years?"
The other five short films also reimagine speeches and poems by Shakespeare, using the texts to explore subjects such as the European refugee crisis and the Covid-19 pandemic. For example, in the short film St. Crispin's Day, which is inspired by a speech from Henry V, Jewers directs Ukrainian civilians in Kyiv from a remote location.
"Taken as a body of work, these films are about connection," says Jewers in a statement. "They're about the fact that we are more connected than ever, and that our experiences are more similar than we could ever have imagined. Wherever we're from in the world, whatever our background, we share the same hopes and dreams and fears and joys."