Sesame Street to Introduce Julia, a Muppet with Autism
Some characters are confused by Julia's behavior, but they come to embrace her differences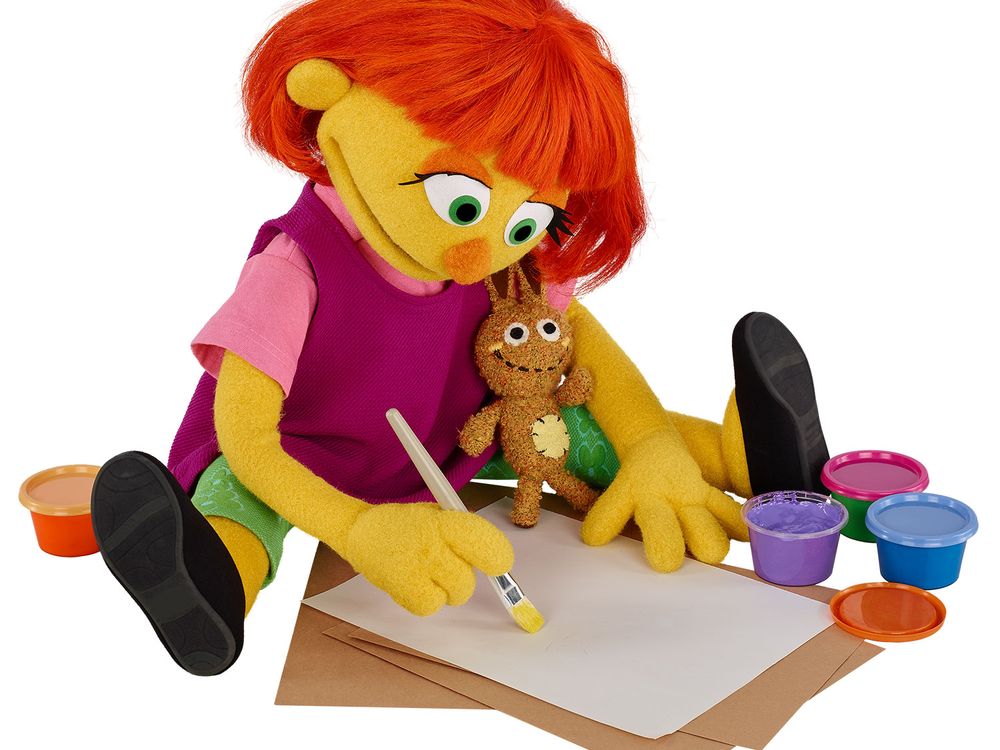 A new Muppet will soon join the people in Sesame Street's neighborhood. Her name is Julia, and she has wide green eyes and fiery orange hair. Julia is a little different from the other characters on the show. Julia sometimes takes a while to answer questions, and she tends to repeat what her friends say, because she has autism.
As David Folkenflik reports for NPR, Julia will make her first television appearance on April 10, becoming the first new Muppet to join the Sesame Street cast in a decade. Sesame Workshop, the parent company of Sesame Street, has been developing the character for about three years. Julia made her debut in a digital storybook in 2015, as part of a larger Sesame campaign to connect with autistic children and their families, Erin Blakemore reported for Smithsonian.com that October.
Julia was so well-received that the company decided to make her a permanent fixture of the television cast. "We realized if we brought her to life appearing in 'Sesame Street' on air as well, she would have even more impact [and] be able to reach even more children," Sherrie Westin, an executive vice president at Sesame Workshop, tells Folkenflik.
This is not the first time that "Sesame Street" has presented an important, but delicate subject to its young audience. The show has previously covered topics like divorce, incarceration and grief. But according to a recent "60 Minutes" segment, "Sesame Street"'s writers faced a unique challenge when creating Julia. They wanted to help normalize autism using a single character, but autism presents differently in each person with the disorder. So the team collaborated with autism experts to select a series of traits that would best represent a child on the spectrum.
In a "Sesame Street" clip posted to YouTube on Sunday, Julia and her friend Abby Cadabby invent a game called "boing boing tag." While they are playing, Julia often mimics Abby's words. Some of the other characters are initially confused by Julia's behavior, but they soon come to understand and embrace her differences. And in many ways, Julia is just like all the other little Muppets. She likes to play games, blow bubbles and cuddle her favorite stuffed animal.
Puppeteer Stacey Gordon, whose son is on the autism spectrum, plays "Sesame Street"'s newest cast member. "Had my son's friends been exposed to his behaviors through something that they had seen on TV before they experienced them in the classroom, they might not have been frightened," she tells "60 Minutes"' Lesley Stahl. "They would have known that he plays in a different way and that's OK."
Julia's introduction to "Sesame Street" comes at a pivotal time, since the frequency of autism diagnoses has spiked in recent years. The CDC estimates that one in 68 children have been identified as being on the autism spectrum, making it likely that many children who watch "Sesame Street" will know someone affected by the disorder. As the show's furry crew welcomes Julia with open arms, its young audience will have the chance to learn about autism and the importance of accepting difference.