Watch the Trailer for 'Rustin,' Which Spotlights the Man Behind the 1963 March on Washington
The new film dramatizes Bayard Rustin's efforts to pull off an event of unprecedented scale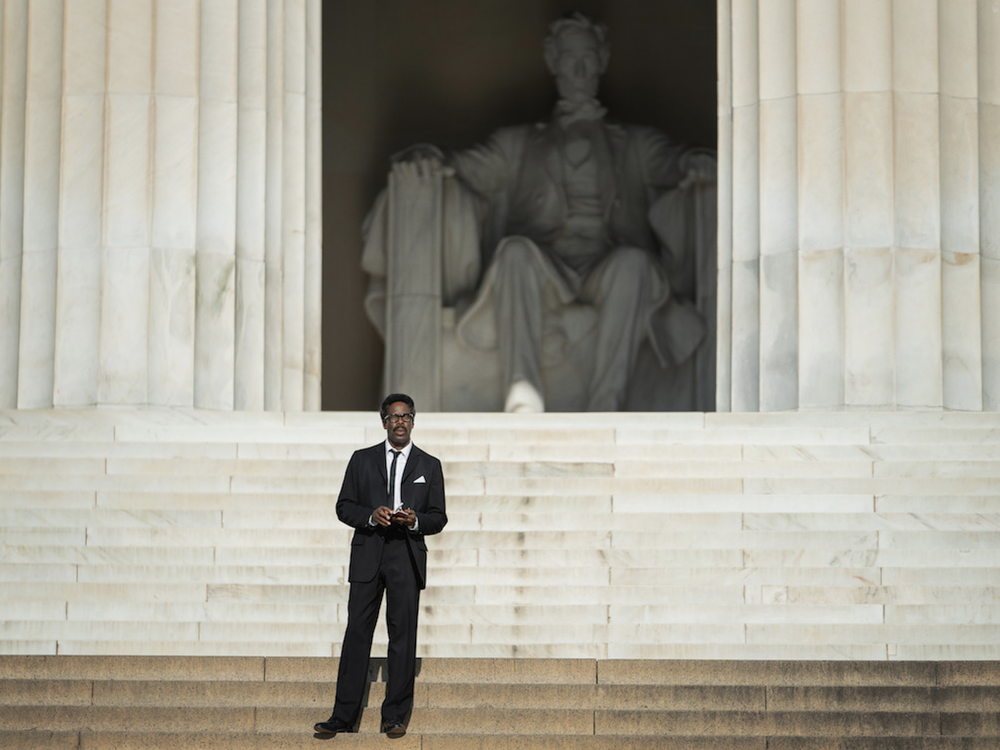 To mark the 60th anniversary of the March on Washington for Jobs and Freedom, Netflix just dropped the first trailer for Rustin. The biopic, which opens in select theaters on November 3 and begins streaming on November 17, chronicles the life of Bayard Rustin, the man behind the 1963 march that changed the course of the civil rights movement.
The trailer opens with Rustin (played by Colman Domingo) puzzling over the logistics for an ambitiously large-scale demonstration—organized over just eight weeks. "On August 28," he proclaims, "Black, white, young, old, rich, working class, poor, will descend on Washington, D.C."
Descend they did: An estimated 250,000 attendees came together on the National Mall, made possible in large part thanks to Rustin's planning. Through the event, as Netflix writes, he would become "one of the greatest activists and organizers the world has ever known."
"He is a role model for what it means to be an American, what it means to daily, moment-to-moment, commit to democracy, commit to freedom, commit to possibility, commit to discovery, commit to passing on that which you know to other people," said director George C. Wolfe (most recently of Ma Rainey's Black Bottom) earlier this year.
Born a Quaker in West Chester, Pennsylvania, Rustin became interested in nonviolent organizing early. He was expelled from Wilberforce University after organizing a strike protesting the poor quality of the cafeteria food. The event sparked a lifetime of activism, culminating in his role in the march. Today, he is credited as being "the 'Wizard of Oz' figure pulling the strings behind the scenes," as the Chicago Tribune's Leslie Mann wrote in 2012.
Rustin planned the operation out of a brownstone in Harlem, as Eleanor Holmes Norton, now Washington, D.C.'s delegate to Congress, told Smithsonian magazine's Michael A. Fletcher in 2013.
"When I look back now, I am all the more impressed with the genius of Bayard Rustin," said Holmes Norton, who at the time was a law school student helping to plan the march. "I do not believe that there was another person involved with the movement who could have organized that march."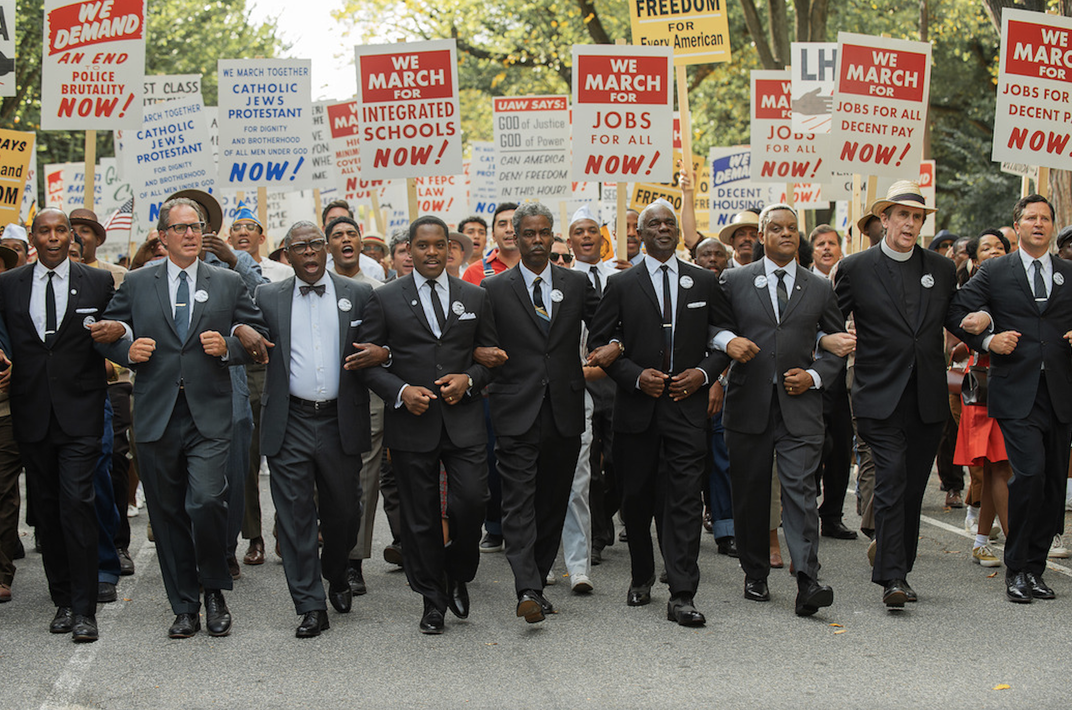 By the time of the historic event, Rustin had already accumulated extensive organizing experience. "For decades before the march, Rustin had been organizing protests, marches and sit-ins, spreading the gospel of nonviolent resistance long before Dr. King came on the national stage," wrote NPR's Rund Abdelfatah in 2021. "In fact, Rustin's surviving partner, Walter Naegle, describes him as a 'mentor' to Dr. King."
Rustin often remained in a behind-the-scenes role, owing to his identity as a gay man. In 1953, he was arrested in Pasadena, California, for having consensual sex with men, for which he spent 50 days in jail and was registered as a sex offender. He was officially pardoned only in 2020.
His sexuality was frequently used against him. Before the march, Senator Strom Thurmond referred to Rustin's "sex perversion" on the chamber floor. In the trailer, Adam Clayton Powell Jr. (played by Jeffrey Wright), a Black Congressman from New York, tells Rustin: "Your mere presence would derail the fight for racial justice in this country a good 10, 15 years."
Still, amid such hostility, Rustin remained a devoted practitioner of non-violent tactics. He is credited with introducing King to Gandhi's teachings on non-violent activism. Rustin was also a pacifist, serving prison time after refusing to register for the draft.
After the march, Rustin began to focus on issues like "economic injustice, gay rights and anti-colonialism," writes NPR. "He received criticism from some within the civil rights movement for his political views, namely, his tepid opposition to the Vietnam War, his conservative stance on things like affirmative action and his support for Israel."
In 1977, Rustin met Walter Naegle, his partner until his death in 1987. "Being Black, being homosexual, being a political radical—that's a combination that's pretty volatile, and it comes along like Halley's Comet," Naegle told Out's Robert Drayton in 2016.
Nearly three decades after Rustin's death, President Barack Obama posthumously honored the civil rights leader with the Presidential Medal of Freedom, which Naegle accepted on his behalf.
Rustin was "one of [America's] greatest architects for social change and a fearless advocate for its most vulnerable citizens," said the White House at the time. "Thanks to his unparalleled skills as an organizer, progress that once seemed impossible appears, in retrospect, to have been inevitable."