See the Rancid, Blooming Corpse Flowers Attracting Hundreds in California
The plants' rare and pungent blooms happen once every few years and last only a couple of days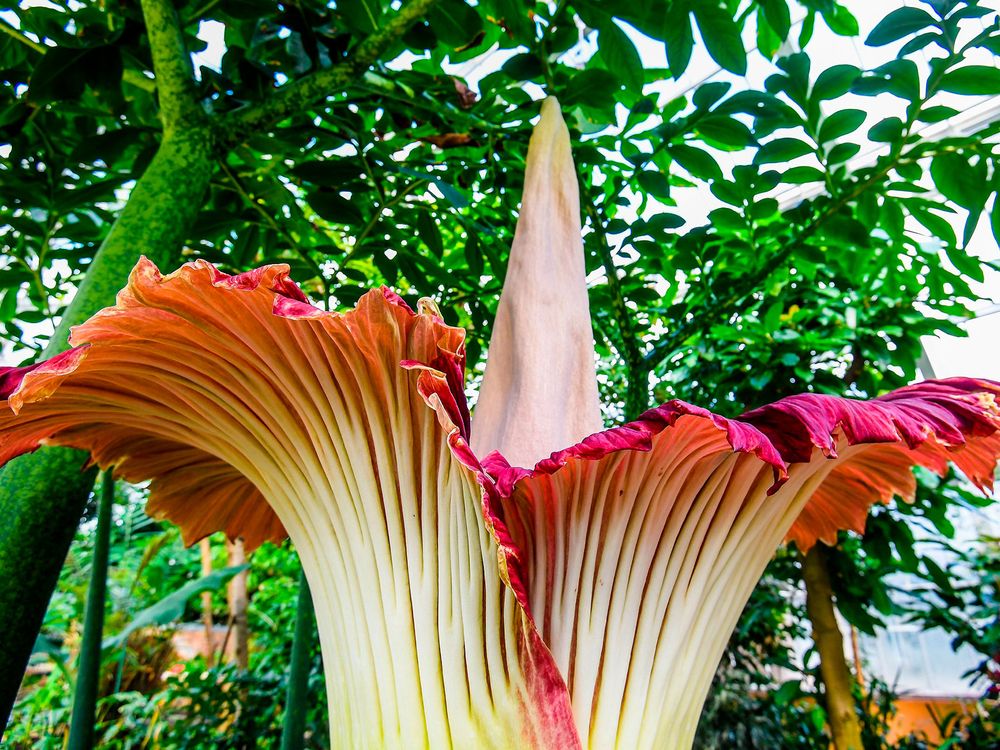 If there's one thing that can reliably draw a crowd, it's an eight-foot-tall blossom that smells like a dead body. Known as the corpse flower or the titan arum, each of these rare plants opens up for only a few fleeting days, with several years between each bloom.
This past week, two corpse flowers unleashed their odors in California at the San Diego Botanic Garden and the San Francisco Conservatory of Flowers, and patrons quickly lined up to take a look—and a whiff. 
Corpse flowers are infamous for their stench, which the plants only exude for the first two nights of their bloom. The aroma comes from compounds in the flower that reek of "cheese, garlic, smelly feet, diapers or rotten fish," according to the San Diego Botanic Garden.
Paired with a towering stalk—wrapped in what looks like a deep purple, upside-down skirt—this not-so-tantalizing perfume helps make the corpse flower "the rock-star plant of the plant world," says Ari Novy, president and CEO of the San Diego Botanic Garden, to NPR's Daniel Estrin. 
Visitors this week describe the aroma as everything from vegetables-gone-bad to rotting meat. "It was like a very pungent office fridge that hadn't been cleaned out in a few months in a very warm room," says Jennifer Tapler, youth education manager at the nonprofit Gardens of Golden Gate Park, to the San Francisco Chronicle's Tara Duggan. "Brussel sprouty." 
"It smells like dirty diapers and rotten fish in a dumpster, and then another wave will hit you, and then another wave will hit you… and then it'll just flow into dead body," John Clements, director of gardens at the San Diego Botanic Garden, tells Renee Schmiedeberg of NBC 7 San Diego.
Had to go smell the giant corpse flower. Indeed, it smelled corpsy. pic.twitter.com/gpW9vg8d0R

— D. A. Powell (@Powell_DA) July 6, 2023
Hundreds of guests lined up on Monday in San Francisco for special evening hours at the conservatory, and some waited up to two hours the following day to get up close and personal with the ephemeral bloom, according to the Chronicle. Corpse flowers typically live for seven to ten years before flowering, and subsequent blooms occur every four to five years after that, per the San Diego Botanic Garden. Each peak bloom lasts for just two to three days.
The San Francisco plant, called "Scarlet," last bloomed in 2019, according to NPR's Manuela López Restrepo. San Diego's fetid flower last bloomed in 2021.
In the wild, smelling like a dead animal helps corpse flowers attract pollinators like carrion beetles and flesh flies, which lay their eggs or larvae in animal carcasses or rotting fruit. The plants can also heat up to more than 90 degrees Fahrenheit, warming the surrounding air. This makes the air rise, carrying the flower's scent further and drawing in more bugs. 
But the population of wild corpse flowers is dwindling. Fewer than 1,000 mature individuals survive in their native habitat in the Sumatran rainforests of Indonesia, where they are threatened by logging and palm oil agriculture. Collaborative projects between public gardens have aimed to track the genetics of their corpse flowers and even cross-pollinate them to introduce more diversity, as Doug Johnson reported for Undark in 2021.
Last month, another two corpse flower blooms sprouted up at gardens across the country: A specimen nicknamed Wolfgang opened at North Carolina State University's JC Raulston Arboretum, and another flower called Titan VanCoug emerged at Washington State University Vancouver.