See the Whimsical Trolls Taking Over the Pacific Northwest
Made with recycled materials, the large-scale sculptures are meant to encourage visitors to get out into nature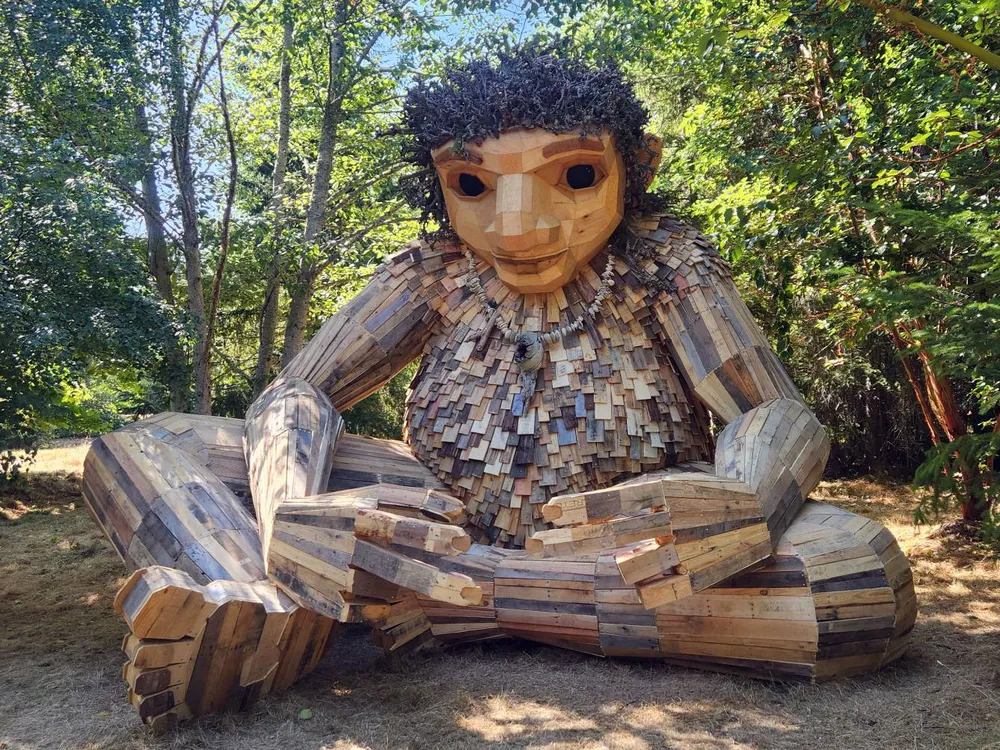 For nearly a decade, Thomas Dambo has been creating an army of trolls. Roughly 100 large-scale sculptures of the mythical beings are scattered across the globe. Usually sitting or standing between 12 and 20 feet tall, the wooden figures preside over natural spaces like forests and coastlines.
Now, the trolls are arriving in the Pacific Northwest. Like most of Dambo's sculptures, the new additions—part of the "Northwest Trolls: Way of the Bird King" project—are made of recycled materials. The Danish artist hopes they'll encourage members of the public to go out into nature and think more about conservation.
"I want people to know that trash has value. My trolls do that, and also help me tell stories, like the legends I grew up with," says Dambo in a statement. "In nature, there is no landfill. Nature is circular, everything has a meaning and everything is recycled."
The new trolls reside in Portland, Issaquah, Ballard, West Seattle and on Bainbridge and Vashon Islands. Dambo has been slowly releasing their exact locations since mid-August, with the final two arriving this week.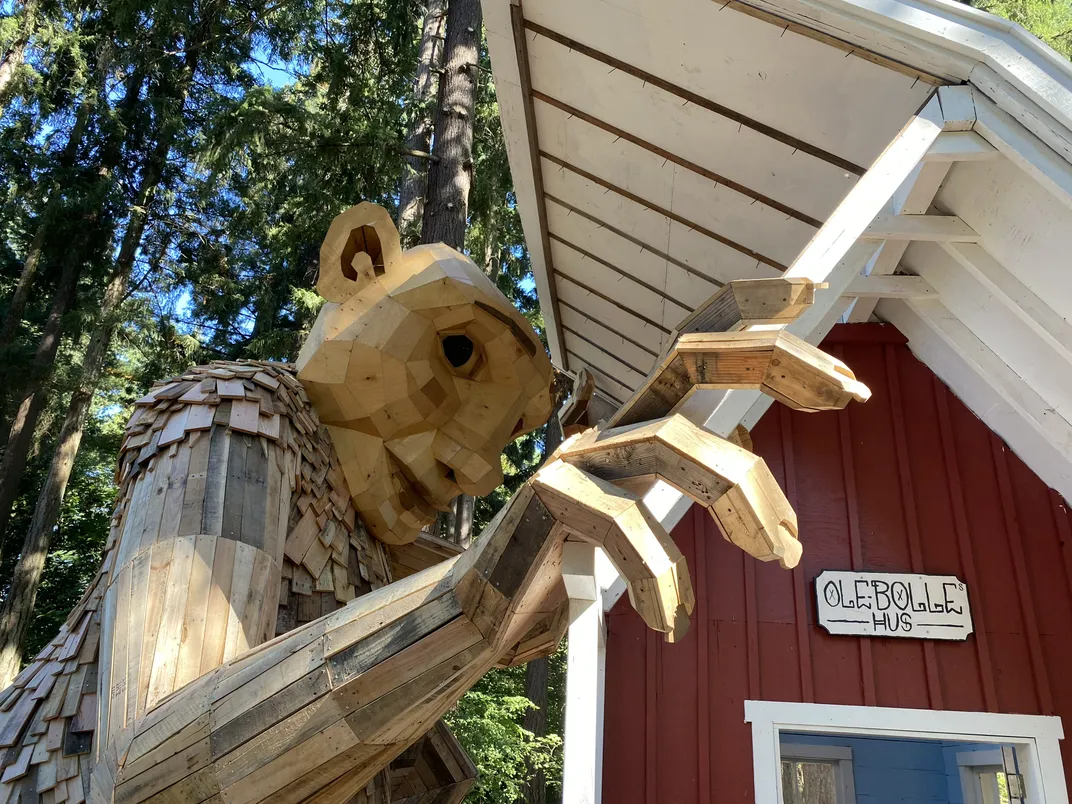 Because the trolls are located on traditional Coast Salish territories, Dambo has been working with the Muckleshoot and Snoqualmie tribes. Part of that work includes an artistic exchange with Muckleshoot tribal member and artist John Halliday, known as Coyote. He spent time with Dambo and his team in Denmark and painted a mural on one of Dambo's buildings.
"Dambo brings messages to the world about taking care of our planet and not being wasteful," Coyote tells the Seattle Times' Rachel Gallaher. "Our tribe embraces the same values, so it was a natural collaboration. We need to take care of our Mother Earth."
For Dambo, the trolls are only part of the project. He hopes the sculptures also encourage visitors to engage with their surroundings. "It's not really only about my art," he tells NPR's Elizabeth Blair. "It's also a lot about that experience you get when you walk around in nature and in the forest."
Dambo built his first troll, named Jack Lumber, for a Danish cultural festival in 2014, per the
Seattle Times
. After that, he started receiving requests for more troll installations. For each one, Dambo creates distinctive features, like the head and feet, in his Denmark workshop, installing the rest onsite with the help of his team and local volunteers.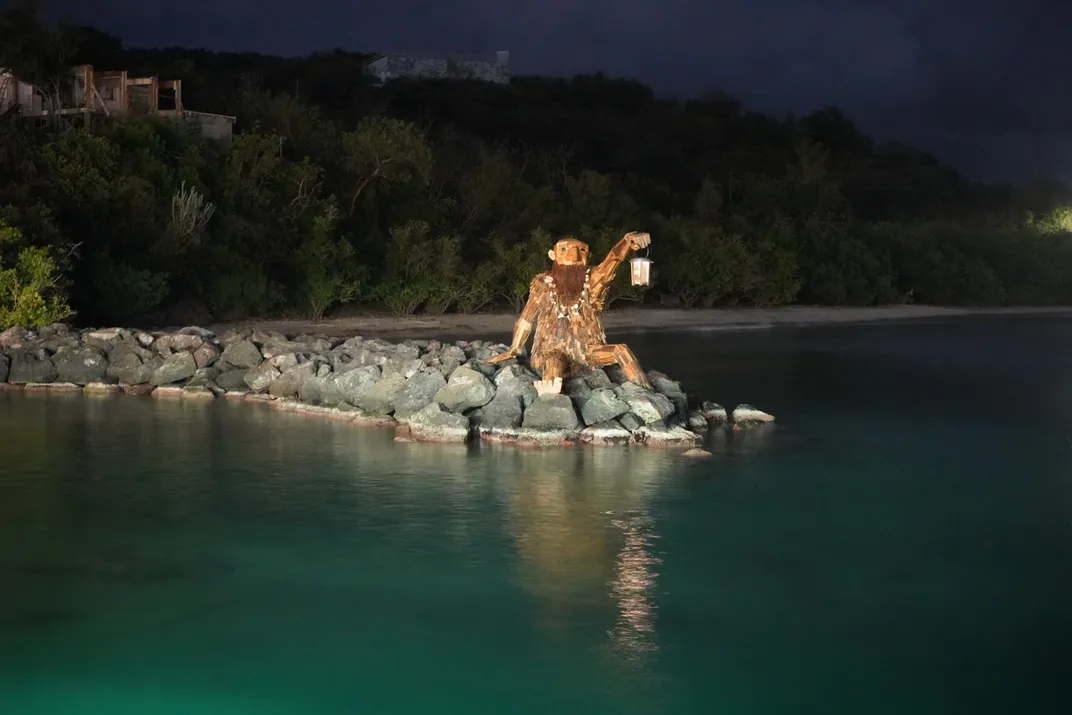 Each of the handmade sculptures has its own name and story, like Hector El Protector, which Dambo built on the Puerto Rican island of Culebra in 2014. He sat at the water's edge with a rock in hand, ready to throw it at anyone trying to invade the island. But then, in 2017, the sculpture was destroyed by Hurricane Maria. Dambo returned to rebuild Hector soon after. Now, the troll holds a solar-powered lantern, allowing boats to see the coastline during storms.
The sculpture became "like an icon to the island," Mark Rivera, an artist who met Dambo in Puerto Rico, tells NPR. "And, you know, a lot of people love him for that."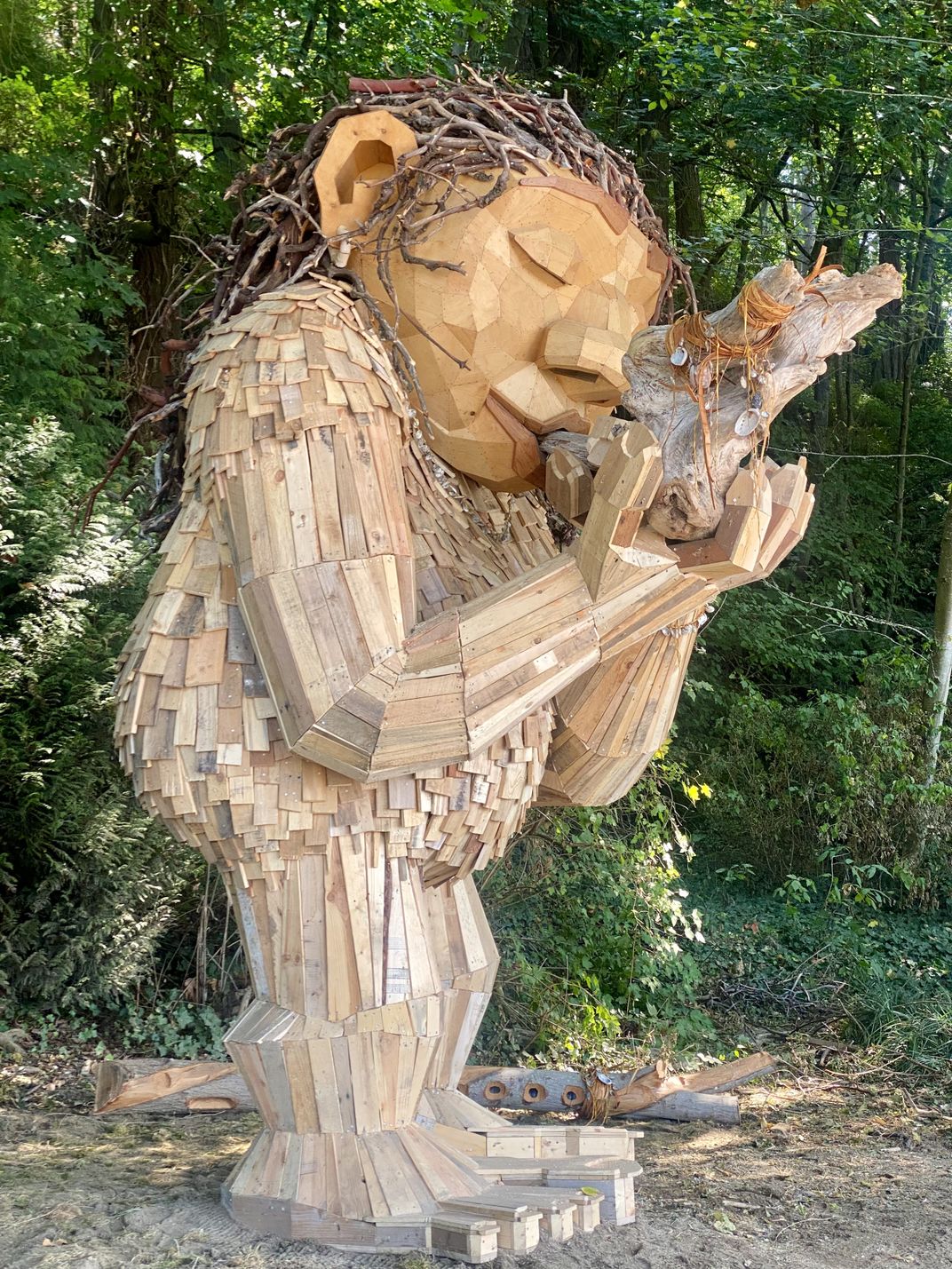 Some of the recently unveiled trolls include Pia the Peacekeeper, who sits under trees on Bainbridge Island, and Bruun Idun, who plays a flute to orcas at the water's edge in West Seattle. In Portland, attracted by the smell of cooking, Ole Bolle peers into the top of a house.
These and the rest of Dambo's latest works will stand for at least three years, with the possibility of an extension. The six in the Pacific Northwest are part of a larger nationwide tour, which Dambo is documenting on his YouTube channel.
"Instead of having a world that's drowning in its own trash, we can solve that issue by making beautiful and important things out of our trash," he says to Oregon Public Broadcasting's Elizabeth Castillo.