See How Photographers Reimagine Old Master Paintings
"Art About Art" bills itself as a thoughtful, whimsical exploration of the connections between past and present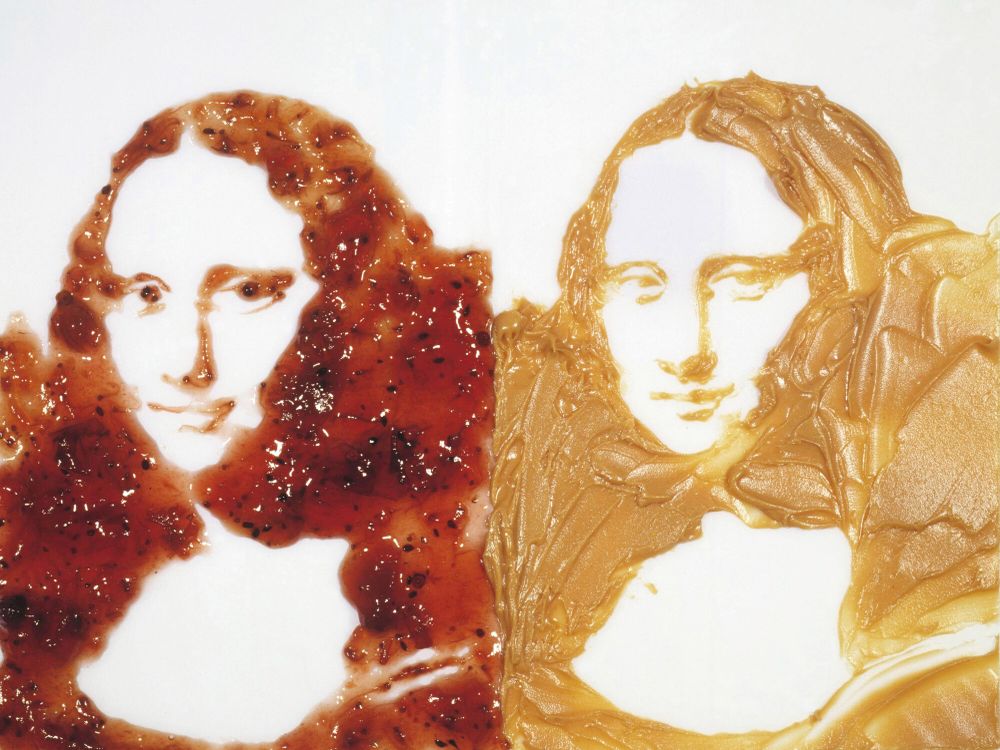 As the Princeton University Art Museum undergoes renovations, its old master paintings remain behind closed doors. Still, even in storage, such works are the inspiration behind a new show, which opened on August 19: "Art About Art: Contemporary Photographers Look at Old Master Paintings."
"As we rebuild, I wanted to remind the students and community at large that we have wonderful old master paintings in the collection that we can't show at this time," Ronni Baer, a curator of the exhibition, tells the Observer's Casey Epstein-Gross.
"Art About Art" features 13 contemporary artists' reimaginings of old master works. The show will be on view at the museum's Art on Hulfish gallery while the main museum is closed for construction.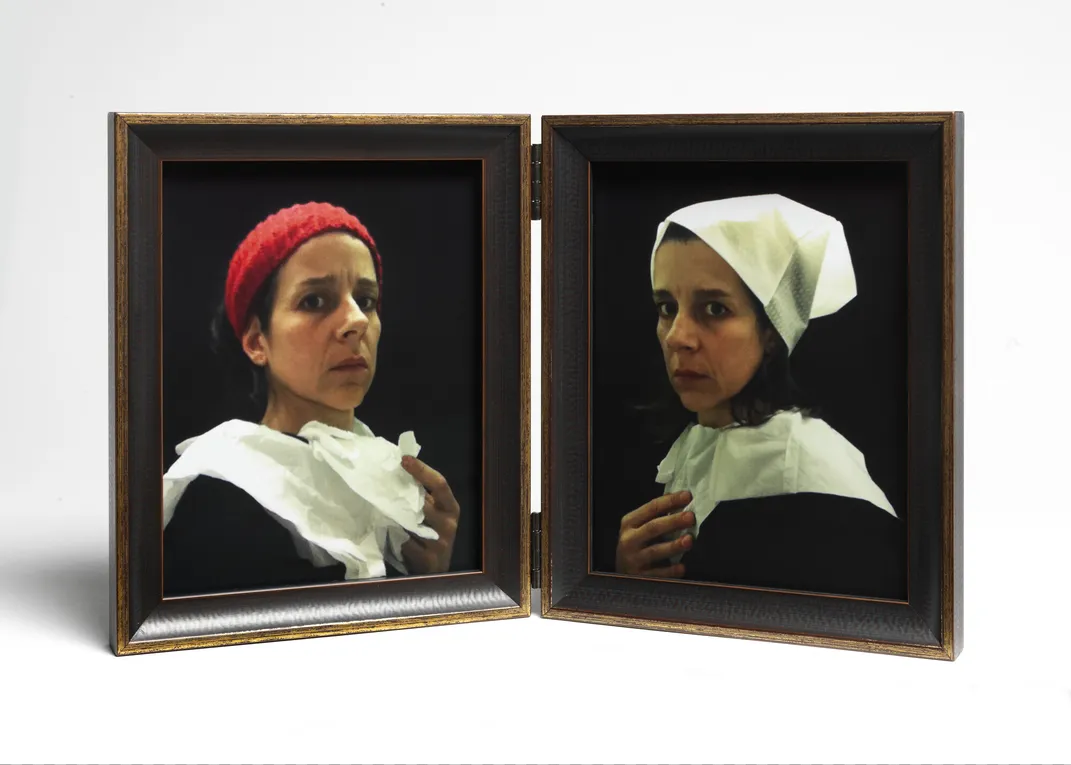 "This exhibition reveals how vital the art of the past remains to many artists working today," says Baer in a statement from the museum. "The selection will encourage viewers to consider how contemporary photographers respond in various ways to famous compositions, seek to explore emotions as expressed in historical paintings, address issues of identity that were as pressing then as now and apply new technologies in surprising ways."
Photos on display include Vik Muniz's Double Mona Lisa (Peanut Butter and Jelly), inspired by Andy Warhol's prints from the 1960s. The piece recreates the famous Leonardo da Vinci twice over—once in peanut butter, once in jelly.
Also on view is a diptych from Nina Katchadourian's series Lavatory Self-Portraits in the Flemish Style. The artist poses as both the man and woman of a 15th-century Flemish couple, using toilet paper to portray distinctive features of their attire.
In another work, Ori Gersht crafts an arrangement in the style of European still life paintings. He then destroys the fruit in it, capturing the exact moment of explosion.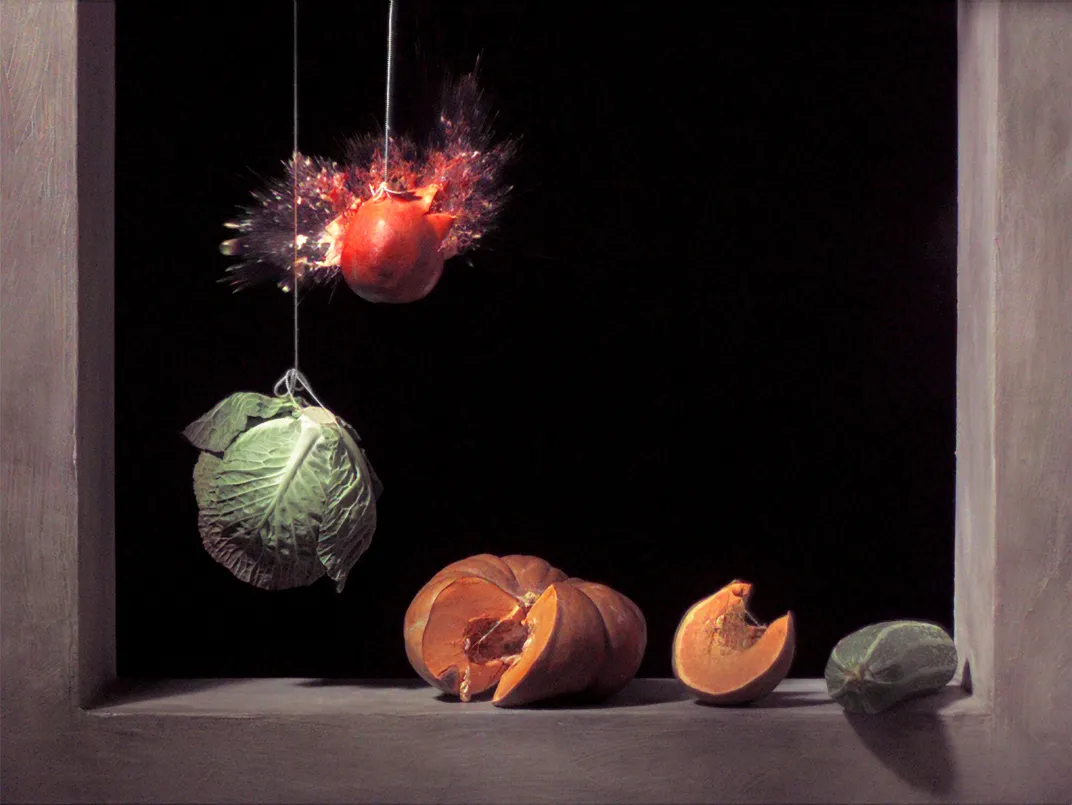 The show is part of Princeton's mission to "assure that works of the past can still be understood as living, breathing objects that were contemporary in their own time, and thus still have the capacity to spark inquiry," says James Steward, the museum's director, in the statement.
The exhibition explores centuries-old themes such as "identity and the fleetingness of life and … how we choose to live," Baer tells Artnet's Taylor Dafoe. For example, Jeanette May's Dot Matrix, from the series Tech Vanitas, plays on the vanitas paintings of the Netherlands in the 17th century, which juxtaposed the inevitability of death with the trappings of affluence. However, rather than silk or ornate goblets, May's photos feature obsolete technology thrown to the side in the pursuit of the next big thing.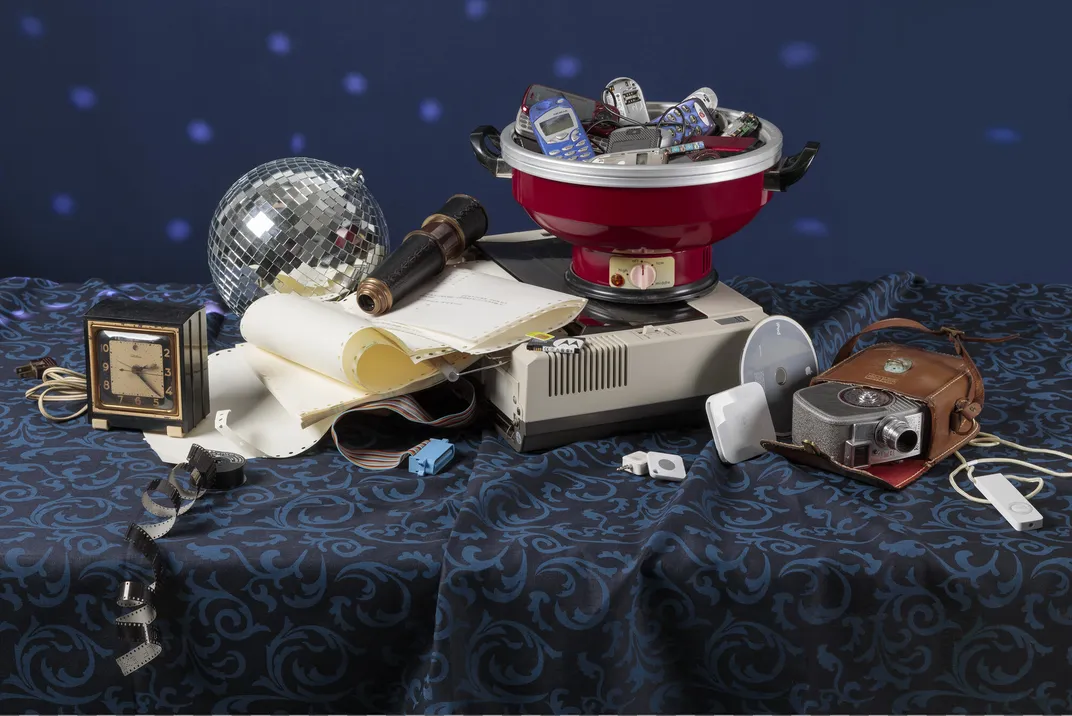 "I think the exhibition provides inspirational teaching opportunities, raising questions about identity and iconicity and how and why artists engage with the art of the past," Baer tells the Observer. At the same time, however, the show is designed to have a wide appeal, offering explorations of existential questions alongside "moments of fun and whimsy and discovery."
"Some of the art is serious," says Baer to Artnet. "But I hope people come and laugh."
"Art About Art: Contemporary Photographers Look at Old Master Paintings" is on view at Art on Hulfish in Princeton, New Jersey, through November 5.