Amateur Metal Detectorist Makes 'Gold Find of the Century' in Norway
Erlend Bore unearthed a trove of 1,500-year-old gold jewelry—just months after he picked up the hobby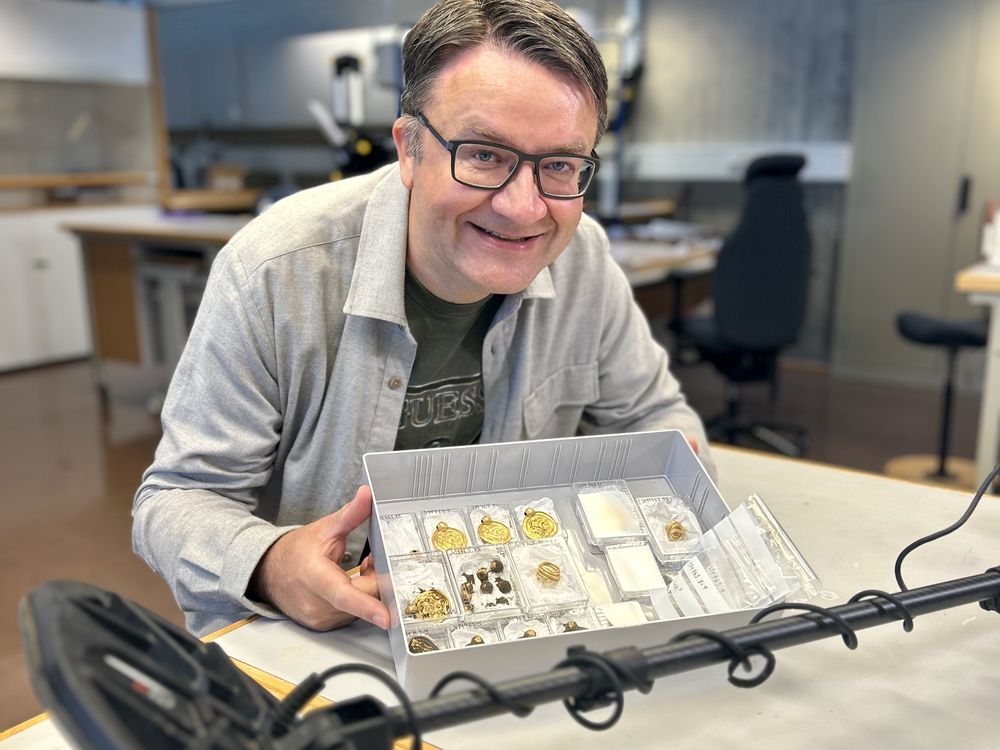 Earlier this year, when his doctor encouraged him to become more active, Erlend Bore purchased his first metal detector. He got to work on the Norwegian island of Rennesøy and quickly stumbled upon something strange. 
At first, he thought he'd unearthed some old chocolate coins; in reality, he'd struck gold. He dug up nine engraved gold pendants, ten gold pearls and three gold rings—all dating to the sixth century C.E. Officials say the discovery is the first of its kind in the country since the 1800s.
"This is the gold find of the century in Norway," says Ole Madsen, director of the Museum of Archaeology at the University of Stavanger, in a statement. "To find so much gold at the same time is extremely unusual."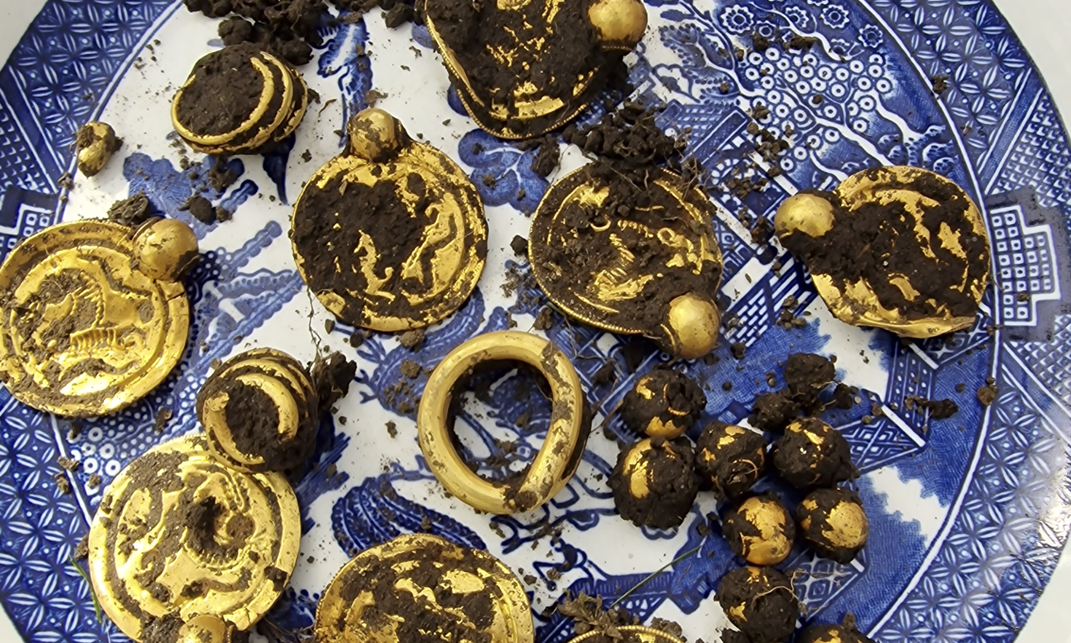 Bore, 51, made the discovery over the summer. One day, after searching with little success, he decided to change his strategy, as he tells the Norwegian Broadcasting Corporation (NRK), per Google Translate. He looked out over the landscape and thought, "If this was a long time ago, where would I have been?" 
Bore moved to higher ground. There, his metal detector began to beep. "I was suddenly sitting with a gold treasure in my hands," he tells the NRK. Soon after, he sent a photo of the find to nearby experts.
The pendants and beads likely once made up "an exceptionally splendid necklace," says Håkon Reiersen, an archaeologist at the museum, in the statement. The jewelry may have been "crafted by skilled goldsmiths and worn by the most powerful individuals in society." 
Dating to 500 C.E., the artifacts come from a particularly difficult time in history. "This period likely marked a crisis with crop failures, worsening climate and plagues," says Reiersen. "The numerous abandoned farms in Rogaland from this era suggest that the crisis hit this region particularly hard."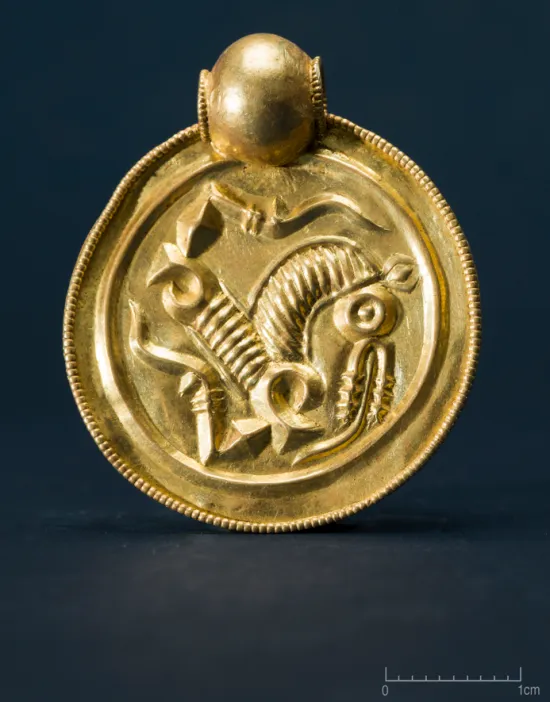 Based on the location and historical context, Reiersen thinks the artifacts "were most likely either hidden valuables or offerings to the gods during that dramatic time."
The pendants are also noteworthy for their depictions of horses. Similar pendants from this period often feature images of the Norse god Odin healing sick horses, and they were worn to bring protection and good health, as Sigmund Oehrl, another archaeologist at the Museum of Archaeology, says in the statement. While Odin doesn't appear on the newly discovered pendants, Oehrl thinks they carried a similar meaning.
"On these gold pendants, the horse's tongue hangs out, and its slumped posture and twisted legs suggest that it is injured," says Oehrl. "Similar to the Christian symbol of the cross, which was spreading in the Roman Empire at the same time, the horse symbol represented illness and hardship, but also hope for healing and new life."
Norwegian law dictates that objects older than 1537—and coins older than 1650—become state property. Conservators at the Museum of Archaeology are now cleaning the artifacts, which they hope to put on public display.
Bore will, however, receive a finder's fee, and he plans to continue his new hobby. As he tells the NRK, "I haven't found a silver coin."