Periodic Table Found During Routine Cleaning at Scottish University May Be World's Oldest
The chart, believed to date to 1885, was unearthed from storage room in the chemistry building at the University of St. Andrews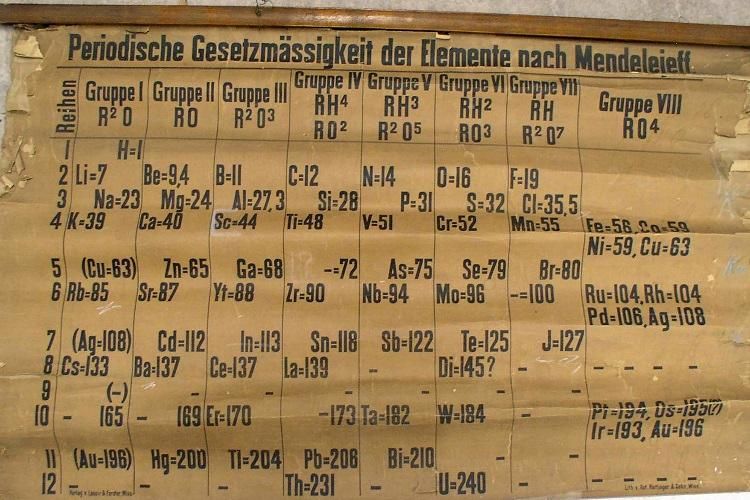 A periodic table unearthed during routine storage cleaning at Scotland's University of St. Andrews in 2014 may be the oldest surviving chart of its kind.
Chemist Alan Aitken found the impressive specimen, believed to date to around 1885, amongst a group of rolled-up charts stored with assorted scientific paraphernalia in the university's chemistry building. As Jessica Leigh Hester reports for Atlas Obscura, the table's age was immediately evident from its deep creases, torn edges and flaking paper. Writing for Gizmodo, George Dvorsky further notes that pieces of the brittle material crumbled when Aitken first handled them.
St. Andrews staff worked with conservator Richard Hawkes of Artworks Conservation in the United Kingdom to stabilize the chart, implementing treatments such as brushing to remove loose surface dirt and debris, washing the paper in deionized water to combat discoloration, and repairing tears with the help of Japanese kozo paper and wheat starch paste.
According to a press release, a researcher from the university's special collections traced the table's provenance to an 1888 purchase by professor Thomas Purdie, who ordered the teaching tool, crafted three years earlier, from a German catalogue.
A burgeoning organic chemist, Purdie worked at St. Andrews from 1884 until 1909. It's likely he ordered the chart in order to expose his students to the latest scientific research—as Nicola Davis explains for the Guardian, periodic table pioneer Dmitri Mendeleev had only published the first edition of his creation some 16 years earlier, in 1869, and it took time for the table to emerge as the industry standard. (Incidentally, the chemistry building where the table was recovered some 130 years later now bears the prescient Purdie's name.)
The chart itself also yielded significant clues: Leeza Clark of the local Courier writes that the paper is annotated in German and contains several identifying inscriptions, including the names of a scientific printer who worked in Vienna between 1875 and 1888 and the chart's lithographer, who died in 1890.
To further investigate the table's origins, the St. Andrews team turned to Eric Scerri, a science historian and chemist at the University of California, Los Angeles. Based on certain elements' presence—or lack thereof—he dated the chart to between 1875 and 1886, a range further winnowed down to 1885 by the accompanying research.
Clark of the Courier points out that the rediscovered chart bears marked similarities to Mendeleev's 1871 edition of the periodic table but is not completely identical. As Scerri tells Atlas Obscura's Hester, the St. Andrews chart includes gallium and scandium, which were identified in 1875 and 1879, respectively, but not germanium, which was discovered in 1886.
In an interview with the Guardian's Davis, organic chemist David O'Hagan of St. Andrews outlines the differences between this early chart and its contemporary counterparts. The 19th-century one, in addition to being written in German, contains 71 entries, including some elements that appear twice. Atomic masses for elements suspected to exist but not yet officially discovered also made the cut.
Another potentially confusing characteristic is the chart's overall organization. Today's table is organized based on atomic structure, but the older version was sorted by elements' chemical reactions with oxygen or hydrogen.
"There are some errors and changes here in [the relative atomic masses]," O'Hagan says, "but essentially this table has held pretty strong and been added to."
In Scerri's opinion, it's probable that such periodic tables as the one purchased by Purdie were "reasonably rare" in his day.
"The periodic table didn't have an immediate impact over chemistry and the way it was taught," Scerri explains to Hester. "Like all scientific discoveries, it takes a while to trickle down to the people in the classrooms."
Luckily for historians and scientists today, Purdie was ahead of the curve, enabling the university known for producing such notable alumni as royal couple Will and Kate, Protestant reformer John Knox, MI6 intelligence chief Alex Younger, and a litany of Nobel Laureates to add an unexpected title to its list of accomplishments: home of the world's oldest extant periodic table—at least as far as researchers can ascertain.
For now, the restored chart is safely stored in the university's special collections. A life-size replica, however, hangs in the school's Purdie Building, commemorating its namesake's legacy and ushering in the next generation of chemistry students.