Scientists Can Now Pull Human DNA From Air and Water, Raising Privacy Questions
Environmental DNA helps monitor elusive and endangered animals, but it could be an ethical minefield when used with humans, new study shows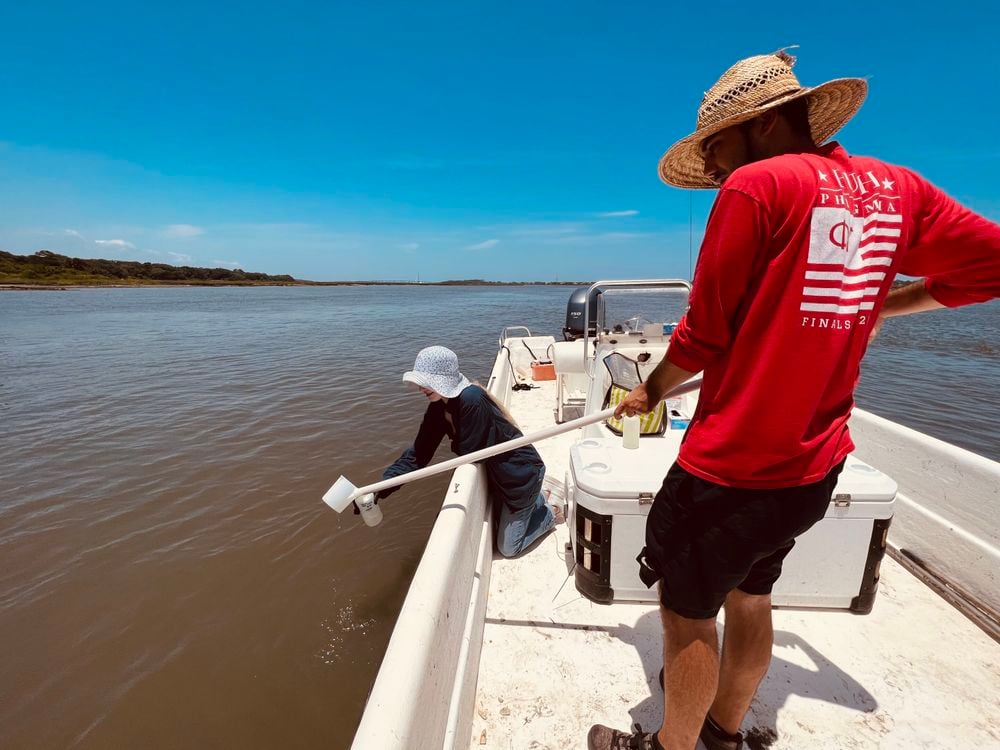 Humans are constantly shedding tiny pieces of DNA from sweat, spit, blood and skin. These microscopic fragments litter the environment across the Earth. Now, scientists at the University of Florida have discovered they can easily collect quality human DNA from air, sand and water, raising a host of ethical questions about privacy and consent. 
"All this very personal, ancestral and health-related data is freely available in the environment and is simply floating around in the air right now," lead researcher David Duffy, a zoologist studying wildlife disease genomics at the University of Florida, tells CNN's Katie Hunt.
Initially, Duffy and his colleagues set out to collect environmental DNA (eDNA) from sea turtle tracks to study viral tumors that can harm the animals. While the team expected to pick up some genetic information from other species, including humans, they weren't sure how informative that DNA would be.
To find out, the team scooped up genetic fragments from oceans, rivers and sand in Florida. They also traveled to a remote island rarely visited by humans and gathered samples from the sand there. In all locations except the remote island, they found high-quality human DNA for analysis and sequencing, write co-authors Jenny Whilde and Jessica Alice Farrell, both researchers at the University of Florida, in the Conversation. The team published their findings Monday in the journal Nature Ecology & Evolution. 
With even these small bits of genetic material, the team was able to uncover much more information than they expected about the people they came from. The researchers found mutations linked to autism, diabetes, eye diseases and cardiac diseases—and one person's eDNA revealed a mutation linked to a disease that causes neurological impairment and sometimes death, reports Elizabeth Anne Brown for the New York Times. The demographic information found in the samples "broadly matched" those of people in the area where the eDNA was found, and the team could even determine the genetic ancestry of the locals, according to the study.
To test this technique further, the team collected water samples from a river in Ireland and found human DNA at each site except for the remote tributary where the river starts. They also gathered air samples from a sea turtle hospital in Florida with six volunteer workers and matched the eDNA bits to the staff members, the animal patients and common animal viruses. Researchers had four known participants walk in the sand, and the eDNA gleaned from their footprints revealed parts of their sex chromosomes. 
eDNA is incredibly useful for scientists—it allows them to collect vital data on animals without disturbing them. Biologists can monitor elusive or endangered species for disease-causing pathogens and biodiversity, and public health officials can use eDNA to track diseases in wastewater, such as Covid-19. But the technology has advanced rapidly in the last decade, and the research team now worries it could be also used for malicious purposes, including surveilling individuals in minority groups or those with genetically driven disabilities.
"This gives a powerful new tool to authorities," Anna Lewis, a Harvard University researcher studying the ethical, legal and social implications of genetics research, tells the Times. "There's internationally plenty of reason, I think, to be concerned."
In China, authorities have conducted genetic tracking of Tibetans, Uyghurs and other ethnic minorities in the country, with backlash from global scientists. eDNA could advance these techniques or reveal genetic information from populations without their consent, experts say.
Additionally, police have used DNA found at a crime scene to generate a rough, predicted image of a suspect in the past. It's possible that eDNA could be used to implicate someone in a crime, despite scientists not fully understanding how it works, moves or degrades, per the Times. Duffy says in a statement that policymakers need to start talking about—and developing regulations around—the new technology.  
"We need a political discussion of expectations of privacy in the public space, in particular for DNA. We cannot avoid shedding DNA in the public space," Yves Moreau, a computational biologist at the University of Leuven in Belgium who has studied China's DNA surveillance but was not involved with the new study, tells CNN. "We should, however, not panic, and I am always afraid of precautions that would make research grind to a halt. It is a delicate balance to find."