Sally Hemings Gets Her Own Room at Monticello
A renovation at Thomas Jefferson's estate will give the slave he likely fathered at least six children with a display in what may have been her quarters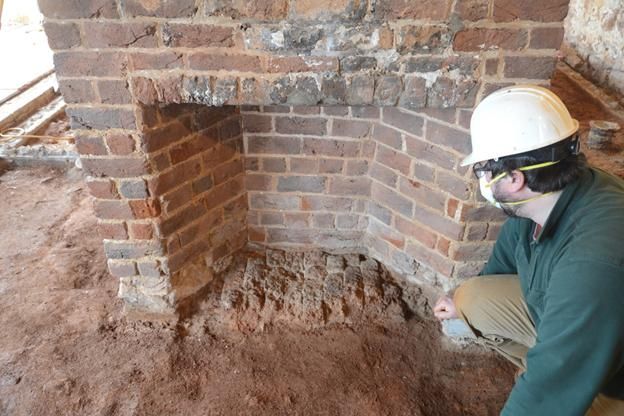 After over 200 years of rumors and controversy, Thomas Jefferson's historic home at Monticello is giving Sally Hemings, the slave with whom Jefferson likely fathered at least six children with, a room of her own, reports Michael Cottman at NBC News.
As part of the $35-million Mountaintop Project restoration to return Monticello to the floorplan it had when Jefferson lived there, archaeologists and restoration experts have been renovating the building's south wing. Crews removed a men's bathroom from the area where Jefferson's grandson indicated Hemings once resided, revealing the brick floor and plaster walls of the room, built in 1809. 
The small, windowless room is 14 feet, 8 inches wide and 13 feet long. Krissah Thompson at The Washington Post reports that by next year, Monticello hopes to have the once hidden space restored and staged with period furniture and some of the ceramics and other objects excavated from the property.
As Thomas Foster, history professor at DePaul University points out in the Huffington Post, the room wasn't necessarily Hemings' living quarters. Jefferson's grandson was a notoriously unreliable source of information, and there is no direct archeological or documentary evidence tying Hemings to the room in the south wing. In fact, Thomas writes, that the entire space was used for house slaves. Still, he writes, the new Hemings display will give visitors coming to Monticello a better context, and allow them to witness what life was like for those once enslaved there. 
"This discovery gives us a sense of how enslaved people were living. Some of Sally's children may have been born in this room," Gardiner Hallock, director of restoration for Monticello, tells Cottman. "It's important because it shows Sally as a human being — a mother, daughter, and sister — and brings out the relationships in her life."
The story of Hemings and Jefferson has played out over two centuries of American history. In 1802, a political journalist made a claim in a Richmond newspaper that Jefferson had fathered several children with her. Jefferson never confirmed or outright denied the rumor. But there was circumstantial evidence. It is reported that Hemings' children were very light skinned, and some bore a resemblance to Jefferson. In fact, three were able to "pass" and lived in white society. Jefferson also freed all of Hemings' children, something he did not do for any other slave family at Monticello.
While in later years Jefferson's family denied his paternity, Hemings' children maintained they were fathered by Jefferson throughout their lives. Over tens of decades the stories continued until 1998, when DNA tests found compelling evidence that Hemings' descendants were related to Jefferson. 
Monticello has been working to acknowledge and display its slave history. The Mountaintop Project, for instance, isn't just attempting to restore the house to its original condition, it's also an effort to show the full story of Monticello, which was a 5,000-acre plantation worked by hundreds of slaves. 
For decades, that slave history had been paved over—sometimes literally.​ By the late 1800s, most of Mulberry Row,​ the small village where slaves lived and worked just a few hundred feet from the mansion, had been torn down, and a parking lot later covered a segment of it. But in 2015, Monticello unveiled a reconstruction of a Mulberry Row cabin and iron workshop. A textile shop and stables are also now being rebuilt or restored.