Russian Strike Severely Damages Odesa's Transfiguration Cathedral
Congregants sifted through the wreckage, clearing rubble and searching for artifacts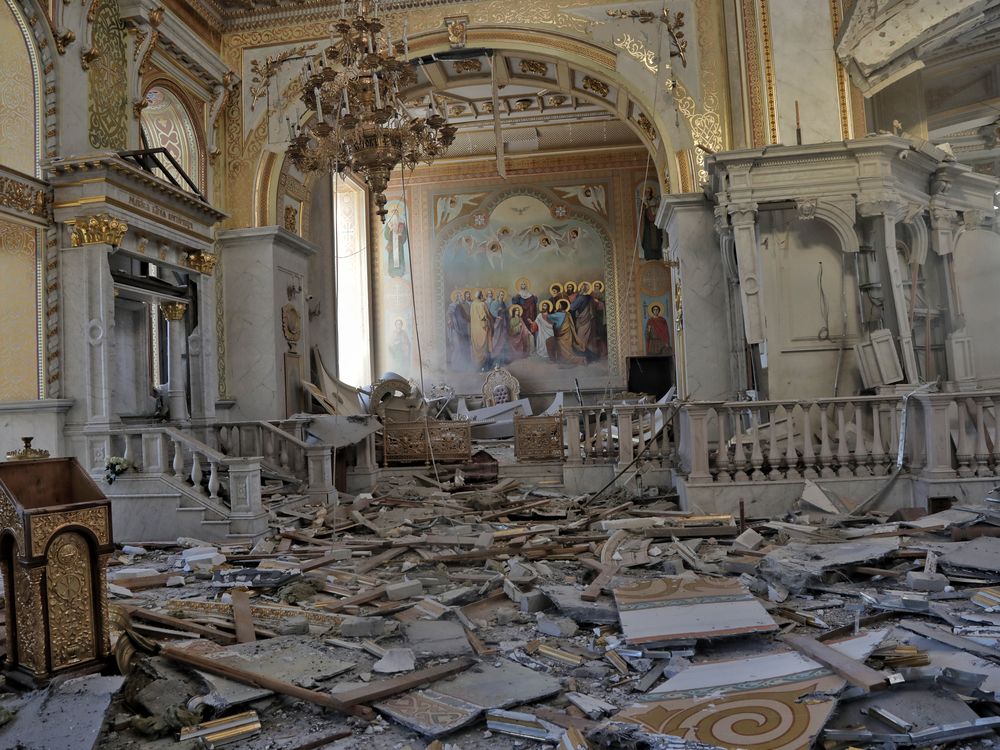 The Transfiguration Cathedral in Odesa, Ukraine, was destroyed once before: In 1936, Joseph Stalin, who was battling organized religion in the Soviet Union, demolished the 19th-century structure, which was eventually rebuilt after the Soviet Union's fall.
Last week, at the hands of another Russian leader, the cathedral was attacked again.
In the early hours of July 23, a Russian missile strike, which killed one city resident and injured about 20 others, reduced a large portion of the cathedral to rubble. Ukrainian President Volodymyr Zelenskyy decried the attack, one more in a string of blows that have devastated the city.
"All these missiles target [are] not just cities, villages or people, but humanity and the foundations of our entire European culture," says Zelenskyy, per Iryna Nazarchuk of Reuters.
Congregants gathered around the wreckage to sift through it, picking out religiously significant artifacts. Myroslav Vdodovych, the cathedral's chief priest, was overseeing the cleanup and expressed his utter disbelief over the brazen attack.
"I was one of the first people here, because I got notified when the alarm signals went off," he tells Shaun Walker of the Guardian. "It was a direct hit, right in the altar area."
The Guardian says that the strike was a "shocking" development, "even by the standards of Russia's ruthless war strategy." The Transfiguration Cathedral was consecrated in 2010 by the Russian Orthodox bishop Patriarch Kirill; since then, Kirill has gained notoriety as an ardent supporter of both Vladimir Putin and the war.
Odesa, a port city on the Black Sea, is a vibrant cultural center with a rich history. Russian forces have targeted Odesa on multiple occasions since the war began, and UNESCO added the city center to its List of World Heritage in Danger earlier this year. Beyond the cathedral, other recent strikes in Odesa have damaged the Archaeological Museum, Maritime Museum and Literature Museum, according to Sophia Kishkovsky of the Art Newspaper.
Audrey Azoulay, UNESCO's director-general, condemned the recent attacks. "This outrageous destruction marks an escalation of violence against the cultural heritage of Ukraine," he said in a statement earlier this week.
Russia's Defense Ministry, meanwhile, denied responsibility for the cathedral's destruction, instead casting the blame on Ukranian weaponry, report Hanna Arhirova and Elise Morton of the Associated Press.
Vdodovych spent the morning after the attack on his church coordinating the recovery effort. He tells the Guardian that if any silver lining is to be found, it is that the cathedral blocked the missile from slamming into nearby buildings. Although those buildings sustained some damage, he says, none of their occupants died.
"In this way," Vdodovych says, "we can say the cathedral saved lives."