Adidas Just Made a Running Shoe Out of Ocean Trash
The apparel company recently released a prototype that incorporates recycled ocean plastic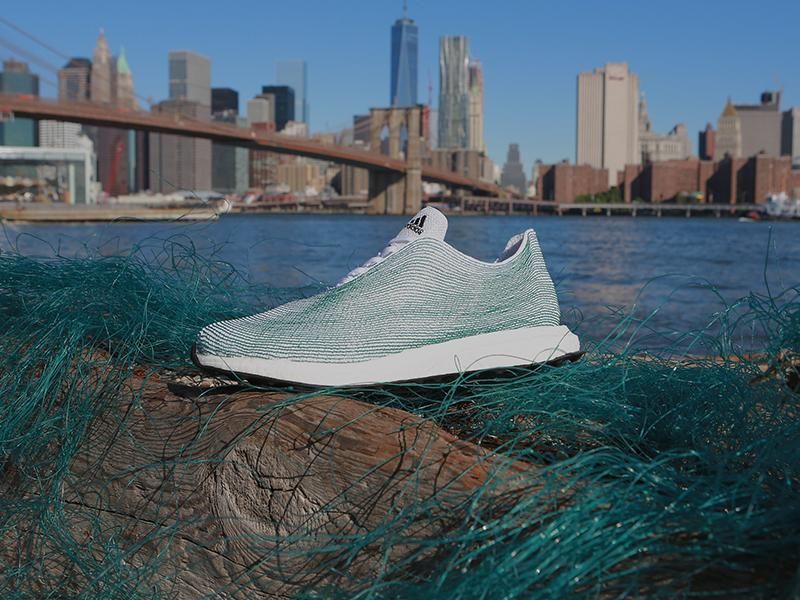 Runners can soon sport footwear made from ocean trash. Last week, Adidas released a new prototype shoe made at least in part from recycled plastic and deep-sea gillnets, reports Andrew Lloyd for The Huffington Post.
The design seems to combine to two ocean threats in its construction: plastic and gillnet fishing or deep sea trawling. Researchers estimate that 4.8 billion metric tons of plastic end up in the Earth's oceans each year. Even tiny pieces of plastic actually take a long time to degrade and get swept up into the ocean's five circulating gyres reaching even the most remote waters.  Deep-sea nets are illegal in many countries, and are made of very fine twine, are designed to catch fish by their gills. 
To combing the two into a shoe, Adidas teamed up with a conservation organization called Parley for the Oceans. The Sea Shepherd Conservation Society retrieved the basic materials that went into the top of the shoe. On a 110-day expedition, they collected plastic from the depths and confiscated gillnets from an illegal fishing boat that they tracked down off the west coast of Africa, as Kate Sierzputowski writes for This is Colossal. Recycled plastic went into the upper shoe structure, and threads from the green nets were knitted into the top to create a colorful accent. For a shoe made from garbage, the design is pretty stylish, as Sarah Barnes points out over at My Modern Met.
Right now, the shoe is just for show as part of a larger line of plastic-based products that Adidas plans to roll out later this year, and it's unclear if and when it might end up in stores.