Civil War Hero's Long-Lost Sword Was Hiding in an Attic
Union Colonel Robert Gould Shaw led the legendary 54th Massachusetts Regiment, one of the first official black military units in the United States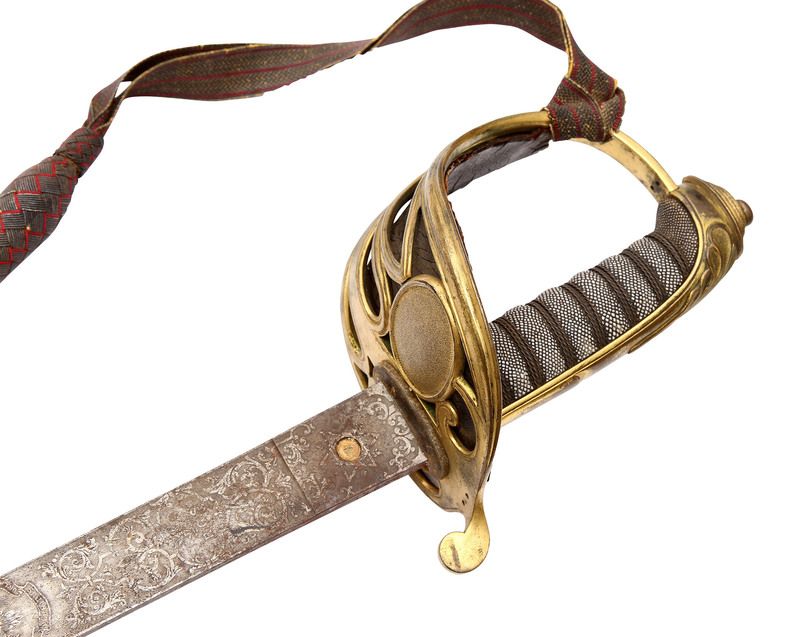 On the 154th anniversary of his death, the sword carried by Colonel Robert Gould Shaw will go on public display for the first time at the Massachusetts Historical Society on Tuesday. Shaw used the weapon while he led the 54th Massachusetts Infantry Regiment, one of the first official black military units in the United States. It will be on view for a limited time this summer along with other Civil War memorabilia.
According to a press release, the storied sword had been missing for decades until it was found earlier this year by Shaw's descendants​, Mary Minturn Wood and her brother. As CBS News reports, they discovered the sword while going through the attic of a family home in Massachusetts' North Shore. (Wood and her siblings are the great grandchildern of Shaw's sister Sarah Susannah, who married shipping heir Robert Bowne Minturn, Jr. in 1861.)
Though the family knew the sword was in their possession at one time, they lost track of it over the generations until Wood saw it in the attic. "I said, 'Uh oh. There are three initials on it: RGS,'" Wood tells CBS. "And [my brother] went, 'Ohhh, this is the sword.'"
This isn't the first time Shaw's sword was lost and then found.
In 1863, Massachusetts governor John A. Andrew asked Shaw, then a captain in the elite 2nd Massachusetts, to lead the 54th Massachusetts Infantry Regiment. According to The Civil War Trust, Shaw accepted the position reluctantly, but he grew to respect and love his men. He was also granted the rank major and, eventually, colonel. 
According to Steve Annear at the Boston Globe, as soon as his uncle George R. Russell heard of his nephew's rise in rank, he commissioned a sword for him from a company in England. Sometime in early July 1863, Shaw received the sword. On July 16, the 54th saw their first action at the Battle of Grimball's Landing. Two days later, the regiment, with Shaw at its head, led the fateful attack on Fort Wagner near Charleston, South Carolina.
During the charge, Shaw was shot dead, reportedly holding the sword while leading his troops. He was 25 years old. Of the 600 men that charged Fort Wagner, the National Archives writes that 272 men were killed, wounded, or captured. Their story is dramatized in the Oscar-winning film Glory. 
When the battle was over, Shaw's body was stripped of his clothes and his sword. But the weapon would be later recovered. 
According to the press release, by 1865, General Charles Jackson Paine had received word that the sword was in the possession of a rebel officer in North Carolina. That June, he sent black troops to recover it. 
When Shaw's father, Francis, received the sword, he immediately recognized its significance. A staunch abolitionist, he said, "So far as such words may be applied to an inanimate thing it is the weapon which has done most for our colored people in this war, and it is to me likewise as well as to you a source of great satisfaction that it was recovered and restored by officers of colored troops."