Catch a Rare Viewing of Robert Frost's Cheery, Dreary, Dark Christmas Cards
The poet's annual Christmas cards, made in compilation with printer Joe Blumenthal, were not necessarily traditional, but they were always beautiful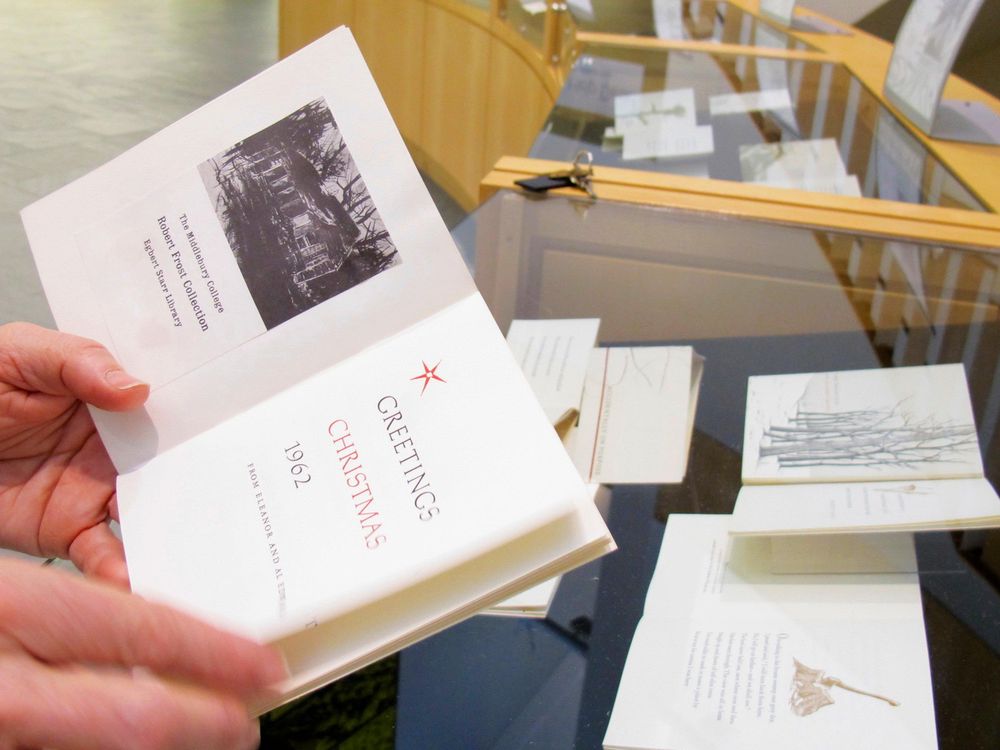 Back in 1929, a New York printer named Joe Blumenthal was typesetting the latest edition of Robert Frost's "Collected Poems" when he decided one poem, "Christmas Trees," would make an especially handsome card. But though he reached out to Frost's publisher Henry Holt and Company for permission to make a small patch of cards with the poem, he failed to approach the poet himself about his plan.
When Frost ultimately saw Blumenthal's cards with his words printed on them, he wasn't upset. Instead, as the story goes, he asked Blumenthal to extend the print run to make some for him to send to his own friends. He wrote to Blumenthal: "My sympathies have been enlisted on the side of small presses and hand setting. My heart will be with you in your work."
That marked the beginning of a long-running collaboration between the poet and printer that ultimately spanned decades, ending just before Frost's death in 1963.  
Now, for the first time in more than 50 years, Middlebury University will feature a set of Frost's famous Christmas cards, which include a range of his poems, spanning from his classics to drafts of works-in-progress, displayed in all their glory, Wilson Ring reports for the Associated Press.
Blumenthal, who ran the Spiral press and developed the Emerson typeface, made Frost a champion for the letterpress aesthetic during his lifetime, and for good reason. The way the poet told it, Blumenthal's cards elevated his words. "The Spiral's typography and printing found things to say to my poetry that hadn't been said before," Frost once said.
Middlebury College describes its collection as "true first editions" of Frost's chosen poems. Many of the cards feature woodcuts. Often, they depict scenes of New England life. Sometimes, they are abstract or dark, with more subtle references to the holidays, like the red and green atomic swoops that adorn the card featuring Frost's poem "Some Science Fiction."
Frost's Christmas cardmaking tradition evolved over time. Over the years, his poems, paired with Blumenthal's typesetting, began to include woodcuts by a variety of artists in cards or small booklets. "[W]hat started out as a small reprint for greetings to our friends became a special tradition of Frost first editions," Blumenthal later wrote in the booklet "Robert Frost and the Spiral Press." In 1935, for instance, artist J.J. Lankes got involved when he bartered a woodcut for "Neither Out For Nor In Deep" in return for copies of the card to send during his own Christmas mailing. "Thereafter most of the booklets carried decorations and illustrations by artists who participated as partners in the holiday spirit," Blumenthal recounted.
Middlebury College received its cards as part of a "cache of 'Frostiana'" which was donated to the University in 1961, according to Ring of the AP. Another set of cards can be found at Dartmouth College, where Frost attended college for just one term in 1892. Scattered cards also occasionally pop up among various library special collections, likely having been donated by the cards' original recipients or descendants. According to Peter Armenti in a Library of Congress blog post, the print runs of these seasonal cards varied widely, from just 52 copies (Two Leading Lights in 1944) to 17,055 copies (The Prophets Really Prophesy as Mystics in 1962).
And while the cards were a Christmastime custom, the verses in the cards weren't necessarily cheerful nor did they have to even closely correlate with holiday themes. In fact, Armenti writes that just two cards were explicitly about Christmas.
Some cards featured haunting themes, like the classic "Stopping by Woods on a Snowy Evening," which ends in the weary refrain: "And miles to go before I sleep, / And miles to go before I sleep." Others cards were outright grim, such as the 1950 edition which features the poem, "Doom to Bloom."
But that unexpected variety is just what makes the collection of cards so interesting. As an essay published by the Academy of American Poets puts it: "[The cards] are at once playful and serious in a way that cuts past much of the gloss of Christmas."
Decide for yourself by catching the cards on display in a special collections exhibition called "Holiday Greetings from Robert Frost and the Spiral Press," on view in Middlebury University's Davis Family Library Atrium. A special reception is planned for the show on Thursday, December 14th at 4 p.m.