Risk-Taker Evel Knievel Was a Big Proponent of Wearing a Helmet
The daredevil still holds the world record for the most broken bones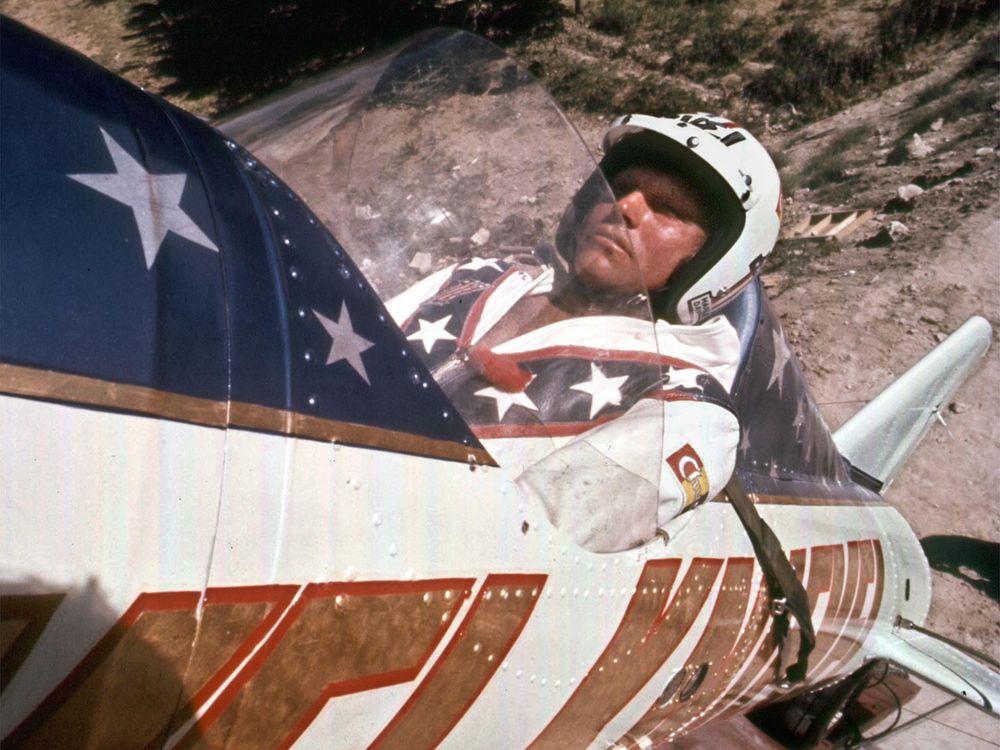 He played it safe even when he was defying death.
To watch video of Robert "Evel" Knievel performing one of his risky motorcycle jumps is to wonder at the human capacity to manage fear. But even the man who made his name on attention-grabbing stunts had his limits.
In the course of his career, Knievel jumped a 20-foot-long box of rattlesnakes, two pick-up trucks, the Caesar's Palace fountain, and an ever-escalating number of buses: 10 single-deckers in Wembley Stadium in London, 14 Greyhounds later the same year in Ohio. He only landed some of his jumps, but Knievel regularly turned catastrophic crashes into successful PR moments.
"At a time when extreme sports and reality TV are more popular than ever, few remember that he founded both and bled for it as he did so," Pat Jordan wrote in a profile of Knievel published just days before his death on November 30, 2007.
When he retired in 1981, he told reporters that he was "nothing but scar tissue and surgical steel," wrote Richard Severo for the New York Times in Knievel's obituary. His hard-drinking, working-class daredevil image brought him fame with fans who followed his career through the 1970s. He formally retired in 1981.
But the stuntman did wear some protective gear, and he strongly supported mandatory helmet laws. He told Big Bikes magazine, "Anytime you see anybody riding a motorcycle without a helmet on, you're looking at a goddamned fool."
Knievel even appeared in a California legislature in 1987 to express his support for their mandatory motorcycle helmet bill. He was introduced as the "best walking commercial for a helmet there is," wrote Jerry Gilliam for the Los Angeles Times.
"Mr. Knievel has broken virtually every bone in his body," Assemblyman Richard Floyd said, "but his head has always been protected."
Ever the showman, Knievel was famous for his garish protective gear, a blue and white helmet, and a red, white and blue leather jumpsuit. A cape and cane generally completed the ensemble. Although he was often photographed without his helmet, action shots of him in the air always featured him wearing the helmet. His son, Robbie Knievel, also a daredevil, carried on his legacy of promoting helmet use. "I hope you'll all do what my father taught me: Wear your helmet," the younger Knievel told a crowd in Los Angeles in 1986.
Today, it's not so unusual to see daredevils attempt things even wilder than what Knievel was doing in his prime. Of course, they generally ride motorcycles that are technologically light years ahead of what he used, writes Owen Edwards for Smithsonian. Many of his records have been broken by Bubba Blackwell, another stuntman, wrote ESPN in Knievel's 2007 obituary. Doug Danger broke Knievel's car record in 2015, jumping 22 cars on the same 1972 Harley Davidson that Knievel used, wrote Andrew Bornhop for Cycle World.
One record that Knievel maintains: the Guinness World Record for most broken bones over a lifetime, at 433. True to controversial form, Knievel disputed this number at various times.