R.I.P., Dave the U.K.'s Largest Earthworm
Measuring 16 inches long and weighing an ounce, the worm pulled from a Cheshire garden has become a prized specimen at the Natural History Museum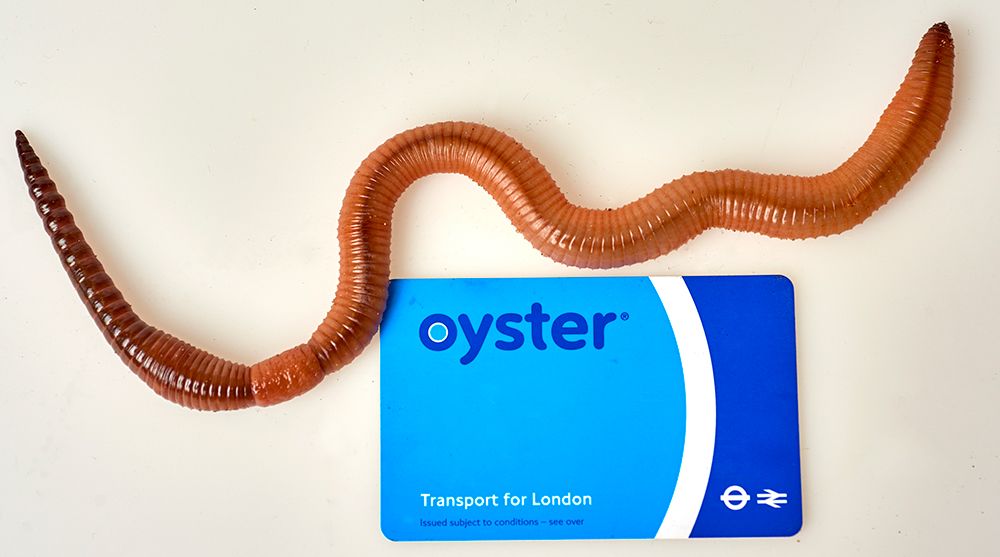 Dave lived his life in a vegetable patch in Widnes, a small industrial town in Cheshire along the River Mersey. It's difficult to surmise exactly when Dave was born or know whether his life was particularly difficult. But by the time Paul Rees pulled the lob worm, Lumbricus terrestris, from his garden, Dave's size indicated he lived a safe and healthy existence. Very healthy. At 16-inches long and twice the girth of the average annelid, Dave is the largest earthworm ever collected in Great Britain, report The Guardian's Martin Belam and the Press Association
Rees and his stepson George, who named the worm Dave, placed him in a box and sent him off to the Natural History Museum, London, where Emma Sherlock, senior curator of free-living worms, first met Dave, according to a press release.
"I was bowled over by the size of this worm when I opened the plastic box they sent it in. Not only is it really long, it is almost twice as heavy as any other wild earthworm ever seen, weighing the same as a small chocolate bar," she says in the release.
Dave surpasses the previous all-Britain record earthworms which were discovered in 2015 on the Scotland's Isle of Rum, according to The Guardian. Those worms were similar in length to Dave, but not nearly as heavy, clocking in at about 12.6 grams. Dave, on the other hand, was 26 grams—nearly five times the weight of the average worm.  
Elizabeth Roberts at The Telegraph reports that Rum is ideal worm country, because of the island's rich soil and lack of worm-munching predators, such as badgers, moles, hedgehogs and foxes. If left alone, she writes, earthworms will just keep growing. "These things have just been left and have grown bigger and bigger," Kevin Butt of the University of Central Lancashire, who found the Rum worms tells Roberts.
Dave, on the other hand, lived in a world full of hedgehogs and moles, making his survival all the more remarkable. Though no one is certain of Dave's age, Mary Bates at National Geographic reports that lob worms are found throughout Europe and have lived up to six years in captivity. "With worms this size, Paul [Rees] must have an incredibly fertile and well-drained [vegetable] plot with decaying matter quickly recycled back into the soil," Sherlock says in the release.
But, all was not peachy with Dave. Belman reports that the museum euthanized the worm after receiving him. "It's always a very painless process in that we anesthetize the animal first," Sherlock explained the process on the show, BBC Breakfast, The Guardian reports. "We were as kind as we possibly could be. We fix him properly and then add him to the national collection, so he's going to be known as Dave for ever more, and be available for science and scientists all round the world."
Still, Dave's demise set off the Twitter hashtags #davetheworm and #justicefordave, a strange mix of earnest animal rights sentiments and worm jokes. One user wrote "A worm is for life not just for taxiwormy." Another lamented  "…it's like Harambe all over again."
In any case, the museum hopes Dave's life and death will help raise earthworm awareness, and will encourage citizens to sign up for their Earthworm Watch program, which monitors distribution of earthworms and soil quality across the U.K. Perhaps someone will find a worm even bigger than than Dave, the gentle giant.