Richard Overton, Nation's Oldest Living Combat Veteran, Dies at 112
The beloved World War II vet didn't let old age stop him from enjoying his 12 daily cigars, whiskey-spiked coffee and butter pecan ice cream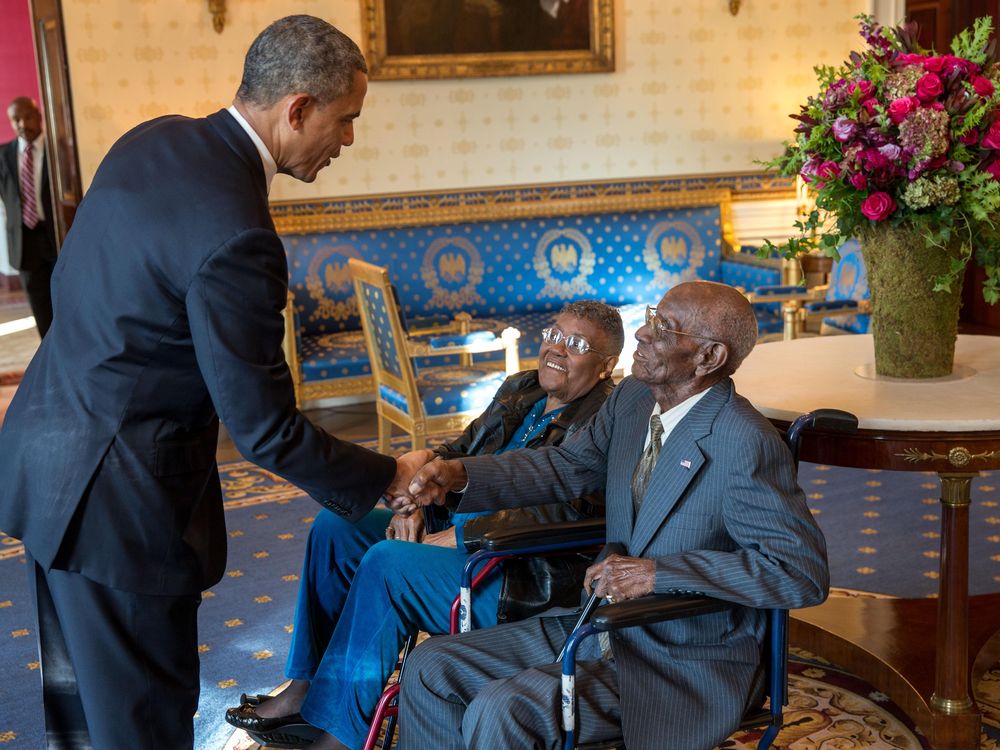 In recent years, you'd probably find Richard Overton sitting on the front porch of his Texas home, greeting passersby, smoking a few of his 12 daily cigars and knocking back cups of whiskey-spiked coffee.
You knew Richard. But if you didn't, the American flags and signs in his yard readily denoted his status as a proud World War II veteran. Indeed, until his death on December 27, he was the nation's oldest living combat veteran (and, by some counts, oldest living man).
Born on May 11, 1906, descended from enslaved people living in Tennessee who migrated to Texas in the aftermath of the Civil War, he spent his adolescent years working a series of odd jobs. At age 36, he enlisted in the U.S. Army and was deployed to the Pacific Theatre, where he fought in battles across Hawaii, the Marshall Islands, Guam and Palau, Jesse Greenspan writes for History.com.
During the course of his three-year tour—which lasted from September 1942 to October 1945—Overton served in the all-black 1887th Engineer Aviation Battalion. Despite the segregation he faced back home, he once told Esther Robards-Forbes of The Statesman, "When we got out in the war, we were all together. There wasn't no discrimination there. We were hugging each other—darn near kissing each other—because you could save some of them's life."
After the war, Overton returned to Austin and built his house, complete with the famed front porch that was immortalized in a June 2018 Google Street View snapshot that one fellow Austinite recently likened to a Norman Rockwell illustration.
As an African-American man living in the South, however, his service "was not always matched by the respect that he deserved at home," as former U.S. President Barack Obama put it during a 2013 Veterans Day ceremony recognizing the then-107-year-old's legacy. "But this veteran held his head high," Obama added. "He carried on and lived his life with honor and dignity ... and made more friends than most of us do in a lifetime."
Excited visitors helped us welcome Richard Overton—the country's oldest World War II veteran. Overton served in the Pacific Theater from 1942 to 1945 as part of the all-black 1887th Engineer Aviation Battalion. More from @washingtonpost: https://t.co/HBEhmEOVGf #APeoplesJourney pic.twitter.com/G1kiw8ltG5

— Smithsonian NMAAHC (@NMAAHC) April 9, 2018
For the majority of his life, Overton lived in relative obscurity. He found work in a furniture store and as a courier until finally retiring at age 85. Even at 100, in the words of Dallas News' Brendan Meyer, he was often known as simply a "retired man who liked garage sales, yard work and driving his Monte Carlo." But Overton's public profile skyrocketed after the 2013 Arlington National Cemetery event.
He received a bevy of additional honors in quick succession: As Katie Hall and Nancy Flores report in a separate Statesman article, the Austin City Council declared his birthday, May 6, "Richard A. Overton Day" and bestowed a new name—Richard Overton Avenue—on the veteran's long-time street, Hamilton Avenue. National news outlets flocked to Overton for interviews, and in 2015, he was even the subject of a short documentary entitled "Mr. Overton."
Despite enjoying a meal plan that nutritionists might frown upon—Lauren Miyahsiro of Delish notes that he dined on butter pecan ice cream on a daily basis and smoked those aforementioned 12 cigars, while Dallas News' Meyer adds that he regularly enjoyed such treats as cinnamon rolls and peach cobbler—Overton remained in relatively good health throughout his later years. On his 112th birthday, he reportedly told Chris Davis of KXAN, "I feel fine every day. No pain and no aches."
To avoid making Overton leave his beloved Austin residence for a nursing home, Volma Overton Jr., a second cousin once removed, launched a 2016 GoFundMe page dedicated to helping Overton afford round-the-clock in-home care.
In the end, Overton, who died at a rehab facility in Austin following a bout with pneumonia, maintained that the secret to his longevity was deceptively simple. As he once joked to the comedian Steve Harvey, there wasn't much to it: Just "keep living, don't die."