The Evolution of Jewish Identity Takes Center Stage at Revamped Jewish Museum Exhibition
The redesigned permanent exhibition highlights a rotating selection of artifacts spanning 4,000 years of history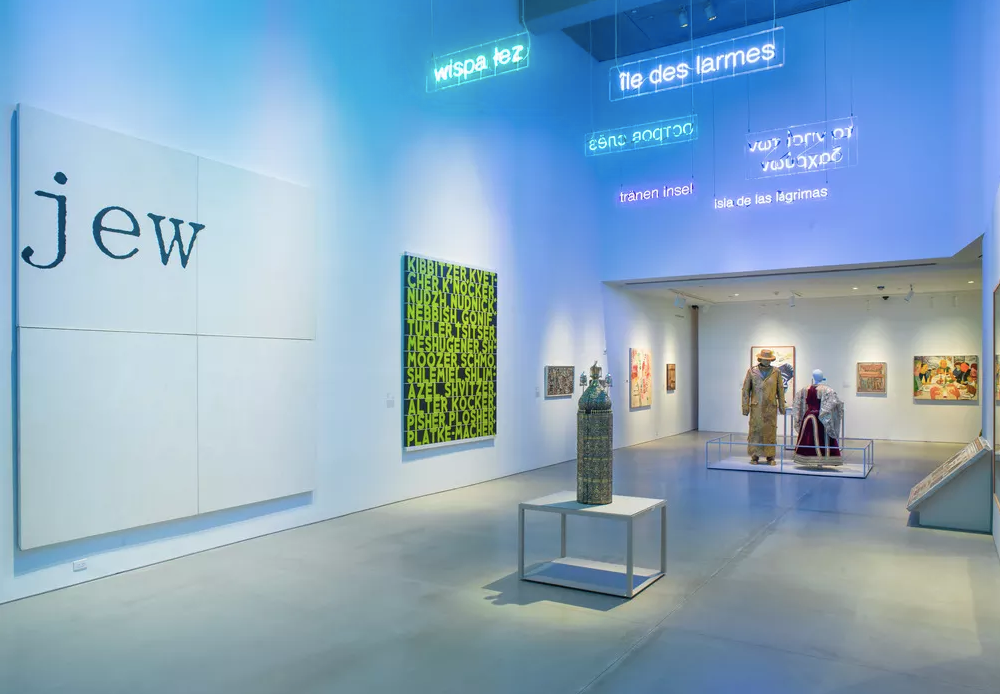 The Nazis assigned Greta Perlman transport number M 433, which meant that she was one of the first Czech Jews to depart from Prague to the newly opened Theresienstadt "camp-ghetto" in 1941. Her transit left on December 14, which just so happened to be her 37th birthday. For Perlman, it marked the beginning of a dehumanizing imprisonment, first at Theresienstadt, and later in Auschwitz.
Perlman survived the Holocaust, but little is known about her life after the war except that in 1975, following her emigration to the United States, she bequeathed an unusual item to the Jewish Museum in New York City. Perlman's gift—a bracelet compiled of charms clandestinely created and circulated by prisoners in Theresienstadt—forms the locus of "Masterpieces and Curiosities," one of seven scenes in the Jewish Museum's newly revamped permanent exhibition.
The show, aptly titled "Scenes from the Collection," draws on nearly 600 works, including a medieval synagogue floor tile, a clip from the groundbreaking ABC sitcom "Fresh Off the Boat" and a self-portrait by the American photographer Nan Goldin, to explore evolving conceptions of Jewish identity. Unlike its predecessor, which served as the museum's central exhibition for 25 years, "Scenes from the Collection" emphasizes thematic connections instead of opting for a chronological narrative of Jewish history.
Works are grouped into seven scenes: "Constellations," "Taxonomies," "Masterpieces and Curiosities," "Accumulations," "Signs and Symbols," "Television and Beyond" and "Personas."
As Artsy's Bill Glass points out, these scenes emphasize modern and contemporary art more than the museum's previous main exhibition. In conjunction with the show's organizational framework, the eclectic mix of art and ceremonial objects speaks to the diversity of Jewish culture rather than presenting a monolithic Jewish experience.
"What we really wanted to achieve is for people to understand the multiplicity of what it means to be a Jew," senior curator Susan Braunstein says in an interview with Metro's Eva Kis, "and how people react to Jews, and the many ways to relate to the Jewish experience."
Perlman's bracelet, which features 20 charms ranging from a miniature wooden clog to a bullet, camel and latrine, is the only artifact that functions as the subject of an entire scene. "Constellations" showcases about 50 of the museum's most significant holdings, while "Taxonomies" serves as a modern-day Cabinet of Wonders. "Signs and Symbols" traces various manifestations of the Star of David, from the community emblem adopted by residents of 17th-century Prague to Victims, Holocaust, a 1968 work by American visual artist Nancy Spero, who added "spike-tongued death heads" to the star's six points as part of her indictment of the Vietnam War.
These works, representative of only a small percentage of the show's roughly 600 artifacts, are further dwarfed by the Jewish Museum's holdings of nearly 30,000 objects.
According to a museum press statement, the collection's overall aim is to provide "both a mirror of Jewish identities and a guide for the formation of new ones." As the museum points out, a lot has changed since the collection was first established in 1904, when 26 Jewish ceremonial objects were gifted to the Jewish Theological Seminary of America by Mayer Sulzberger, a judge and Jewish communal leader, for the establishment of the Jewish Museum.
Fitting with its mission statement, "Scenes" will be a continually evolving undertaking. As Jason Farago of The New York Times reports, the exhibition will be "rethought and refreshed every six months" to include different aspects of the collection, from antiquities to present-day works, as well as new acquisitions.