Remains of 95 African-American Forced Laborers Found in Texas
The deceased are believed to have been among thousands of black prisoners who were put to work as part of a post-Civil War "convict-leasing system"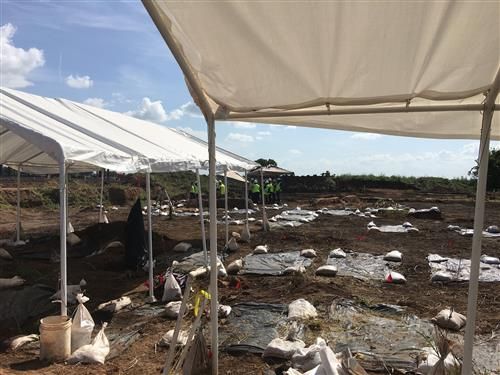 In February, a construction worker unearthed something that looked disturbingly like a human bone at the site of a planned school in the suburb of Sugar Land, Texas. As Meagan Flynn of the Washington Post reports, archaeologists subsequently discovered remains belonging to around 95 individuals, who are believed to be African-American prisoners forced to work on a plantation as part of the state's brutal convict-leasing system.
There were no grave markers denoting the cemetery, but the bodies were discovered in decaying wooden caskets. Around half of the remains have been exhumed, according to Sarah Mervosh of the New York Times, and 20 of those have been analyzed. All of the bodies but one belong to men. The deceased range in age from approximately 14 to 70, and their remains bear signs of longstanding stress. Archaeologists were able to detect evidence of childhood fever and malnutrition, along with wear that is indicative of repetitive physical work.
"They were really doing a lot of heavy labor from the time that they were young," bioarchaeologist Catrina Banks Whitley tells Mervosh. It is possible, Whitley adds, that some of the dead were former slaves.
The bodies are believed to have been interred between 1878 and 1910; at this point, the causes of death are not known.
Various artifacts were also found at the site, including chains. "[S]ome of them have swivels on them, which were more than likely utilized in chain gangs," Reign Clark, the archaeological project manager at the site, tells Jessica Borg of CBS affiliate KHOU11.
Finds like these support researchers' belief that the recently discovered dead were among the thousands of African-American prisoners who were forced to work on plantations, railways and in mines in the wake of the Civil War. The 13th Amendment, ratified in 1865, outlawed slavery, but exceptions were explicitly made for prisoners.
"In response, Southern state legislatures quickly passed "Black Codes"—new laws that explicitly applied only to black people and subjected them to criminal prosecution for 'offenses' such as loitering, breaking curfew, vagrancy, having weapons, and not carrying proof of employment," according the nonprofit Equal Justice Initiative, which focuses its work on racial and economic injustice. "Crafted to ensnare black people and return them to chains, these laws were effective; for the first time in U.S. history, many state penal systems held more black prisoners than white—all of whom could be leased for profit."
States would "lease" prisoners to owners of plantations and other industries, who paid minimal fees for the labor and covered the cost of workers' food and shelter. Because their labor was so cheap, convicts were treated as disposable by employers; the State Convention of Colored Men of Texas complained in 1883 that prisoners were being forced to work on plantations until they "dropped dead in their tracks," according to Flynn of the Post.
Texas' convict-leasing system was concentrated on sugar plantations along the Brazos River; Sugar Land, the suburb where the remains were found, was informally known as the "Hellhole on the Brazos" for the conditions prisoners faced as they labored to cut sugar cane stalks. Prisoners were also put to work in other parts of the state; they built the Capitol building in Austin and an extension of the Texas State Railroad.
Though no trace of the cemetery in Sugar Land remained above ground, local researcher Reginald Moore has long believed that the bodies of black prisoners were buried in the area. He has spent more than three decades researching Texas' convict-leasing system and searching for prisoners' remains—and according to Flynn, it was because of Moore that the Fort Bend Independent School District decided to have an archaeologist on hand when it began construction for a new school in the area.
"When I went out there and seen those bodies, I felt so elated that they would finally get their justice," Moore tells Mervosh of the Times. "It was overwhelming for me. I almost fainted."
Archaeologists hope to obtain permission from the Texas Historical Commission to conduct DNA testing on the bones, with the goal of finding living descendants who may be able to identify the newly discovered bodies. The remains may then be re-interred at the Old Imperial Farm Cemetery, a known burial site for prisoners who were forced to work on the plantation.