This Winter's Record Number of Plane Cancellations Can't Entirely Be Blamed on Weather
This has been the worst winter for flight cancellations on record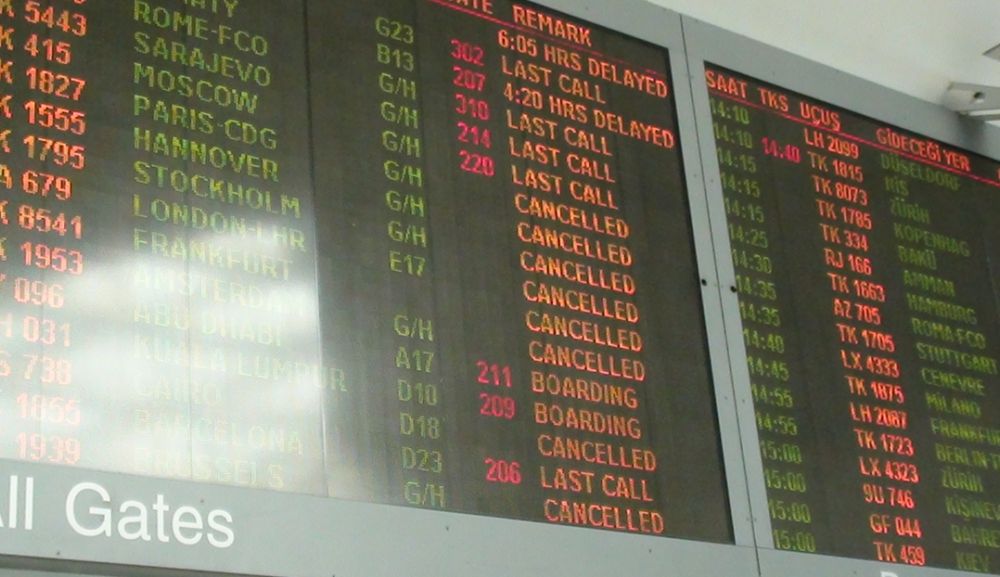 According to the Associated Press, this has been the worst winter for flight cancellations since records started being kept in the winter of 1987-1988. 75,000 flights have been cancelled by US airlines since December 1st, but it's not entirely due to the weather. 
The terrible ice and snowstorms that slammed the country this winter haven't helped. But in the past, travelers often wouldn't know if a flight was cancelled until they were already at the airport. Now, airlines seem to be canceling early and often, leaving passengers stranded and waiting to be rebooked on the next flight, often days later. 
Scott Mayerowitz of the AP reports that this shift is due to three factors: government regulations increasing rest time for pilots and decreasing the time planes can sit on the tarmac; automated rebooking systems for passengers; and cold hard cash. 
Mayerowitz: 
There are also financial considerations. A plane circling above an airport hoping to land, or even one waiting on a taxiway, burns a lot of fuel. A decade ago, when jet fuel was $1.15 a gallon, that might not have been a major concern. Today, airlines are paying $3.03 a gallon and fuel has become their largest single cost, eclipsing salaries.

Flying during a winter storm also requires deicing, a process that takes time and costs the airlines money.
So, in some cases, it makes more sense for airlines to cut their losses and tell passengers to stay put.