Rare Pink Bird Spotted in Wisconsin for the First Time in 178 Years
A roseate spoonbill ventured far outside of its usual territory to make an appearance near Green Bay, delighting local birdwatchers in the process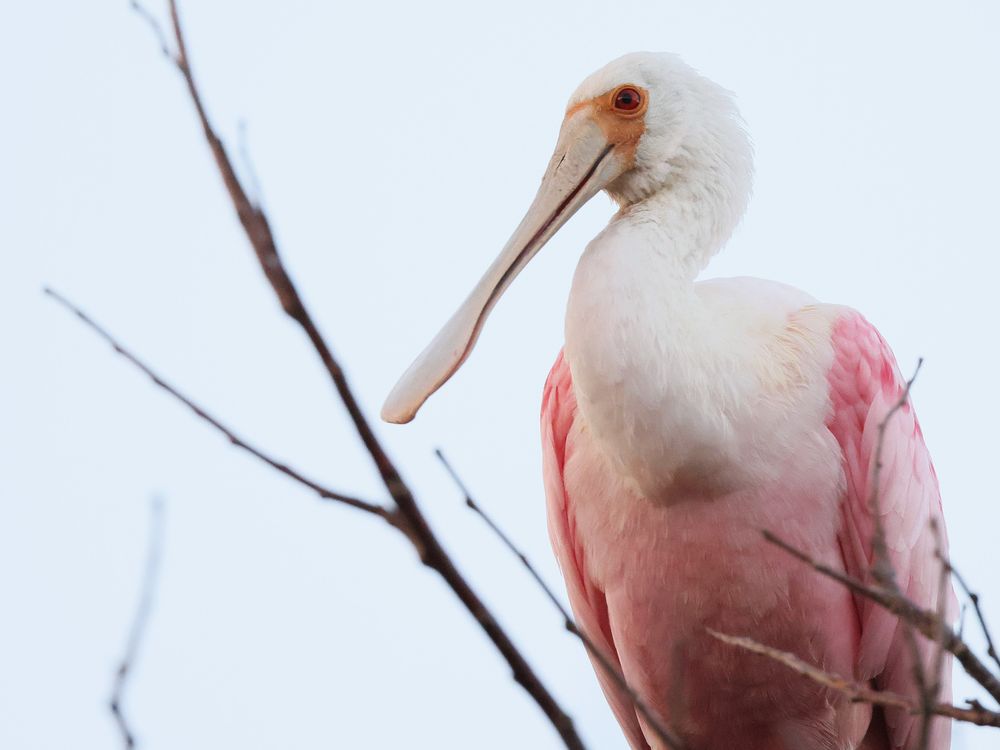 Midwestern birders are rejoicing after a rare and conspicuous water bird touched down in Wisconsin. A roseate spoonbill—a leggy bird with a wide, flat beak and distinctive pink coloring—has been hanging out near Green Bay in the northeastern part of the state in recent days.
This unusual occurrence marks the first time anyone has reported seeing a living roseate spoonbill in Wisconsin. Historical records indicate that a dead roseate spoonbill was found in the state's Rock County in 1845, making this the first time anyone has seen the species—dead or alive—in the Badger State in 178 years, reports Jeff Bollier for the Green Bay Press-Gazette.
To spot a roseate spoonbill so far north is extremely unusual. The birds typically spend their time in warmer, southern climates along the Gulf of Mexico, like southeast Florida and southwest Texas. They're also common in parts of Central America and South America.
It's not clear how or why this particular individual ended up in Wisconsin, where it's been seen alongside other water birds at the Ken Euers Nature Area and the Cat Island restoration area. However, birds do occasionally end up flying far off course. This year, stormy weather could have pushed spoonbills like this one, believed to be a juvenile, away from their usual habitats.
Rare bird alert! After receiving a tip from a couple of birding friends my husband and I were able to observe and photograph a Roseate Spoonbill in Green Bay, Wisconsin This is the first confirmed sighting in Wisconsin since 1845 #birdwatching #birding #birdlovers #Saturday pic.twitter.com/C0ZhVKc9Ji

— Candace (@Evans2021C) July 29, 2023
By coincidence, two roseate spoonbills have also been recently spotted in Washington, D.C., reports Washingtonian's Jessica Ruf. The pair has spent time in the marshes of Kenilworth Park & Aquatic Gardens in the northeastern part of the city. Daniel Rauch, a wildlife biologist for the D.C. energy and environment department, tells the publication that the "spoonies" may have moved so far north because of wind and rain or competition for food.
Such sightings are not entirely unheard of: In 2018 and again in 2021, higher than usual numbers of roseate spoonbills moved into northern states. The tropical birds were spotted as far as New England and the Great Lakes, with a few making appearances on Long Island, in New York. Widespread events like this could be prompted by a very successful breeding season for spoonbills in their more southern range, perhaps producing a "bumper crop of youngsters," wrote birder, author and conservationist Kenn Kaufman for Audubon magazine in 2021. "Higher numbers increase the odds that some will travel farther than usual and increase the chance that birders will find a few of them."
But for birders in Wisconsin, the spoonbill's appearance is unprecedented. Those who have been able to catch a glimpse of the rosy-hued creature are overjoyed at their good fortune.
Logan Lasee, a resident of the Green Bay area, was the first person to spot the roseate spoonbill last week. At the time, Lasee was working a volunteer shift to help monitor piping plovers, an endangered species of small, grayish-brown shorebirds with bright yellow legs. He was driving when he thought he saw a flash of pink out of the corner of his eye.
Today was an unforgettable day! Spotted the first Roseate Spoonbill in over 150 years in Wisconsin with fellow birders! Such a rare visitor to the Badger State! Respectfully cropped images to cherish this incredible encounter. #WiscoBirder #BirdTwitter pic.twitter.com/D61qDDcLDQ

— Dexter Patterson (Wisco Birder) (@wiscobirder) July 30, 2023
When he took a closer look, he realized he'd spotted something truly special. Elated at the prospect of seeing such a rare bird in his home state, he began dialing up fellow birders, including a biologist with the U.S. Fish and Wildlife Service. They drove out to see the animal for themselves and confirmed his hunch.
Since then, word has been spreading among local and regional birders, who have flocked to the two natural areas with huge telephoto lenses and binoculars.
Lasee, for his part, says he has felt "kind of like a celebrity," because he's the one who initially identified the creature, he tells the Green Bay Press-Gazette.
Other birdwatchers are happy to have what may be a once-in-a-lifetime experience.
"Finding birds like this is kind of like a treasure hunt," says local birder Adam Sinkula to Fox 11 News' Eric Peterson. "[I'm] just kind of soaking it all in. Taking in the moment and appreciating it."