Rare Landscape Attributed to Lucian Freud Discovered Underneath Another Work
Freud's friend, the little-known artist Tom Wright appears to have recycled a canvas that was left unfinished by the famed portraitist
Left: A Suffolk Spring Landscape with Welsh Mountains Beyond (1939/40) attributed to Lucian Freud. Right: Tom Wright landscape. (Images courtesy of Sworders)
After the artist Elizabeth Bodman died in 2015, a bucolic landscape painting was discovered in her cellar. While the work was attributed to her husband, the little-known British artist Tom Wright, the back of the canvas also bore the wispy signature of yet another artist, "Lucian." When conservators gave the Wright painting a more careful study, they observed "clear signs" that another image lay below it. So, as Naomi Rea reports for artnet News, they painstakingly stripped away Wright's painting to reveal the second landscape. The newly discovered work, according to some experts, is likely a rare landscape by the famed 20th-century painter Lucian Freud.
Sworders, an auction house in the U.K., will sell the painting on July 11; it is expected to fetch between £20,000 – £30,000 (around $26,446 - $39,669 USD). The concealed work, which has been given the title "A Suffolk Spring Landscape With Welsh Mountains Beyond" by the auction house, seems to have been unfinished when it was painted over. But if the landscape was, in fact, created by Freud, it adds new depth to our understanding of an artist who is primarily known for his haunting, evocative portraits.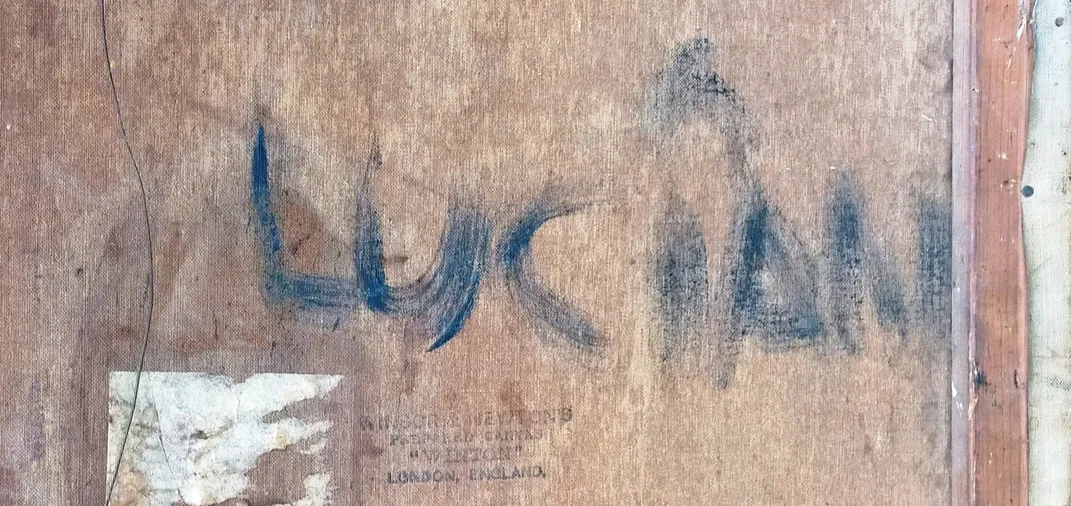 Freud and Wright were friends; they met in Hadleigh, Suffolk, shortly before the outbreak of World War II, according to a statement by Sworders. Wright, who at the time was an apprentice plasterer and sign painter, was working on a sign at a pub where the young Freud was having a drink. They struck up a conversation and Freud convinced Wright to enroll in the East Anglian School of Painting and Drawing. Freud, who was born in Germany in 1922 and moved to England with his family in 1933, was one of the school's first pupils and possibly the reason why the institution moved from its original location in Essex to a spot near Hadleigh; according to Martin Gayford of the Spectator, a 1939 fire that destroyed the Essex building was said to have been caused by Freud, who reportedly left a "smouldering cigarette" on an easel.
Wright did in fact enroll at the East Anglican School before he was conscripted into the infantry, and he resumed his studies once the war was over. Rea reports that canvas was hard to come by during the post-war years, and experts believe that when Wright set out to paint his landscape, he recycled an old canvas from the East Anglican School—one that had been used by his friend Lucien Freud. According to Dalya Alberge of the Sunday Times, Sworders' research suggests that Freud abandoned his landscape in 1941, and Wright commenced his own painting five years later.
Not all experts are fully convinced by Sworders' findings. Toby Treves and Catherine Lampert, who are compiling Freud's catalogue raisonné, said in the Sworders statement that they will not be including the landscape in their catalogue, though they will be "happy" to reconsider if more evidence comes to light. But other experts believe that the landscape was in all likelihood painted by Freud. Robert Upstone, a former senior curator at the Tate, compared the signature on the Wright canvas to other known examples of Freud's writing and concluded that the "the signature is undoubtedly in his hand," according to the statement.
"[T]he presence of Freud's signature logically and forcefully suggests that what lay underneath— whether abandoned or uncompleted—was painted by Freud himself," Upstone adds.
As conservators were peeling back Wright's work, they made another surprising discovery: yet another layer of paint appears to be hidden under the restored 1941 landscape. This layer is "is in a palette more associated with Freud's early portraits," according to the Sworders statement. But because Freud, if he was in fact the creator of these works, seems to have deliberately chosen to paint over the original layer, conservators have decided that they will not remove any more paint from the canvas. For now, what lies beneath newly uncovered landscape remains a mystery.