'The World's UnFair,' a New Exhibition Calling for the Return of Indigenous Land, Comes to Queens
Located on an empty lot, the immersive art show has a simple message: "Give it back"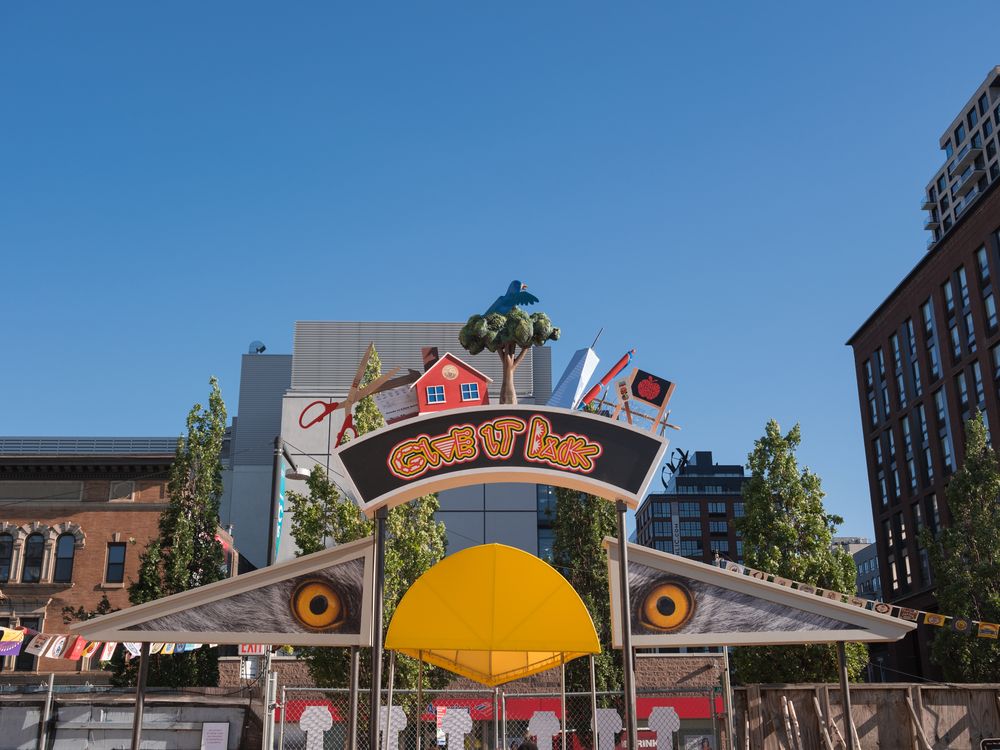 At the entrance to "The World's UnFair," the giant eyes of an eagle stare down at visitors from an artwork called Welcome as Warning. Above the eagle's piercing gaze, a sign declares the show's central message: "Give it back."
Located on an empty lot in Queens, New York, the immersive exhibition is the work of New Red Order, an artist collective that describes itself as "a public secret society of informants and collaborators dedicated to rechannelling desires for indigeneity towards the expansion of Indigenous futures." It's commissioned by the public arts organization Creative Time.
Queens hosted the New York World's Fairs in 1939 and 1964. The new exhibition mirrors such spectacles, which often depicted Indigenous groups in stereotypical and dehumanizing ways. Now, "The World's UnFair" is using the format to call for land "rematriation"—restoring relationships and balance between Indigenous groups and their ancestral lands.
"Part of the idea is to kind of normalize this gesture because it is possible," Adam Khalil, a core member of New Red Order, tells Hyperallergic's Maya Pontone.
The point of the exhibition is "not about displacing more people, [but] about changing relationships to place, and also respecting and engaging with tribal sovereignty," adds Khalil, who is Ojibway and a member of the Sault Ste. Marie Tribe of Chippewa Indians.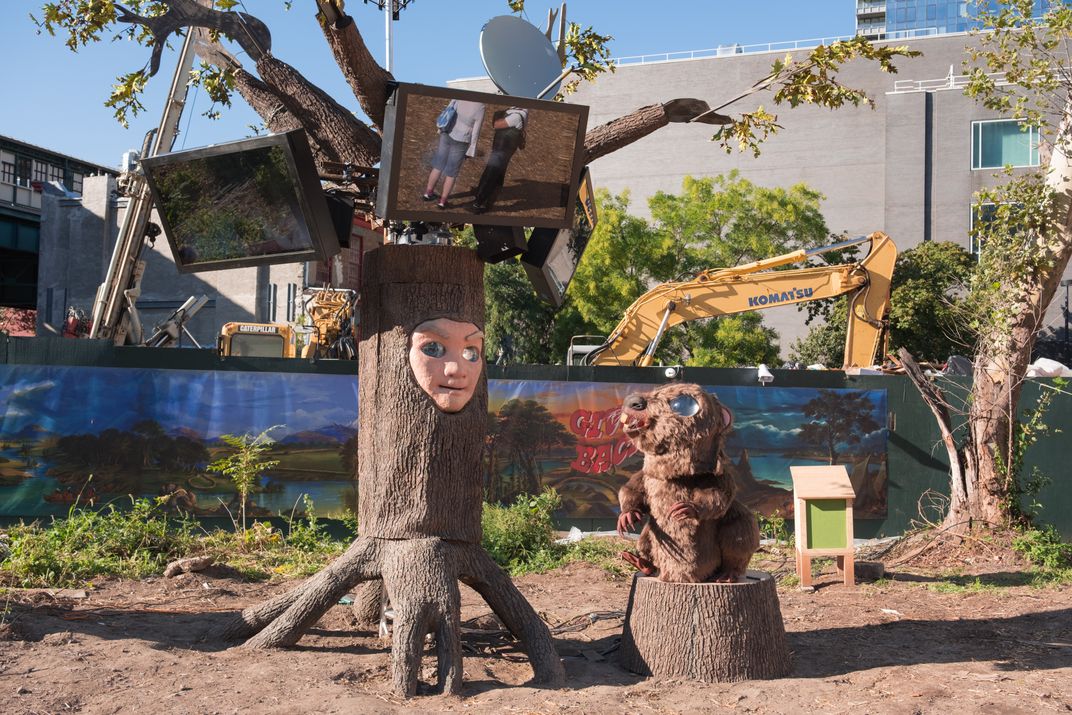 All of the show's installations emphasize these themes. For example, hundreds of tribal flags on display "establish the present-day sovereign Indigenous presence within the borders of the so-called United States," per the exhibition's website.
At the center of the fair is Dexter and Sinister, a large animatronic talking tree and beaver. The pair discuss land and private property, waxing philosophical and tossing in the occasional wisecrack.
Meanwhile, the video installation Give It Back presents a group of elected officials, nonprofit leaders, foundation representatives and individuals who have voluntarily given land back to Indigenous groups.
Hyperallergic writes that the show is "a very clear call to action." Visitors are given QR codes that direct them to fundraisers and organizations supporting land repatriation. The project aims to support "an ongoing effort for Indigenous cultural organizations and artists to receive land and form a pan-Indigenous cultural center in New York," according to the Art Newspaper's Annabel Keenan.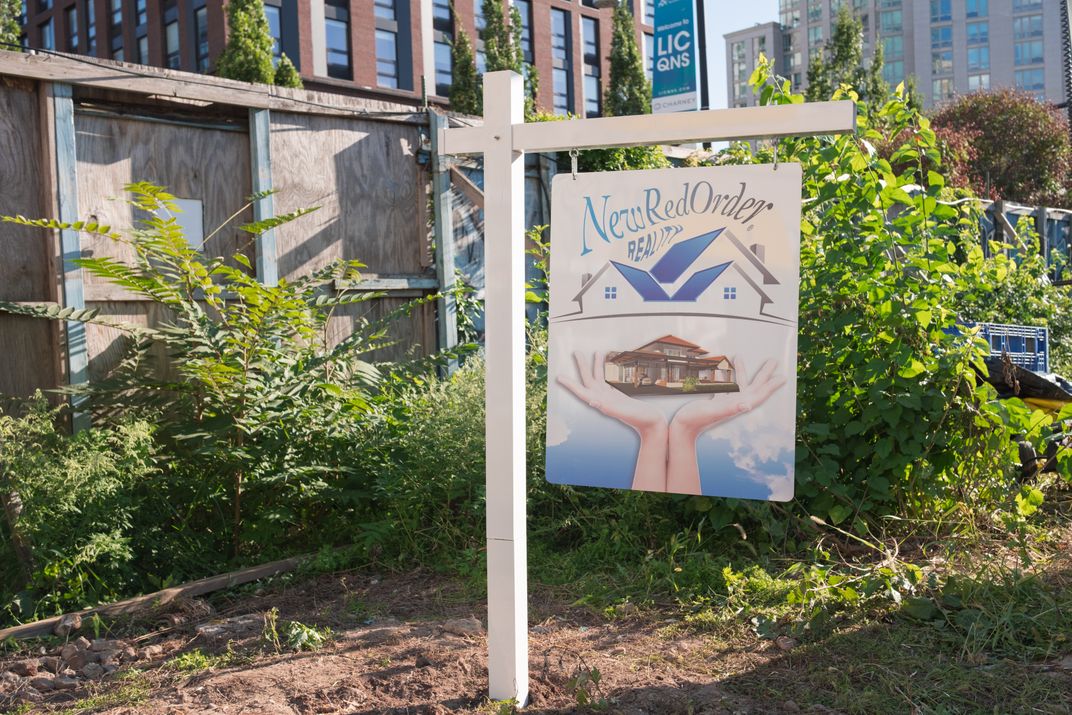 "New Red Order's whole work is about harnessing people's desire for indigeneity—to co-opt it, to appropriate it, to assume it," says Diya Vij of Creative Time, who curated the exhibition, to Artnet's Taylor Dafoe.
The collective seeks to "take that desire and turn it toward a pathway for [transforming] settlers into accomplices in the return of all indigenous land and life," she adds.
"The World's Unfair," which opened last weekend, will remain on display through mid-October. During that period, it will also host musical performances, film screenings, guest speakers and other events.
"I hope that visitors see what they can't unsee—that not only are we living on stolen land, but we can give it back," Vij tells the Art Newspaper. "People have given and continue to give land back to Indigenous people through a myriad of pathways. It's possible. We can create other ways to be in reciprocal, non-extractive relations with each other and the land, and we can start now."
"The World's UnFair" is on view in Long Island City, Queens, through October 15.