150 Years Ago, a Fire in P.T. Barnum's Museum Boiled Two Whales Alive
Attracting tourists and locals alike, the museum mixed freakshow performers with educational collections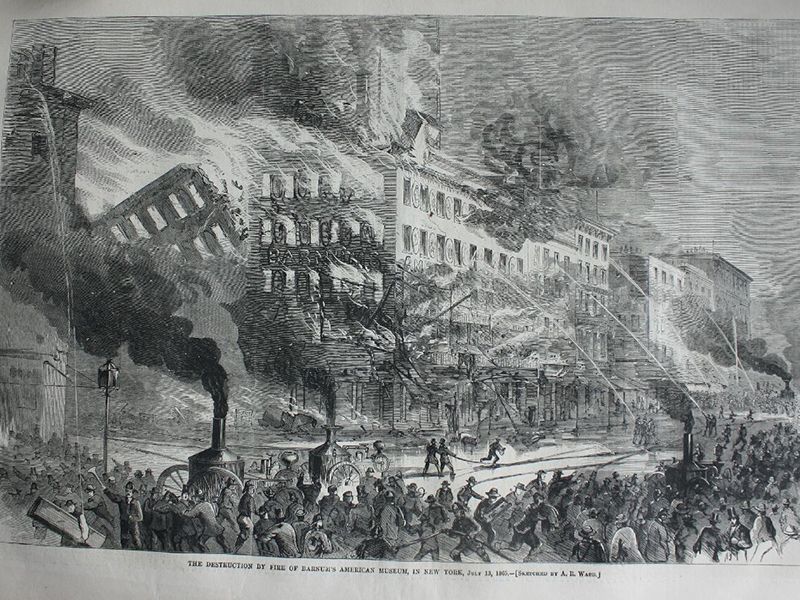 On July 13, 1865, one of New York City's most popular (and morally questionable) museums burned to the ground. Greg Young and Tom Meyers, who write the history blog The Bowery Boys, recently recounted the fire that burned down Barnum's American Museum just over 150 years ago.
Before teaming up with Anthony Bailey, showman P.T. Barnum had opened the American Museum at the corner of Broadway and Ann Street in 1841. Its collections included taxidermied animals, relics from the American Revolution, false artifacts like the "skeleton of a mermaid" and wax figures depicting historical and contemporary celebrities, write Young and Meyers.
Through living exhibits, the bizarre attraction also mixed theater with reality. Morality plays — plays in which the main character took on personified evils — took the stage in the museum's lecture hall. Its rooms featured performers who starred in Barnum's shows in addition to whales, hippos, monkeys, snakes, and even a kangaroo.
According to an account in the New York Sun, at noon on July 13, a museum employee came running up from the basement and announced that his office was on fire. The flames quickly spread and soon smoke billowed out the building. Firemen quickly evacuated visitors, human performers and animals from the premises. By 1:30 pm the roof had collapsed, and one of the building's walls soon followed.
Miraculously, no human lives were lost in the blaze, but many animals perished, including two whales, which horrifically boiled alive in their tanks. Others escaped; though rumors of a lion from the museum roaming about Manhattan were grossly exaggerated note Young and Meyers.
At the time, the New York Times wrote, "Almost in the twinkling of an eye, the dirty, ill-shaped structure, filled with specimens so full of suggestion and of merit, passed from our gaze, and its like cannot soon be seen again."
Barnum tried to reopen the museum, but it once again burned to the ground in 1868. However, you can still visit the museum online through a website designed by historians at City University New York.