Rioters Damage Art at Government Buildings in Brazil
The government has released a list of artworks that were harmed during the attacks
Over the weekend, supporters of Brazil's former president, Jair Bolsonaro, stormed government buildings in protest of newly elected President Luiz Inácio Lula da Silva, who was sworn in on January 1. 
Driven by conspiracy theories, the rioters caused significant damage within the Presidential Palace, Congress and the Supreme Court. Now, the Brazilian government has released a list of artworks that were harmed.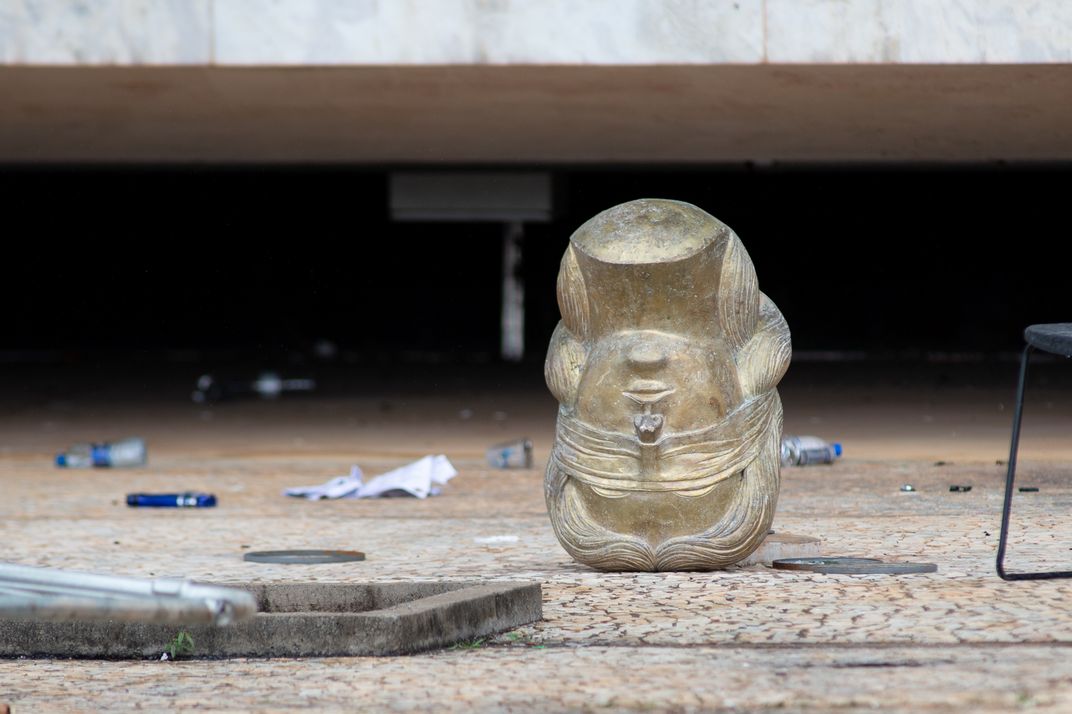 The three buildings were designed by the modernist architect Oscar Niemeyer and are on the UNESCO World Heritage list. They hold a large collection of art that "represents an important chapter in national history," according to a statement from the president's office, per Google Translate.
"The value of what was destroyed is incalculable because of the history it represents," says Rogério Carvalho, the Presidential Palace's director of curatorship, in the statement. "... From an artistic point of view, [the Presidential Palace] certainly has one of the most important collections in the country, especially of Brazilian modernism."
Relógio de Balthazar Martinot. O diretor de Curadoria dos Palácios Presidenciais, Rogério Carvalho estima como "muito difícil" a restauração do relógio. pic.twitter.com/umgcCJJw23

— Mídia NINJA (@MidiaNINJA) January 9, 2023
A team of professionals is still assessing the damage, some of which they will be able to repair. However, a 17th-century clock built by France's Balthazar Martinot, which was a gift to Dom João VI of Portugal, was "completely destroyed." It's one of two matching clocks by Martinot; the other, smaller clock can be found at the Palace of Versailles in France.
As Mulatas, an iconic 1962 painting by Brazilian modernist Emiliano Di Cavalcanti, was punctured in seven places. The piece's estimated value is at least 8 million reais ($1.5 million), the president's office says. Di Cavalcanti was a colossal figure in Brazilian art, taking modernist inspiration from artists like Matisse and Picasso and creating his own Brazilian style, with subject matter that spoke to the country's street life and cultural heritage.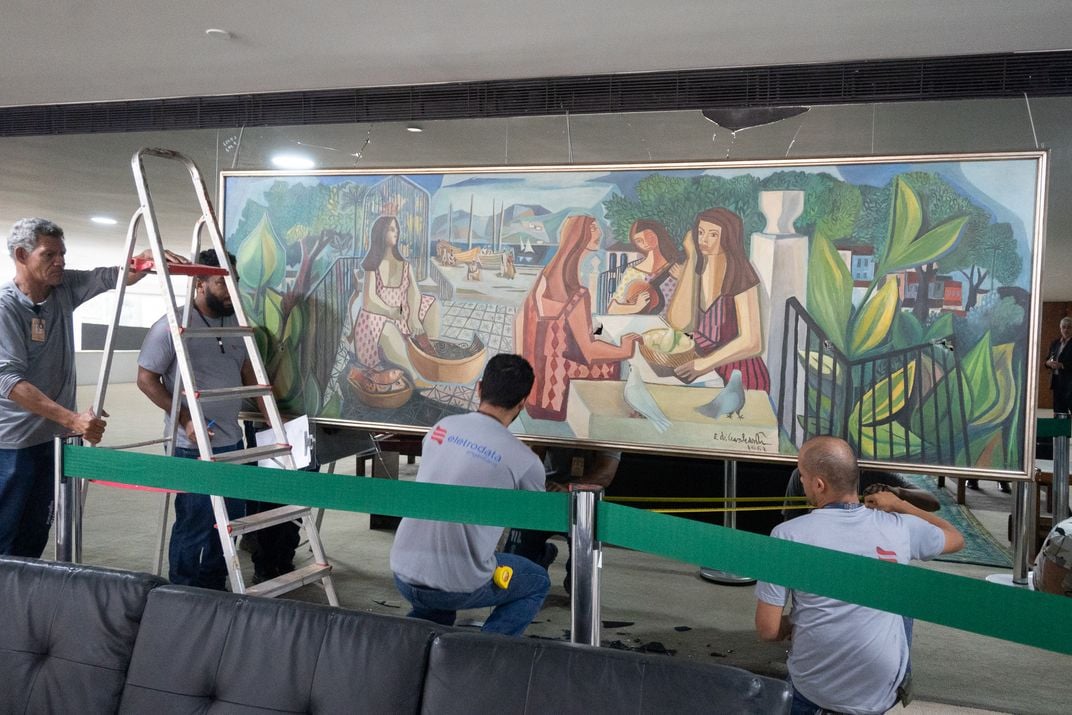 Bandeira do Brasil, a 1995 painted sculpture by Jorge Eduardo, was found floating in water that flooded the entire floor after rioters opened nearby fire hydrants. The piece had once served as the backdrop for presidential speeches, per Brazil's GloboNews.
Bruno Giorgi's 1962 bronze sculpture O Flautista and a wooden wall sculpture by Frans Krajcberg were broken, with fragments found scattered down the halls and surrounding area.
Bolsonaro responded to the news on Twitter, writing that the "invasions of public buildings, like what occurred today," were not acceptable, but he took no responsibility himself for the events.
Over 1,000 people have been detained in connection with the riots, which have drawn comparisons to the January 6 attacks in the United States.