Princess Margaret's Iconic 21st Birthday Dress Goes on Display
The gown is the centerpiece of a new exhibition on Christian Dior at the Victoria and Albert Museum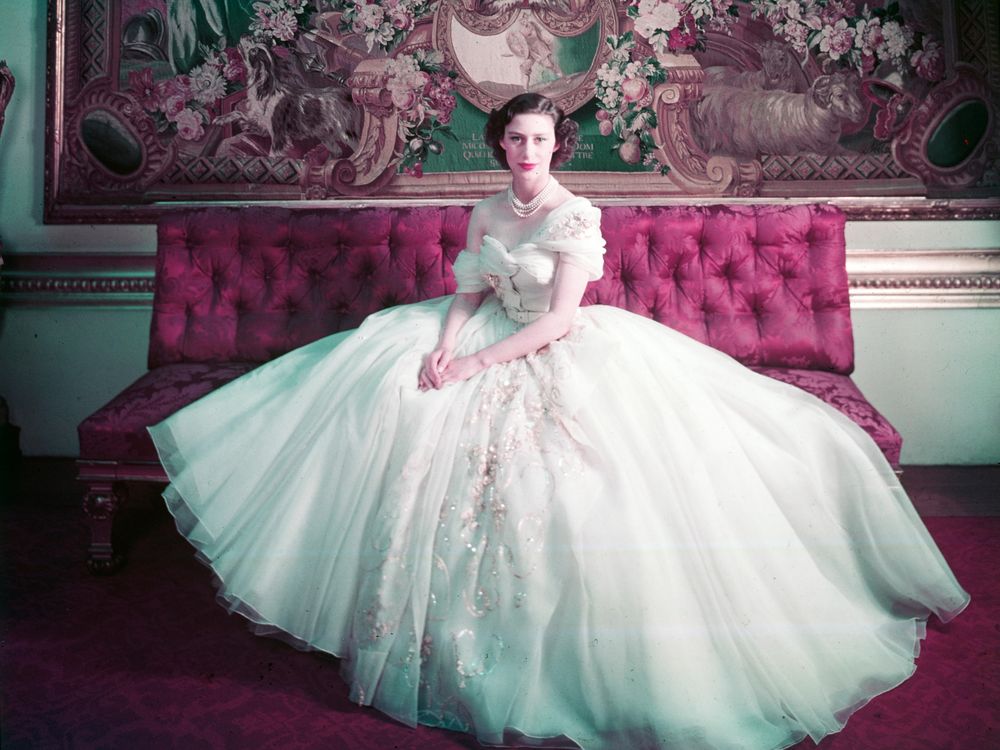 On the occasion of her 21st birthday, Princess Margaret wore a billowing cream gown designed by Christian Dior. The look became instantly iconic when photographer Cecil Beaton captured Margaret in her dress, sitting on a plush red sofa against the backdrop of an ornate tapestry—the vision of a princess.
Now, as Maev Kennedy reports for the Art Newspaper, you can take a close look at Margaret's famous gown, which is the centerpiece of a new exhibition devoted to Christian Dior at London's Victoria and Albert Museum. "Christian Dior: Designer of Dreams" explores the lasting impact of the man behind one of the world's most coveted fashion brands, along with his affection for British culture.
Dior, who was born in France and got his start amid the Parisian fashion scene, had a unique affinity for England. "There is no other country in the world, besides my own, whose way of life I like so much," he once said. "I love English traditions, English politeness, English architecture. I even love English cooking."
As the new V&A exhibition reveals, Dior collaborated with British manufacturers of gloves, shoes and jewelry, and catered to the elite of British society. Margaret was among the first of his high-profile clients in England; according to Katie Frost of Harper's Bazaar, he put on a special presentation for Margaret and her mother the day after his first show in the country in 1950.
For Margaret's birthday party the next year, Dior designed an off-the-shoulder gown, adorned with beads, pearls, sequins and raffia embroidery. "This was a very modern choice in 1951 for a very modern princess," Oriole Cullen, a co-curator of the show, tells Kennedy. "The use of synthetic materials allowed colors and effects you couldn't get otherwise, and there was a bit of a thing for raffia in the 1950s, but it was a bold choice for a couture gown for such an important occasion."
The dress embodied the "New Look," the name given to the style of clothing that made Dior both a sensation and source of controversy. In 1947, bucking the simple and austere fashion trends that had taken hold during the wartime years, he brought back flourishes of opulence and femininity to women's dress. Dior's clothes featured rounded shoulders, cinched waists and voluminous skirts. "We were just emerging from a poverty-stricken, parsimonious era, obsessed with ration books and clothes coupons," he wrote in his autobiography. "It was only natural that my creations should take the form of a reaction against this dearth of imagination."
His vision was an instant hit, though it did have his critics. Dior's ample-skirted creations were labeled wasteful, while others pushed back against the return to long skirts and restrictive waistlines, which they saw as a blow to women's freedom. Coco Chanel, who famously pioneered designs that did away with the fussy petticoats and corsets that dominated women's fashion in the 19th century, once remarked that Dior "doesn't dress women, he upholsters them!"
Margaret, however, was among the designer's most ardent fans, and remained a Dior customer throughout her life. Her 21st birthday gown has been loaned to the V&A by the Museum of London, where conservators worked carefully to restore it. Parts of the skirt had started to pull away from the waist band, sections of the beading were unravelling and the fabric was marked with a few stains. Not all of these stains could be removed, for fear of damaging the fabric, but conservator Emily Austin tells Kennedy that they represent a "part of [the gown's] history." The wear and tear certainly suggests the gown was well-loved by its owner; Margaret, in fact, once described her birthday gown as her "favourite dress of all."