You Can Now Buy Princess Leia's White Gown From 'Star Wars'
Carrie Fisher wore the garment while filming the final scene of "Star Wars Episode IV: A New Hope"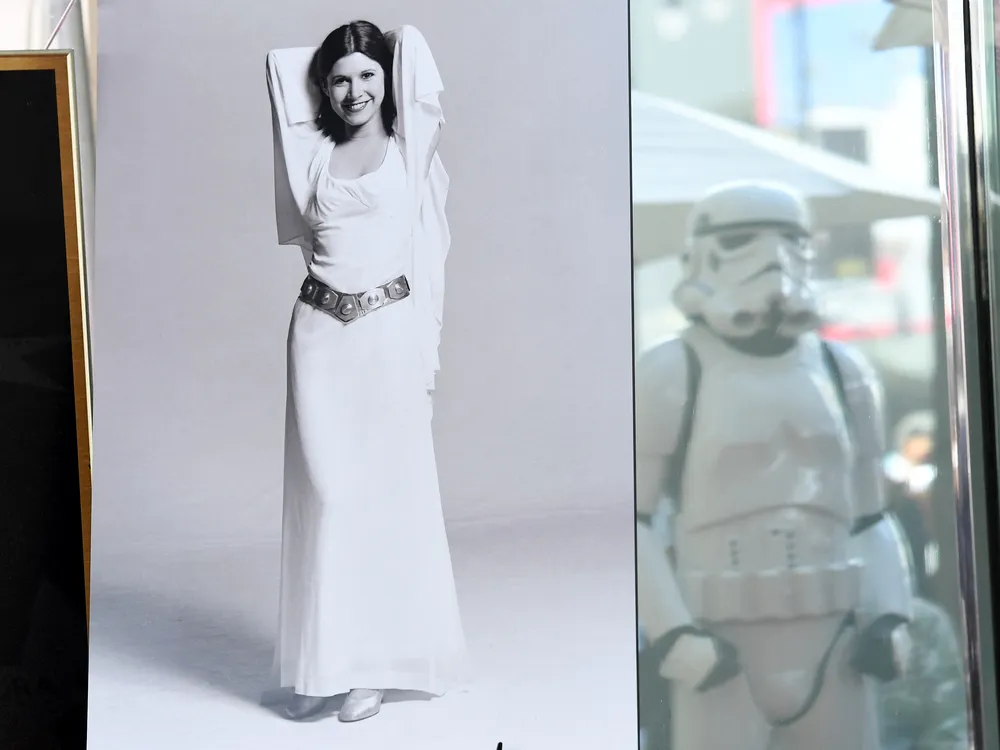 Star Wars fans now have a chance to own one of the series' most iconic costumes: the flowy white gown Princess Leia (Carrie Fisher) wore during the final scene of Star Wars Episode IV: A New Hope (1977).
The white dress is expected to fetch between $1 million and $2 million, with a starting bid of $500,000, according to Propstore, which is auctioning the dress as part of a larger sale of entertainment memorabilia in late June.
Other items up for grabs include a pink coat Rose DeWitt Bukater (Kate Winslet) wore in Titanic (1997), a robe and glasses Harry Potter (Daniel Radcliffe) wrote in Harry Potter and the Chamber of Secrets (2002) and Batman's (Christian Bale) batpod vehicle from The Dark Knight (2008) and The Dark Knight Rises (2012).
With her hair in her signature braided updo, Princess Leia wears the dress while placing medals around the necks of Luke Skywalker (Mark Hamill) and Han Solo (Harrison Ford) inside the throne room of the rebel base on Yavin IV. The ceremony follows Skywalker's successful obliteration of the Death Star from his X-wing starfighter.
It's the only known Princess Leia costume from the original film in existence, according to the auction house.
Costume designer John Mollo created the dress, which features long, gauzy sleeves, an empire-waist bodice and a belt made of silver armor. The use of all-white silk fabric was meant to symbolize Leia's "purity and beauty," per the listing. It has a hidden zipper along one side, as well as hook-and-eye fasteners on the shoulder.
For his work on this and other Star Wars costumes, Mollo won the 1978 Oscar for Best Costume Design.
Aside from its star-studded past, the dress also comes with a mysterious backstory: For decades, collectors thought it was lost.
Though production staffers threw away most of Princess Leia's costumes after filming wrapped, one crew member held onto the dress as a souvenir. It spent most of the last few decades bunched up at the bottom of a plastic bag inside a London home, per the New York Post's Nicole Lampert.
At one point, a friend of the crew member wore it to a costume party, where it was ripped and stained with blood, food and wine, so textile conservators working on restoring the dress had their work cut out for them. They spent eight months cleaning and re-stitching the gown to return it to "museum-caliber" condition, per the listing.
Star Wars helped launch Fisher to international renown. When she died in 2016, fans expressed an outpouring of love and support for the actress, who posthumously received a star on the Hollywood Walk of Fame last month. A photograph of Fisher wearing the white dress was on display as part of the ceremony.
"The film positioned her as a global superstar and set her on a path to being one of the most beloved actresses of her generation," says Brandon Alinger, Propstore's chief operating officer, to Space.com's Jeff Spry. "It's amazing that 47 years after the scene was shot, this gown is still [in] existence, and is still inspiring fans around the world."