Prehistoric Rock Art Defaced in Utah
Visitors to Nine Mile Canyon decided to leave more than footprints at the longest art gallery in the world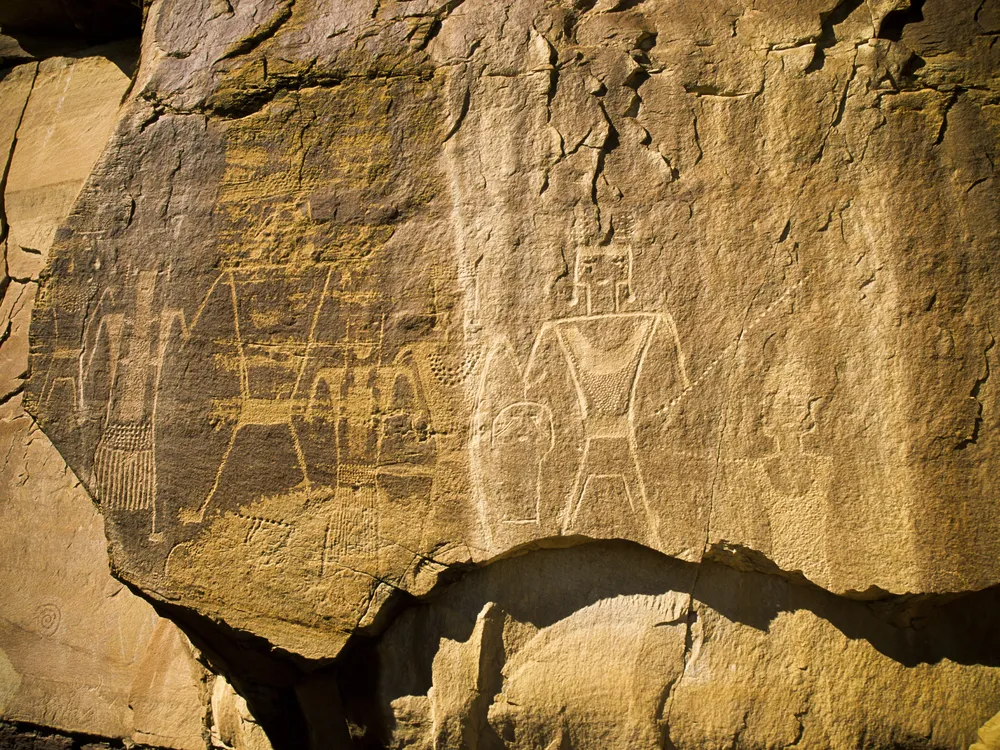 On the Sunday before Memorial Day, when much of America was enjoying their holiday weekend, some vandals in Utah decided it would just be a swell idea to carve their initials and the date onto a rock. The problem? The rock was also home to a beautiful piece of rock art that had survived in the Utah wilderness for centuries.  
The Pregnant Buffalo petroglyph was just one of the more than 10,000 pieces of rock art that can be seen in Nine Mile Canyon (which is actually around 40 miles long). Much of the rock art in the canyon is more than 1,000 years old. 
The Bureau of Land Managment has strict rules about visiting Native American sites like the ones in Nine Mile Canyon:
Leave Native American rock art, ruins, and artifacts untouched for the future.  The oil from a single handprint can chemically affect rock art.  Climbing on ruin walls can destroy, in a moment, a structure that has survived for a thousand years.  Removing or even moving artifacts destroys the scientific value of sites.  Chalking or wetting rock art is prohibited. 
Archaeologist Jerry Spangler, who was at the site just before the vandalism took place, told the Deseret News that he hoped the Bureau of Land Managment would investigate the matter fully. From the Deseret News: 
Spangler pointed to this recent rock art defacement, the toppling of a hoodoo at Goblin Valley State Park and the theft of a dinosaur track near Moab as examples of a segment of society that has yet to learn the value of cultural and geologic history.

"It is not acceptable. These are treasures of the past that belong to all of us. A rock art panel is not someone's private pallet where people can create their own images."
Similar bits of graffiti were left at the site as long ago as 1867, but graffiti-ing has dropped off in recent decades.  Another panel in the canyon was defaced last year, but no one was ever caught. This time, Spangler and some local landowners were able to get a license plate.