Public Sculpture in Tennessee Will Memorialize Lynching Victim
Chattanooga confronts its history with a planned memorial to a young black man named Ed Johnson who was murdered by a white lynch mob in 1906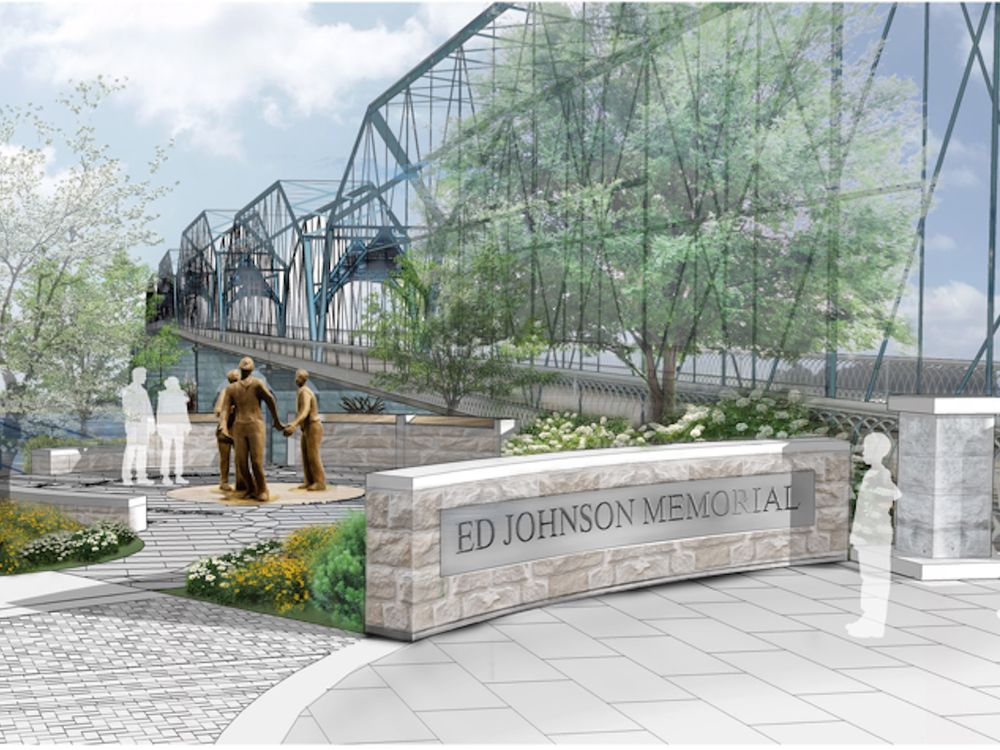 In 1906, a mob of white Chattanooga, Tennessee, residents abducted Ed Johnson, a young black man, from his jail cell. After they dragged him through the streets, they hung him by his neck above the Walnut Street Bridge. They then proceeded to shoot at him.
Johnson had been accused of raping a white woman, Nevada Taylor. While he maintained he was innocent of any crime, an all-white jury sentenced him to death. Though his court-appointed lawyer decided against pursuing an appeal, local black attorneys appealed on his behalf, filing a petition for a writ of habeas corpus.
But when the U.S. Supreme Court for the Eastern District of Tennessee issued him a stay of execution, the mob took matters into their own hands, brutally killing Johnson.
Now, a public memorial in tribute to Johnson is underway. On March 19, the anniversary of Johnson's death, the Ed Johnson Project announced the decision to award the design of the memorial to Georgia-based artist and sculptor Jerome Meadows.
As Judy Walton reports for the local Times Free Press, Meadows' proposal will erect life-sized bronze sculptures of Johnson and the lawyers who filed an appeal on his behalf, Noah Parden and Styles Hutchins. Meadows, whose work focuses on large-scale public art projects, tells Watson that he wants his concept to serve as a "sacred space where people could come and contemplate the meaning and message of Ed Johnson's story."
Construction on the memorial is expected to begin in early 2019. It will be installed at the center of a planned 9,000-square-foot garden at the south end of the Walnut Street Bridge, where Johnson was lynched over a century ago.
While the bridge is now a popular area for tourists and residents crossing the Tennessee River, the Times Free Press' David Cook pointed out in 2015 editorial that some black residents choose not to walk across it because of the bridge's history.
As Mariann Martin, who heads the Ed Johnson Project, explains in an interview with The Art Newspaper's Jason Foumberg, "This lynching left its mark on Chatta­nooga….It was a story you didn't talk about, but that everybody knew."
Johnson was not the only black man to have been lynched on the bridge. Thirteen years before Johnson was murdered, Chattanooga native Alfred Blount was murdered there in 1893 after he was abducted from the jail on the night of his arrest by another white lynch mob.
Johnson and Bount were two of more than 4,000 black people who were reportedly lynched in the states of Alabama, Arkansas, Florida, Georgia, Kentucky, Louisiana, Mississippi, North Carolina, South Carolina, Tennessee, Texas, and Virginia between the years 1877 and 1950, according to a 2015 report by the Equal Justice Initiative.
Back in 2000, Johnson's conviction was posthumously overturned by Chattanooga judge Douglas A. Meyers. ''Something I don't believe the white community really understands is that, especially at that time, the object was to bring in a black body, not necessarily the person who had committed the crime," Meyers said during the proceedings in a downtown court room, as The New York Times reported at the time. "And I think that's what happened in this case. There was a rush to find somebody to convict and blame for this.''
The Ed Johnson Project says it plans to raise about $400,000 for the project and is also fundraising for a documentary and a scholarship. A petition to change the name of the bridge to the Ed Johnson Memorial Bridge has also been started by an attorney from Texas who is doing research on the case.
While the upcoming memorial is dedicated to Johnson and his attorneys—who were among the first black attorneys to appear before the Supreme Court— the space is intended to symbolize other forgotten lynching victims as well.
"They indicate that this is not a finished story—not for Chattanooga or our country," as Martin tells Foumberg.
Editor's note, April 18, 2018: This piece has been updated to clarify that the petition to change the name of the bridge is not associated with the Ed Johnson Project.