Pioneering Black Journalist Les Payne Has Died at Age 76
The fearless Pulitzer Prize-winning Newsday reporter and editor, who was a founding member of NABJ, paved the way for journalists of color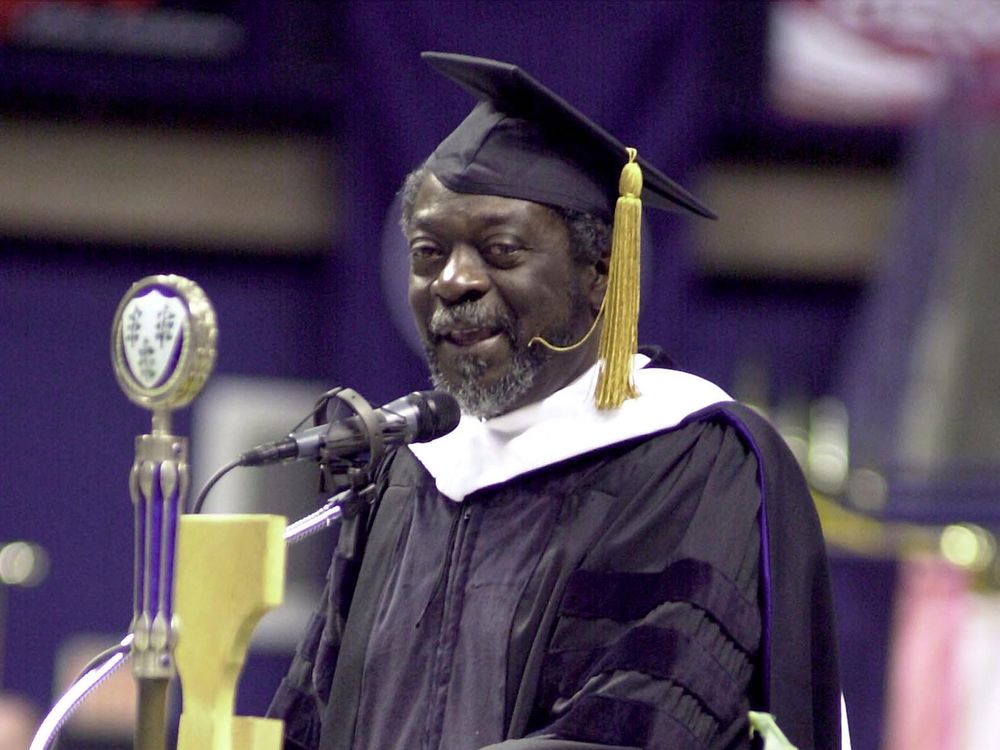 On Monday night, pioneering black journalist Les Payne died at his home in Harlem, New York. The Pulitzer-Prize winning reporter combined a passion for racial equality in the newsroom with a flare for deep, and often dangerous investigative journalism. As Bart Jones at Newsday reports, his son Jamal Payne said the 76-year-old died while working on a new book about Malcolm X. He attributed the cause of death to a heart attack.
Payne was born in Tuscaloosa, Alabama, in 1941, and picked cotton alongside his grandmother as a child. Though his family moved to Connecticut when he was a preteen, those early days in the Jim Crow South impacted him deeply. "Being born in Alabama under an apartheid system," he once told Newday, "my whole life — in my professional life and career — has been about improving conditions for African Americans in this country."
After graduating with a bachelor's degree in English from the University of Connecticut in 1964, he served in the U.S. Army for several years and then devoted his career to working at Newsday. Starting as a cub reporter in 1969, over time he helped transform what was once a suburban newspaper focused on Long Island into a world-class journalistic powerhouse.
Only a year after he was hired, in 1970, he went undercover as a migrant worker in the potato fields of eastern Long Island, revealing abuses and poor working conditions. In 1974, his 33-part series "The Heroin Trail" chronicled the route the drug took from the poppy fields of Turkey to overdoses on the streets of New York, a story that earned him and two other colleagues a Pulitzer Prize.
Vanessa Romo at NPR reports that it was another story, however, which Payne saw as his "career-defining moment." In 1976, he traveled to South Africa where he covered the Soweto Uprising, in which government forces killed school-aged protestors. While the government claimed around 250 people were killed, Payne hand-counted the bodies in the morgues, revealing that at least 850 had been shot. Payne was barred from South Africa after his 11-part series was printed, though he later snuck in for other reporting projects. His reporting on the massacre was selected by the jury for a Pulitzer Prize—but without explanation the Pulitzer board overturned the jury's decision.
"Les was fearless. He took big risks, sometimes life-taking risks," his former colleague Nick Charles tells Romo. In fact, his long-time friend DeWayne Wickham at the Undefeated recounts the many times Payne skirted death while reporting; he avoided a hit ordered by a drug dealer on Corsica; he was threatened with execution by a guerrilla army faction in Zimbabwe; the Symbionese Liberation Army, which kidnaped Patty Hearst, put a gun to his head till he could prove he was a Newsday reporter; Ugandan dictator Idi Amin's secret police also threatened his life.
Despite his harrowing international reporting, Payne will likely be most remembered for his domestic reporting and commentary on life in black America. Romo reports he covered the forced sterilization of African American women, the Black Panthers, segregation in schools, real estate red-lining in New York and the assassination of Dr. Martin Luther King Jr. He was also, notably, a founder and former president of the National Association of Black Journalists, which has provided camaraderie, organizing, resources and support for journalists of color since the organization was established in 1975. More than four decades later, NABJ continues its mission today.
"He did all he could to see that blacks who were committed to truth-telling had outlets for their talent and passion," another colleague, Ron Howell tells Sam Roberts at The New York Times. "For black reporters in the mid-to-late 20th century in America, he was the most influential person on the scene."
Payne retired from Newsday in 2006. Howard Schneider, dean of the Stony Brook University School of Journalism, who was also Payne's colleague at Newsday tells Jones that Payne "served as the conscience of Long Island" pushing a majority white suburban community to confront racial injustice through his reporting and commentary. "It made him controversial, sometimes unpopular, but always on the right side of history. He was a seminal figure in the evolution of Newsday as a newspaper for all of the residents of Long Island," says Schneider.
Payne's career can be summed up by a piece of advice he often gave to young reporters: "Tell the truth and duck."