Pictish Carving of Large-Nosed Warrior Found in Scotland
The carving may have marked the property of a high-ranking individual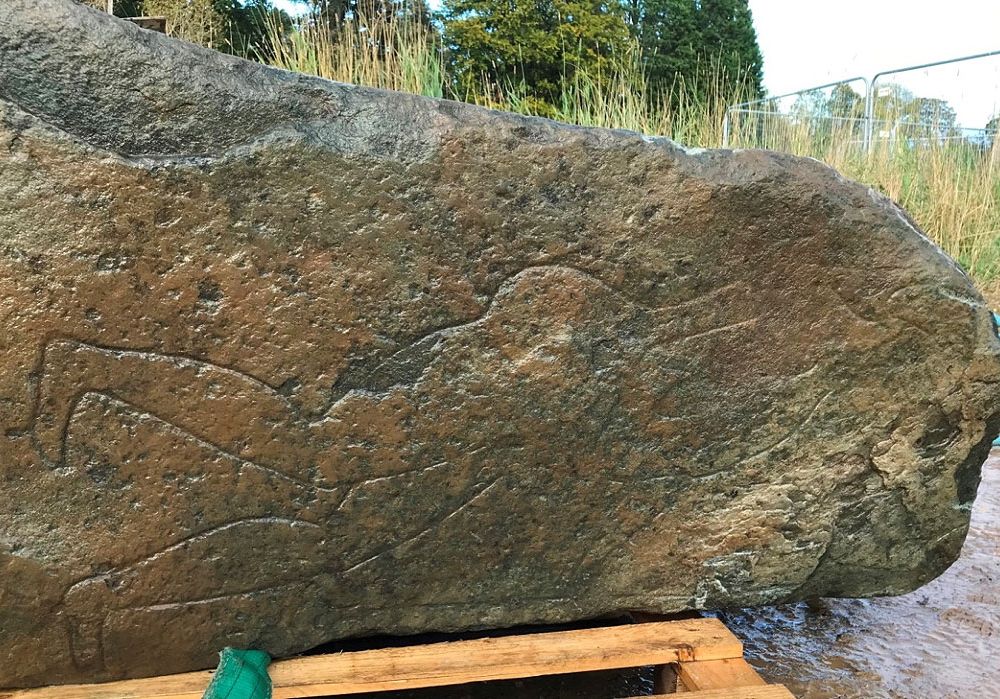 Construction on a road link in Perth, Scotland, came to an abrupt halt recently after workers hit upon an unusual archaeological find: a Pictish stone engraved with a large-nosed, weapon-wielding warrior.
As Alison Campsie reports for The Scotsman, archaeologists who were called in to examine the relic believe that it is around 1,500 years old. The carving shows a figure who appears to be clad in a cloak and shoes. He clutches a spear in one hand and what appears to be a club or a staff in the other. The spear is consistent with weapons used during the mid-first millennium A.D., according to Campsie.
Things start to get really interesting with the figure's hair, which is shaved at the front—and the front only. Because parts of the carving have eroded over time, the figure's face is partially obscured. But his nose appears to be quite substantial.
Similar designs have surfaced in other areas of Scotland, but never in Perth. In fact, according to Melanie Bonn of the Daily Record, there are no other known Pictish archaeological sites in the immediate vicinity of where the stone carving was discovered.
"It really is a splendid new find," Mark Hall of the Perth Museum and Art Gallery, who was on hand to identify the stone, tells Bonn. "It is a huge figure that has a grotesque head and is carrying at least one weapon—these are more commonly found further north around the Aberdeenshire area."
The Picts, a confederation of diverse tribes in northern Scotland, are perhaps best known for their clashes with the ancient Romans. They left behind hundreds of rock carvings adorned with elaborate symbols that are not fully understood by researchers, and the meaning of the recently discovered carving is likewise obscure. According to Campsie, however, experts have speculated that it may have been used to warn travelers that they were about to enter the property of a high-ranking individual. As a result, the stone may "signal… the importance of the area in Pictish times," David Strachan of the Perth and Kinross Heritage Trust says in a statement.
Hall echoes that thought, writing in an initial assessment for the museum's records that he sees the carving as "defining the approach to the center or some aspect of the zoning of that landscape." Whether the carving was intended to indicate a local or regional lord's property or to point where where "social gatherings took place of ritual significance," or even a combination of those two events is unclear.
Researchers are currently at work examining the stone. When they are through, the large-nosed carving will be placed in a museum for all to see.