Peru's Rainbow Mountain Could Be in Danger Following Surge in Popularity
Up to 1,000 tourists visit the colorful ridge every day. But this influx of people is eroding the nature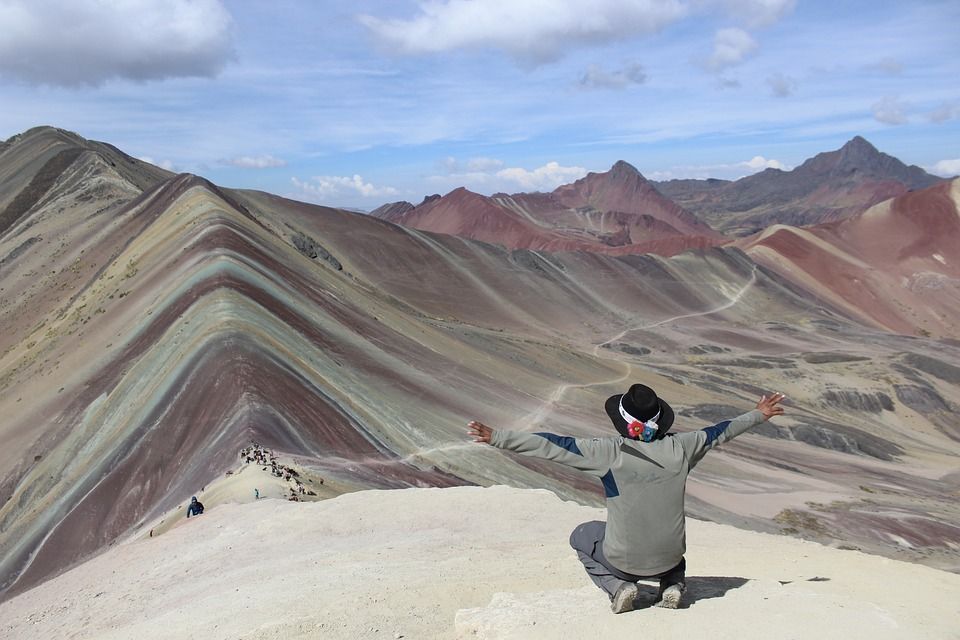 There's a peak in the Peruvian Andes striped with turquoise, yellow, red and purple, like someone threw a giant colorful robe over the ridge. The Rainbow Mountain is only reachable by a challenging, two-hour climb some 16,404 feet above sea level, but that hasn't stopped up to 1,000 tourists a day from flocking to see the colorful hues, Franklin Briceno writes for the Associated Press.
Never heard of the mountain, which is known to locals as Vinicunca? That may be because its banded peak was only recently exposed. Santos Machacca, a mountain guide in the region, tells the story to Iliana Magra and Andrea Zarate for The New York Times:
"We have asked the elders that live in Pitumarca [a town near Vinicunca] and they said that the mountain was under the snow... Global warming has caused the ice to melt, and a colorful mountain appeared from under it."
That was about five years ago. Now many hikers have arrived—perhaps too many, environmentalists worry.
Briceno reports that a wetland that once provided haven for migrating ducks was filled in to create a parking lot to accommodate tourist-filled vans. The 2.5-mile dirt path to the peak is already showing signs of erosion. "From the ecological point of view they are killing the goose that lays the golden eggs," Dina Farfan, a Peruvian biologist who studies threatened wildlife closer to the ruins of Machu Picchu, tells the AP.
Other, perhaps greater threats also loom over Rainbow Mountain. The AP also reports that a Canadian-based mining company, Camino Minerals Corp., recently applied for mining rights in the region, which encompases the mountain.
Yet the flood of tourists also brings with them a flood of cash to the small community of indigenous Pampachiri​ people living near the mountain. They are finding employment as tour guides, charging $3 a person, which has earned the community about $400,000 a year, the New York Times reports.
Managing the tourists while protecting the land is going to be a hard task.
After all, the story of tourists imperiling the very sights they come to see isn't a new one. The communities of Cinque Terre in Italy ask visitors to purchase a ticket so they can limit the throngs crowding the streets to see the colorful fishing villages​. In Yellowstone National Park, visitors' concern over the plight of a baby bison led to its death two summers ago.
But just as photos on the internet helped establish Vinicunca's popularity, perhaps reporting about the dangers of over-tourism at the colorful mountain can mobilize preservation efforts for its future.