Perfectly Pudgy Newborn Hippo Arrives at the San Diego Zoo
Welcome to the world, tiny, adorable river horse!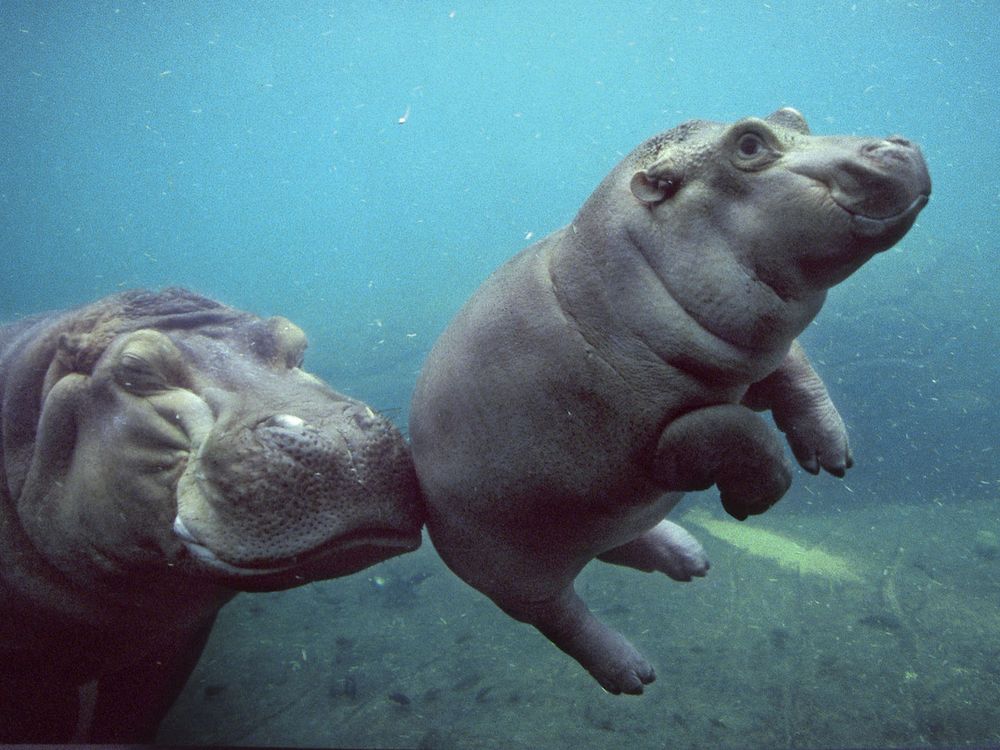 The world got a little cuter early Monday morning when Funani, a female hippopotamus at the San Diego Zoo gave birth to a big bundle of joy. Keepers report that both mother and baby are doing well, with the calf nursing regularly and swimming relatively smoothly (with Mom's help, of course). 
A baby #hippo was born yesterday! The mother, Funani, and her calf are doing well. https://t.co/jyZnjFuQu3

— San Diego Zoo (@sandiegozoo) March 24, 2015
No one yet knows the gender of the wrinkly little tyke—zookeepers are giving Funani and her offspring room to get acquainted. But they've got confidence in her mothering abilities. At 30 years old, this is Funani's 11th calf, since 1989. The baby's father is her mate, Otis, reports NBC San Diego. And boy, did they create one charmingly chubby mini hippo.
We still can't tell if it's male or female, but the #hippo calf is nursing several times a day, which is a ... https://t.co/iddkgbwUZZ

— San Diego Zoo (@sandiegozoo) March 25, 2015
Hippo calves usually weigh in at around 50 pounds at birth and nurse from their mothers for around eight months. And while this little one's small scale may be crazy cute, if all goes well, it will grow to be huge—between 3,000 an 9,000 pounds, depending on its gender.
That size will help it live up to its species reputation as being one of the most dangerous mammals on Earth. In the sub-Sahara African lakes and rivers where hippos are found in the wild, they are known to kill humans, often by trampling or drowning those they feel threaten them, their territory, or their young.   
Like all good moms, Funani was being very protective of her baby this morning. pic.twitter.com/PiDX3i0UWB

— San Diego Zoo (@sandiegozoo) March 25, 2015
Visitors to the San Diego Zoo can get a safe, first-hand view of mother and calf—as long as they are willing to wait a while for the baby to wake up, cautioned Senior Keeper John Michel.
Meanwhile, Twitter lets us all marvel from afar. And the baby is worth savoring even beyond its coo-inducing looks. Hippopotamuses are classified as a vulnerable species due to habitat loss and hunting. So one more hippo in the world means good things for fans of both cuteness and conservation. 
First breath of air. #baby #hippo pic.twitter.com/fDz4T3edbK

— San Diego Zoo (@sandiegozoo) March 26, 2015