Pennsylvania Mummy Gets a Proper Burial After 128 Years in a Funeral Home
Nicknamed "Stoneman Willie," the man visited the town of Reading for a convention of firefighters in 1895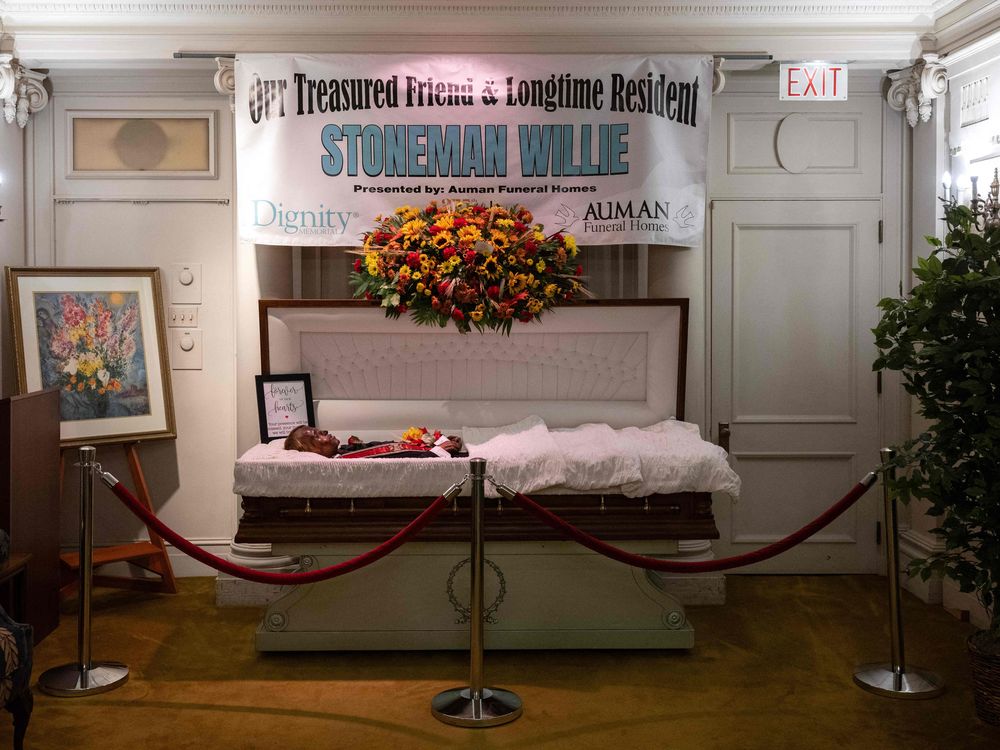 For over a century, the mummified remains of a man nicknamed Stoneman Willie lay in a funeral home in Reading, Pennsylvania. He was finally buried in a plot at a nearby cemetery on Saturday.
"We don't like to see him leave," Kyle Blankenbiller, director of the Theo C. Auman Inc. Funeral Home, told Canadian Broadcasting Corporation host Nil Köksal before the burial. "It'll be strange here without him in the building, but the consensus has been within the community—and among our staff, as well—that this gentleman just deserves to finally rest in peace and just have his day."
During the burial, the community also learned Stoneman Willie's real name: James Murphy.
In late 1895, Murphy was visiting Reading for a state convention of firefighters when he was arrested for burglarizing a boarding house. He died of kidney failure in the Berks County Prison on November 19, according to the New York Times' Remy Tumin.
Because he gave a fake name when he was apprehended, authorities couldn't locate his friends or relatives, and he was released to the Auman funeral home. There, Theo Auman embalmed the body using a new technique he had wanted to try. Over several days, the body began to mummify.
"The formula was just too high octane, and certainly nothing we'd use today," Blankenbiller tells the Philadelphia Inquirer's Mike Newall.
While unclaimed remains would typically have been buried in an unmarked grave, the funeral home left Murphy's above ground, first in the hope that someone would come to claim him, then, with approval from the state, to observe the results of the embalming method.
When asked about the state of Murphy's remains, Auman would say, "The vigil continues," as local historian George M. Meiser IX tells the Reading Eagle's Michelle Lynch.
The vigil continued for so long that Murphy became a legend in the town, with many coming to the funeral home to see his mummified remains. Since his real identity was unknown, he gained the nickname Stoneman Willie, partly because of his embalmed state.
"If you touch him, he's like stone, he's hard as wood," Blankenbiller tells the Times.
At the burial, Blankenbiller revealed that the remains belonged to a man named Murphy. Both "Stoneman Willie" and "James Murphy" appear on his headstone.
At the time, Auman had always believed he had embalmed the remains of someone named James Murphy. Still, newspapers had hazarded many guesses as to his real identity.
Recently, with the help of Meiser and local historians Charles J. Adams III and Alexa Freyman, the funeral home was finally able to confirm Murphy's identity through historical documents and records of recollections from Murphy's cellmate, to whom he had confided that he'd given a fake name, reports the Philadelphia Inquirer.
"The time has come to lay Willie to rest in a respectable manner and at an appropriate location," Meiser said at Murphy's burial, per the Reading Eagle. "Mr. Auman, wherever you are, be apprised that on this day, the vigil concludes."