Historian Asserts That Leonardo's Assistant Painted Majority of 'Salvator Mundi'
The Oxford research fellow names Bernardino Luini as main artist, believes da Vinci only painted between five to 20 percent of the painting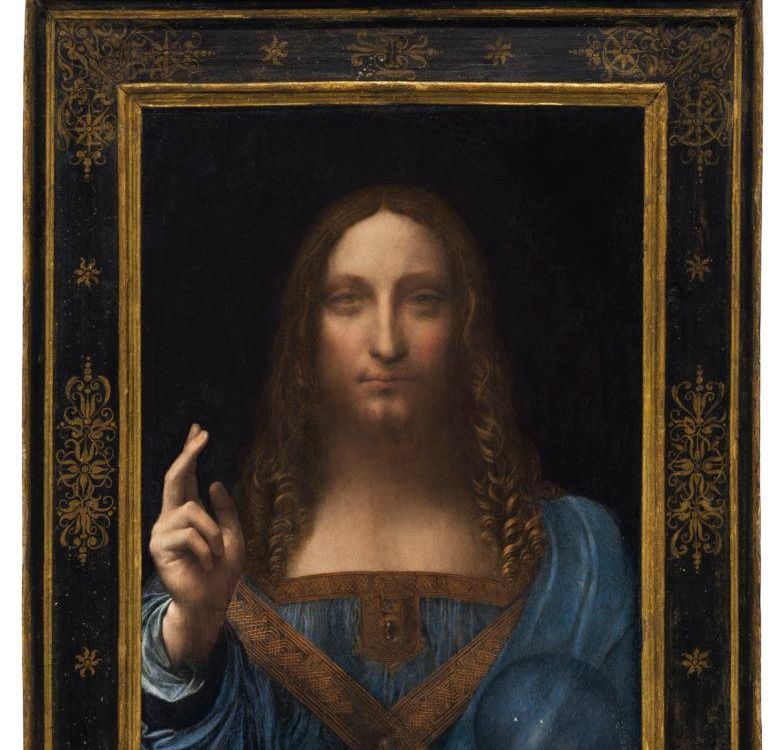 In just over a month, the most expensive artwork ever sold will be unveiled to the public at the Louvre Abu Dhabi. The $450 million portrait, entitled "Salvator Mundi," depicts a beneficent Jesus Christ with one hand raised in blessing, the other clasping an orb glittering as if suffused with heavenly light. Curls fall over Christ's shoulders in perfect spirals, easily melting into the painting's monochrome background, while the folds of his blue smock evince an almost sculptural precision. Still, the craftsmanship evident in the work is not enough to account for its hefty price tag—this honor derives solely from the portrait's recent identification as one of 16 extant paintings by Leonardo da Vinci.
For all its hype, "Salvator Mundi" has plenty of critics: Vulture's Jerry Saltz described the work as a "two-dimensional ersatz dashboard Jesus." The Guardian's Adrian Searle didn't mince words either, writing that the painting's Christ "has the glazed look of someone stoned." Now, just a month before the work makes its public debut, another historian has joined the debate, asserting that "Salvator Mundi" was painted not by da Vinci, but his studio assistant, Bernardino Luini.
Art historian Matthew Landrus, a research fellow at Oxford University who has authored multiple books on da Vinci, will present his case in an updated edition of a 2006 text, Leonardo da Vinci: 500 Years On: A Portrait of the Artist, Scientist and Innovator, set for release this September.
Landrus tells the Guardian's Dalya Alberge that he believes da Vinci only contributed around five to 20 percent of the final painting, and that a "comparison of Luini's paintings with the 'Salvator Mundi' will be sufficient evidence" to bear out his argument.
In an interview with CNN's Oscar Holland and Jacopo Prisco, Landrus says the Renaissance master likely sketched out the initial design and added finishing touches, leaving the bulk of the work to his studio assistants.
Luini, a Milanese painter whose works drew on da Vinci's compositions and employment of chiaroscuro—a technique that emphasizes contrasts between light and dark—has long remained in the shadow of his master. Artnet News' Henri Neuendorf notes that his auction record is a (relatively) meagre $654,545. Comparatively, da Vinci's auction record prior to the sale of "Salvator Mundi" was $11,481,865.
Landrus tells Alberge that Luini's "Christ Among the Doctors" bears marked similarities to "Salvator Mundi." Both feature similarly executed drapery and gold bands, as well as face modeling and ringlet hairstyles.
Da Vinci's touch, according to Holland and Prisco, is most evident in the blending of Christ's hands, face and orb. The subtle changes in shading provide a fine example of sfumato, a classic da Vinci technique.
"Leonardo has worked on the painting, [and] I think that's important to recognize," Landrus says in his interview with Holland and Prisco of CNN. "We tend to think in black and white—one or the other, when it comes to attribution, but that's definitely not the tradition. The tradition was to get help from the studio."
Interestingly enough, this isn't the first time "Salvator Mundi" has been attributed to Luini. According to Christie's, the painting surfaced in 1900 after a 200-year disappearance. Listed as a Luini work by collector Sir Charles Robinson, the work transferred to the Cook Collection, where it remained until 1958, when it was unceremoniously sold at auction for a mere £45.
Reactions to Landrus' theory have been mixed: Michael Daley, director of ArtWatch UK, described the idea as "very interesting," while Martin Kemp, curator of Italian paintings at London's National Gallery, longtime supporter of the da Vinci attribution and co-author of an upcoming book affirming the painting's authorship, refused to comment on the research. "The book I am publishing … will present a conclusive body of evidence that the 'Salvator Mundi' is a masterpiece by Leonardo," he tells CNN. "In the meantime, I am not addressing ill-founded assertions that would attract no attention were it not for the sale price."